HELENA — Winning games is one goal of every high school athletic program. Another is sending kids to college and in that metric, both the Capital Bruins and Helena Bengals have been quite successful.
On Wednesday, which was National Signing Day and the start of the late signing period for college football, which goes until April 1, both the Bengals and Bruins had a number of football players and other athletes sign their college letters of intent.
The Capital High football team will be sending a total of 12 players to play collegiately. The Class AA state champions saw most of their players sign in December, but on Wednesday, three more Bruins signed to play on the gridiron in the NAIA as Joey Michelotti (Montana Tech), Hudsen Grovom (Dickinson State) and Quinn Hanson (Montana Western) signed their letters of intent.
"This is as many as I can remember," Capital head coach Kyle Mihelish said. "They are a great group of kids. They are tight-knit. They get along. They're hard workers and they're unselfish. They all had the same goal and the same purpose and when you win a lot of games, good things happen."
Michelotti and Grovom shared the quarterback position for the Bruins during their 12-0 run. Michelotti will be heading to Montana Tech as an athlete and might end up as a defensive back. Grovom, meanwhile, will join his brother and former Capital starter Bridger Grovom at Dickinson State. He also joins the family tradition as Grovom's dad Ryan, his uncle and his late grandfather were all college football quarterbacks.
Michelotti completed 60.3 percent of his passes for CHS last season and had 12 touchdown passes while throwing for 1,650 yards and just three interceptions.
"I'm really excited," Capital's Joey Michelotti said. "I've always wanted to play college football. I'm really happy for Hudsen too. We both worked really hard."
For Michelotti, who will join his cousin Nick Michelotti at Montana Tech, as well as his brother Jamey, it will also allow him to cross off a goal that's been on his list since eighth grade.
"I got a goal sheet from eighth grade that got sent back to me when I was about to graduate," Michelotti said. "And one of my goals was to play college football. So it's pretty special. It's been on my mind for a long time."
Grovom was limited due to a thumb injury but threw for 615 yards and six touchdowns this season. He also completed 55.6 percent of his passes and averaged 11.2 yards per pass attempt.  
"My brother is at Dickinson (State) too so that will be pretty cool to play with him," Grovom said. "I just want to play as long as I can."
Grovom and Michelotti helped engineer an offense that scored over 40 points per game. Quinn Hanson, he was part of the top scoring defense in Class AA last season and part of an elite secondary. Hanson intercepted three passes last season for the Bruins, including one against Missoula Sentinel to clinch a berth in the Class AA state championship game. He also had 40 tackles and a fumble recovery and is headed to Montana Western.
"It's going to be really nice," Hanson said. "Getting an opportunity to play football for another four or five years."
Joining the football players in signing is Capital's Luke Dowdy, who also pitches for the Helena Senators and will be playing college baseball at the University of Mary. Dowdy posted a 6-1 record last season in nine starts and 17 total appearances with a 2.34 ERA. He also notched 34 strikeouts in 46 innings.
"I have always wanted to play a college sport," Dowdy said. "I didn't know which one but it's going to be fun playing baseball."
Over at Helena High, the Bengals also had a multi-sport signing day headlined by six football players. Colter Petre who is headed to Montana State was part of the ceremony, although he officially signed back in December. He was joined by Carson Anderson (Montana Tech), Cade Holland (Montana Tech), Shannon O'Brien (Montana Tech), Dylan Christman (Montana Western) and David Burgess (Dickinson State).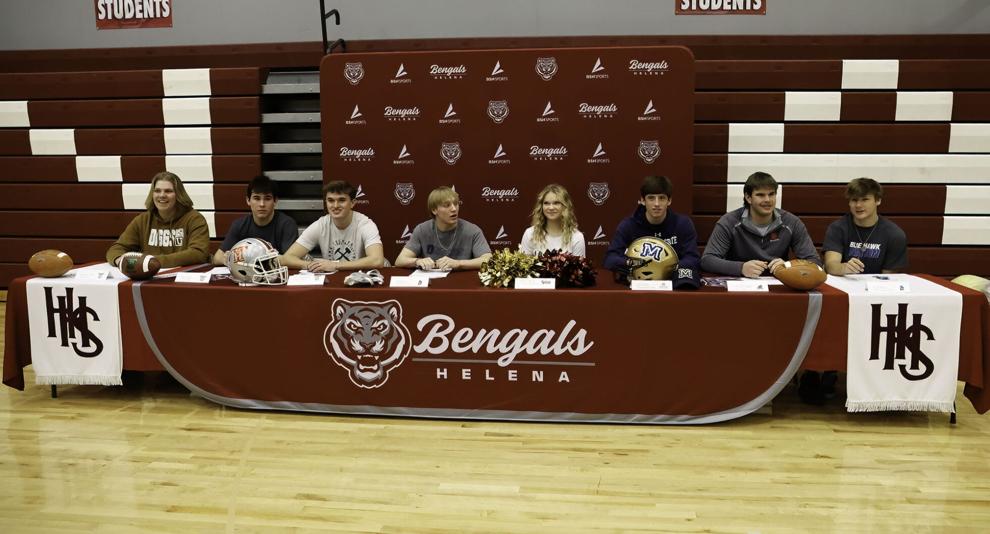 Petre had a stellar senior season for Helena with 40 receptions for 409 yards on offense, as well as three interceptions, 69 tackles, four tackles for loss, six passes defensed and a forced fumble.
"It's really getting surreal," Petre said. "It's getting down to the spring time and summer when I'm going to go down and honestly, it's just a dream come true from when I was little and my mom played down there. It's just awesome."
In addition to Petre, another receiver/defensive back will be playing college football and that's Carson Anderson. He was ranked as the No. 16 player by 247 sports in the state of Montana in 2023 and he'll be headed to Butte to play for head coach Kyle Samson, a former Helena Capital great. 
Anderson had 27 receptions for 395 yards and two touchdowns this season, as well as being credited with 34 tackles and an interception on defense. Among those joining Anderson in the Mining City will be Cade Holland who rushed for 1,371 yards over the past two seasons with 14 touchdowns. He also averaged over five yards per attempt and is also playing hockey for the Helena Bighorns. 
Burgess is a 6-foot-3, 205-pound defensive end who had 37 tackles last season, seven tackles for loss and four sacks.
"I'm really excited," Burgess said. "It's something that I have always wanted to do, It's something different — a new challenge." 
Christman is an intriguing prospect who got injured this past season but caught four passes for 45 yards as a tight end. He's 6-foot-5, 250 pounds and spent his junior season on the offensive line, as well as having experience on the defensive line.
O'Brien also played on both sides of the ball and had 15 tackles, four TFL and one sack last season.
"This is such a cool day for these kids," Helena High head coach Dane Broadhead said. "They have worked so hard to get here and it's the bow on top if you will, for these guys, the icing on the cake. It speaks volumes to what these kids have done and the time they have put in."
"It's just a really cool moment in their lives."
The Bengals also honored Ian Mehrens, a wrestler that also signed with Dickinson State and Marie Templin who signed with Montana State Billings to join the cheerleading program.