The story of Eureka's win over Manhattan for the Class B State Championship isn't focused around injured running back Chet McCully, but the senior is an undeniable detail
The absence of the senior in the Lions' semifinal win over was something head coach Trevor Utter and other players mentioned, but the quality of play from Eureka did not suffer as a Hank Dunn hat-trick, which also featured two interceptions from the two-sided senior, led Eureka to a 20-6 win over Manhattan and the Lions third Class B State Championship in four years.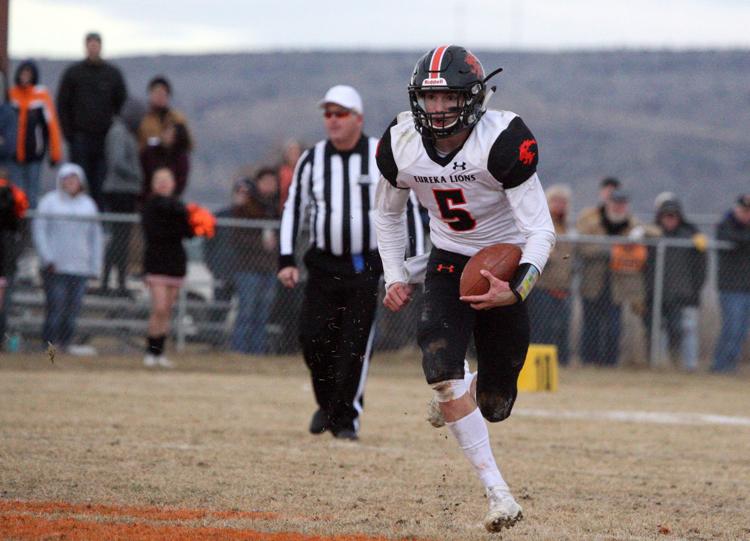 "The nice thing for us," Utter said. "Even [before McCully was] out, Hank is our best athlete on the field. You saw that again today, he's broken school records, I haven't seen the stat line, but he had another amazing game on offense and defense."
Like McCully and his record-breaking 1690 yards and 22 touchdowns, the dual-threat QB set records for passing yards and passing scores.
While the senior only added 54 yards and a touchdown through the air on Saturday, bringing his final total to 1868 yards and 24 passing TDs, his ground game was imperative to the Lions' success.
Both Dunn and his running back and fellow senior Jake Kindel acknowledged that the news of McCully's ACL injury pushed themselves and the team as a whole to step up and perform.
"We were sad for about five minutes," Kindel said. "It's always hard when a brother goes down, but then the next guy has to step up. We know [McCully] would be mad if we sulked and then we lose. Everyone played a bigger part and I couldn't be prouder of the guys."
Dunn racked up an impressive 142 yards and two running scores on 14 rushing attempts, and when Manhattan head coach Chris Grabowska was asked who was the game's key player, Grabowska nodded to the three-time state champ as the game's difference maker.
"We'll they've got a player that is a pretty big difference maker," Grabowska said. "No. 5 Hank Dunn. I thought we kept them in check and put ourselves in position to win, but they made some plays when they had to and we didn't. It was a well fought battle by both teams."
Coming into the contest, the Lions were one of the best statistical offenses in Class B, but despite Manhattan's best efforts, the Eureka offense was able to move the ball down the field with a focus on the run and the ability to pass when need be.
Utter praised the Manhattan defense for a game well played, and says the scoreboard and stats show how well the Tigers' defense played.
"[Manhattan's] defense is extremely tough," Utter said. "We've averaged 47 points per game on the season, and we scored 20 today. It was a situation where our defense had to step up and do more than they've ever done, and they shut down a Manhattan team that has scored 36 points a game to six."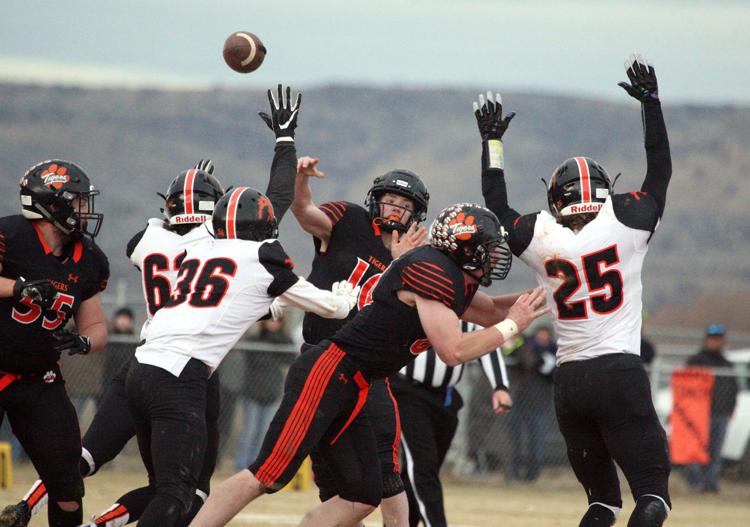 The Tigers were led by senior QB Lane Veltkamp who had an excellent duel against Dunn, primarily on the ground. However, the senior's 95 rushing yards, 94 passing yards and the singular Tiger touchdown were unable to propel Manhattan past Eureka.
However, Veltkamp's two interceptions came at the hand of Dunn, the first of which ended a drive deep into Lions' territory in the third quarter, which was promptly followed by a blazing 53-yard rushing score from Dunn to help Eureka distance themselves in the second half.
Tigers junior receiver Isaac Richardson caught three of Veltkamp's 12 completions for 20 yards and was a key player in the second half push from Manhattan after Dunn's two scores earned the Lionss a late two score lead.
Richardson says that, besides competing, the main goal for Manhattan's first trip to the Class B state title was the chance to prove themselves and help push the program forward, which he says the Tigers did.
"We wanted to come out and show what we could do," Richardson said. "And hopefully start a legacy with this team, and I think we actually did that today… We have a lot of kids that will step up next year and hopefully we'll be back soon."
Grabowska expressed a similar sentiment, acknowledging that Eureka played well, but that the scoreboard of Saturday's home loss was not the defining factor of his team.
"Their character," Grabowska said. "I mentioned that in the huddle after the game. That's what we're most proud about. They're hard workers and a great example for the community, and we didn't win today, but I believe they're winners."
While Manhattan can hang their hat on an impressive 12-1 season, Eureka gets to celebrate the extremely rare achievement of winning three state titles in four seasons. The Lions are the second in Montana Class B to do so, the first being Baker's impressive run in the early 2000s.
Utter praised his entire team for stepping up to the challenge, but said that the senior class, which began with the Lions' 2016 title and has concluded with an undefeated 12-0 state championship, has been a revelation for the Eureka football program.
"They've transformed the program," Utter said. "Into something we've never seen, only seen it once in Class B football ever. Class B is tough because we're graduating 11 seniors and now we have to turn around in a school of 230 kids and try and replace that… To go three of four years, the work ethic that those seniors have established now becomes contagious for everyone else."