BUTTE — Drummond-Philipsburg (Flint Creek) running back Colby Manley scored five touchdowns in the first half as the Titans rumbled past Clark Fork.
A three-year starter for Flint Creek, Manley — a 5-foot-10, 190-pound bowling ball — pummeled through defenders for scores of nine, 20 and 24 yards in the first quarter. He added two others of 16 and 11 yards as the defending 8-Man champion Titans rolled to a 50-16 win in Butte's Naranche Stadium.
"He's a beast," Flint Creek head coach Mike Cutler said of Manley. "We've got great guys up there blocking for him. He wasn't touched for 10, 15, 20 yards and at that point anyone can run through those holes.
"What he did after contact, he's a three-year starter for us and I don't expect anything different from him."
Clark Fork simply did not have an answer for the bruising back. After nearly getting burnt on the first play of the game, the Mountain Cats seemed wary of that happening again and moved the safety to the center of the field throughout the rest of the game.
With Manley running as well as he did, it didn't really matter the passing game wasn't quite as explosive. Kade Cutler, in his first start at signal caller for Flint Creek, was solid and threw second-half touchdowns to Jaxon Lee and Daniel Brabender.
Mike Cutler said his young quarterback was a little nervous, but overall pleased with how the sophomore played.
"He did fine. He threw a nice strike for his last touchdown and threw a strike on the first play of the game and Jaxon (Lee) just couldn't come down with it," Mike Cutler said. "He's just got to settle down. He's not looking at the routes long enough, hearing footsteps and tucking it before he needs to."
Clark Fork didn't get on the scoreboard until late in the third quarter. Sophomore quarterback Bryan Mask found Kyler Francis for a 13 yard score and then Isaiah Kovolsky for the ensuing two-point conversion.
Mask also tossed a 33-yard touchdown to Trey Green with under a minute to play in game. The Mountain Cats struggled to find any sort of offensive rhythm through the game.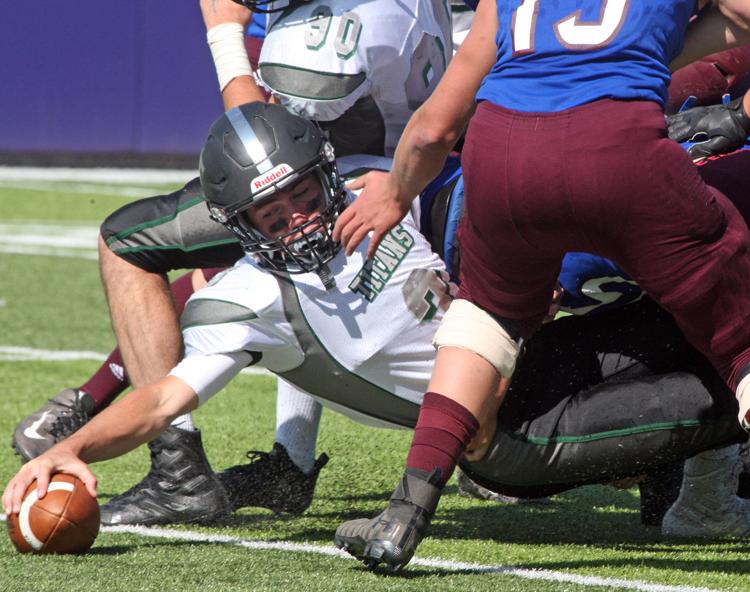 Flint Creek was also particularly vicious on defense and had several sacks as well as a number of tackles for loss. The Titans were also able to limit the number of big plays, which is a critical part of their defensive identity.
"I thought we played well defensively, but we have to tackle better," Cutler said. "That's our defense. We're going to bend, but not break. They can dink and dunk.
"We're just not going to let you go over the top on us."