EAST HELENA — Some day, Braden Howell will be the answer to a trivia question. Who scored the first-ever touchdown at East Helena's football stadium?
In the third quarter Tuesday night, Howell broke a scoreless tie against Frenchtown, scampering 69 yards for a touchdown. It was the first touchdown of the night and the first one at the Vigilantes new multi-sport facility. 
It wouldn't be the last, though, as Frenchtown eventually got the last laugh in the junior-varsity contest, scoring 10 points in the fourth quarter to pull out the win on the road. However, the loss didn't dampen the significance of the Vigilantes playing in their new digs.
"I think it was huge," East Helena head coach Gus Somerfeld said. "The kids were super excited to have the first game in the stadium. We just got word that we were allowed to have fans, so that picked up the intensity a little bit. The excitement level was very high."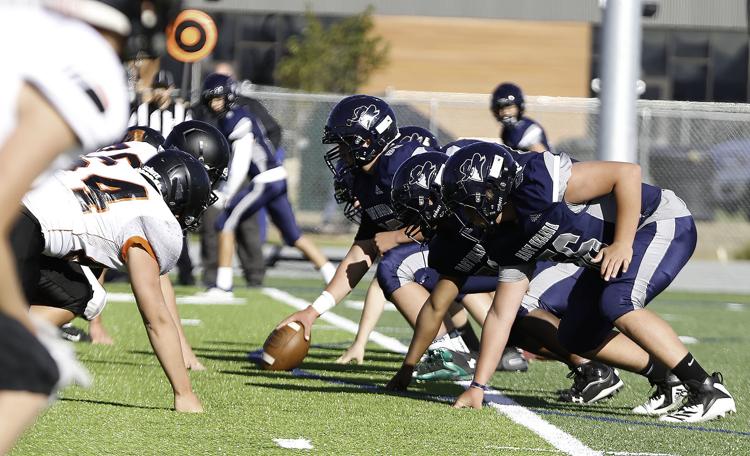 As far sub-varsity games go, it was about what you'd expect, especially early in the season. Both defenses dominated and on a blustery day, throwing the football wasn't easy.
But for East Helena, it was an important step for a program set to take the leap into varsity competition next year.
"It just takes time to mature," Somerfeld said. "We had kids we were counting on to be leaders and they just weren't ready for that and this year, they have really stepped up."
The improvement on the field for the Vigilantes has also been noticeable.
"Last year we played Frenchtown and the outcome was very different," Somerfeld said. "So to see that growth is really good. Obviously, there is a lot of growth from the freshmen to sophomore year so that helps, but it's also the attitude and the work of putting in an offseason, getting in the weight room and getting to know the playbook. I think it's a lot of maturity and mental stuff, understanding where to line up and all that."
East Helena was 2-5 a year ago and so far this season, the Vigilantes are 1-1. They beat Lockwood, another upstart program in Class A in the season opener, before falling to Frenchtown on Tuesday.
The Vigilantes will play next on the road, Sept. 18 against Livingston. Kickoff will be at 7 p.m. in a battle of JV programs.  
"We are asking a lot of these kids to build this program," Somerfeld said. "Our leaders are those sophomores and we are just looking for that continual growth week-to-week."
While East Helena opened its stadium Tuesday, the firsts aren't over yet, as the Vigilantes will host their first night game Oct. 2 against Lockwood. They will also play under the lights against Livingston Oct. 16 in the home finale.