BILLINGS — The magnitude of a sports moment is hard to measure, especially when it comes early in a game.
Miles City's understated senior Jess Bellows feels that way about a catch he made on Sept. 13 at Laurel. With 1:42 left in the first half, Bellows leaped, grabbed a Carson Hunter pass and held on despite taking hard hits from two Locomotives. The 20-yard completion converted a fourth down and 12 and set up a Miles City touchdown, which put the Cowboys up 21-0.
It's "up there" with the best catches Bellows has ever made, he said.
"That one's hard not to stick in your memory," said Miles City coach Jeff Regan. "That was one of the best plays of the season."
The Cowboys won that game 21-16. There's no way to know if Miles City would have lost if not for Bellows' catch, but plays like that are why the Cowboys are 5-0, No. 2 in the 406mtsports.com Class A rankings and atop the Eastern A standings going into Friday's home game against defending state champion Billings Central.
Bellows has compiled 386 yards and six touchdowns on 26 catches this season while playing a key role on defense at safety. He's led Miles City to the victory over Laurel and three blowouts against Glendive, Hardin and Havre (the other win was a forfeit by Livingston).
"He'll go up and make a big play. He's got good hands and runs good routes," Regan said. "Just been a pleasure to coach him."
A week ago, Central was undefeated and ranked No. 1 in Class A. This week's game at Miles City was looking to be a top-five clash that would likely determine the Eastern A champion.
Laurel went up to Billings and rolled the Rams 33-0. Central (4-1) is now unranked and has to drive 140 miles east to face one of the two remaining undefeated Class A teams (the other is Libby).
"We wanted to be the ones to knock them off," Bellows said of the Rams. "(But) they're gonna come out and bring it, so we can't overlook them."
It would be easy for Miles City to play the transitive property game and go into Friday expecting to beat a team that was crushed by the Locomotives, who the Cowboys handled for most of last month's game. The Cowboys have reminded themselves that Central, which they haven't beaten since 2015, is still a dangerous team.
"Our goal is to win the conference, and if you're gonna win the conference, you usually have to beat Billings Central," Regan said. "Central's really good at taking teams' strengths away."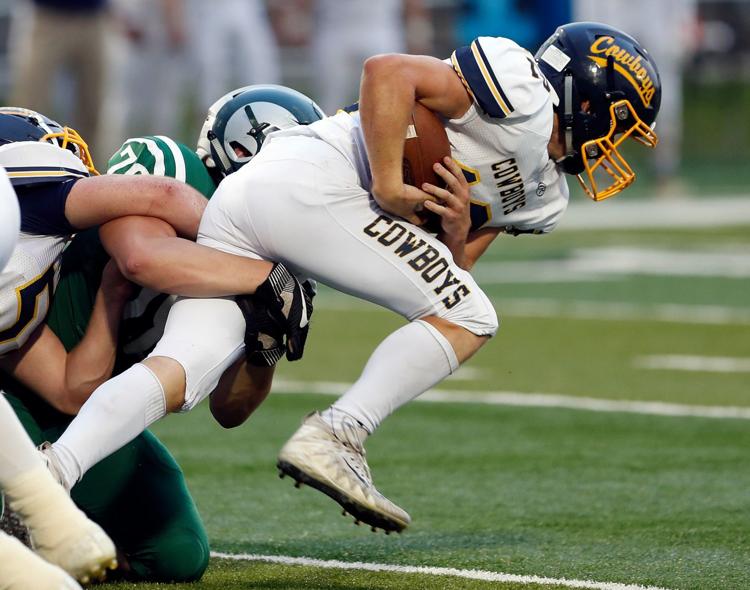 Perhaps the biggest strength is Bellows, who is playing with some senior urgency. He only has a few more football games left, and though Regan believes he can play college football, Bellows is planning to walk on to the South Dakota State baseball team.
"Ever since I was kid, I wanted to play DI baseball," Bellows said. "It's just such a mental game. … Big strategy game."
Miles City lost to Central in the first round of the 2016 State A quarterfinals and suffered blowout quarterfinal defeats to Columbia Falls in 2017 and Hamilton last season.
Bellows is sticking to his one-game-at-a-time mentality, but memories of those playoff exits are still fresh, and he's dreamed about erasing them with a deep run in November.
"I don't think anybody wants to go through that again," he said. "That's the thing about high school football: it's state championship or bust."
No. 1 Billings West (5-0) at Great Falls (1-4), 7 p.m.: The Bison, coming off a 51-0 win over Belgrade, have already played No. 3 Missoula Sentinel, No. 4 Bozeman and No. 5 Helena Capital, and have been outscored 78-36 in those three losses. Now, West heads to Great Falls with a 16-game winning streak in tow. The Golden Bears have outscored their opponents 200-37.
Billings Senior (2-4) vs. Billings Skyview (0-5), 7 p.m., Wendy's Field at Daylis Stadium: Senior was within 12-7 of West in the third quarter before things went awry for the Broncs in their eventual 33-14 loss last week. By closing the regular season with games against the Falcons and then Great Falls CMR (2-4), the Broncs have a chance to build some momentum heading into their bye week and then the playoffs. The Falcons, too, are looking for positive signs as they head into their final stretch.
Lewistown (4-1) at No. 4 Laurel (4-1), 7 p.m.: Fresh off that big win over Billings Central, the Locomotives' first in the last 19 games against the Rams, Laurel hopes to keep pressure on Miles City for the top spot in the Eastern A. Lewistown has won four straight since a season-opening 17-7 loss to Central and is coming off a 50-30 win over Hardin.
No. 5 Malta (5-0) at No. 10 Glasgow (4-1), 7 p.m.: The Mustangs have handled their five opponents and are coming off their biggest blowout yet: 76-0 over Harlem. Glasgow also began its season in dominant fashion but suffered a 25-22 loss at Colstrip last week. The Northern B rivals both carry 3-0 conference records into Friday.
No. 5 Jordan (5-1) at No. 1 Wibaux (6-0), 7 p.m. Saturday: It's a rematch of last year's 6-Man state title game, which Wibaux won 70-27. Jordan followed a 44-28 season-opening loss to now-No. 2 Big Sandy with three straight shutouts, a 45-42 win over No. 6 Richey-Lambert and a 68-19 blowout over Savage. Wibaux has outscored its opponents 291-6 and has shut out its last four foes, including Richey-Lambert 45-0 (the Longhorns' sixth win was via forfeit against Grass Range-Winnett).