BILLINGS — The Froid-Lake football team expected to be good this season, but doubts lingered, even after a 60-12 season-opening win over Bainville. The Redhawks began last season with a win, too, and they finished 3-5, missing the playoffs for the 14th straight season.
Those doubts intensified on Sept. 12, when Savage built a 13-0 lead over Froid-Lake. The Redhawks knew they were facing a tough opponent, but they believed they were better. They proved it, outscoring the Warriors 50-6 the rest of the way.
"We've never been in a position where we've been down and come back before," said Colt Miller, a Froid senior who plays wide receiver and defensive end. "After that game, I knew what type of team we were. We weren't going to give up."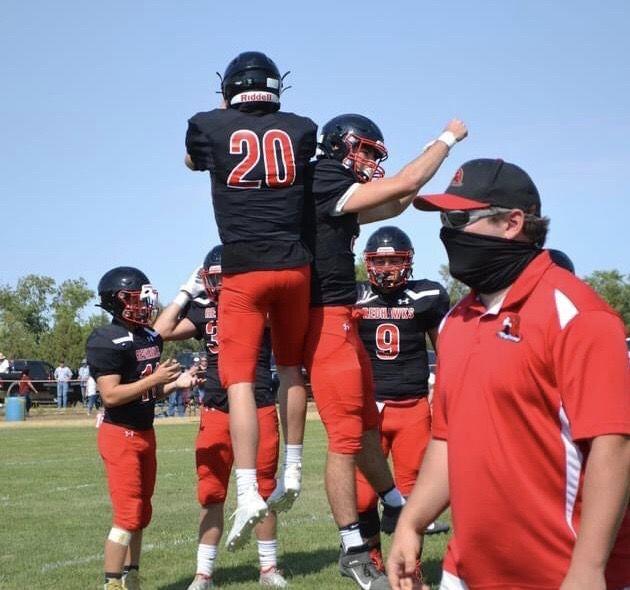 Since the Savage win, Froid-Lake has scored at least 70 points in each of its three games with a combined scoring margin of 163 points. The 6-Man cooperative is No. 4 in the 406mtsports.com 6-Man rankings. In a couple weeks, the Redhawks (5-0) will begin their first playoff run since 2005.
"It's been exciting. These types of seasons don't come around all the time," said Froid-Lake third-year head coach Michael Reiter. "The stars are aligning for us."
One of those stars was Westby-Grenora's move from 6-Man to 8-Man this season. The 2017 6-Man state champion (and 2014 and 2016 runner-up) dominated the Eastern division and usually crushed Froid-Lake. The Thunder, who beat the Redhawks 46-0 last year, are 5-1 and No. 7 in 8-Man this fall.
Froid-Lake has also taken advantage of down seasons from conference foes Jordan and Wibaux. Jordan, which beat Wibaux in last year's state title game, is 0-4 this season and lost to the Redhawks 76-6 on Sept. 19. Wibaux, which beat Jordan for the 2018 state title, is 2-2 and lost to Savage 56-0 on Sept. 5.
None of that means the Redhawks are worse than their record indicates. Their 48.4-point average margin of victory per game is hard to poke holes in, especially considering their 50-19 victory over now-No. 7 Savage and a 73-36 rout of Richey-Lambert, which was No. 7 at the time.
Years of losing to tough conference teams strengthened Froid-Lake's players, said Medicine Lake senior Walker Ator, an offensive lineman and defensive end.
"The early years, it was hard. We battled through losing seasons in what was the hardest division in 6-Man," Ator said. "A lot of people in that position probably would've called it quits. … We were able to see the light at the end of the tunnel and work hard and know our time was coming."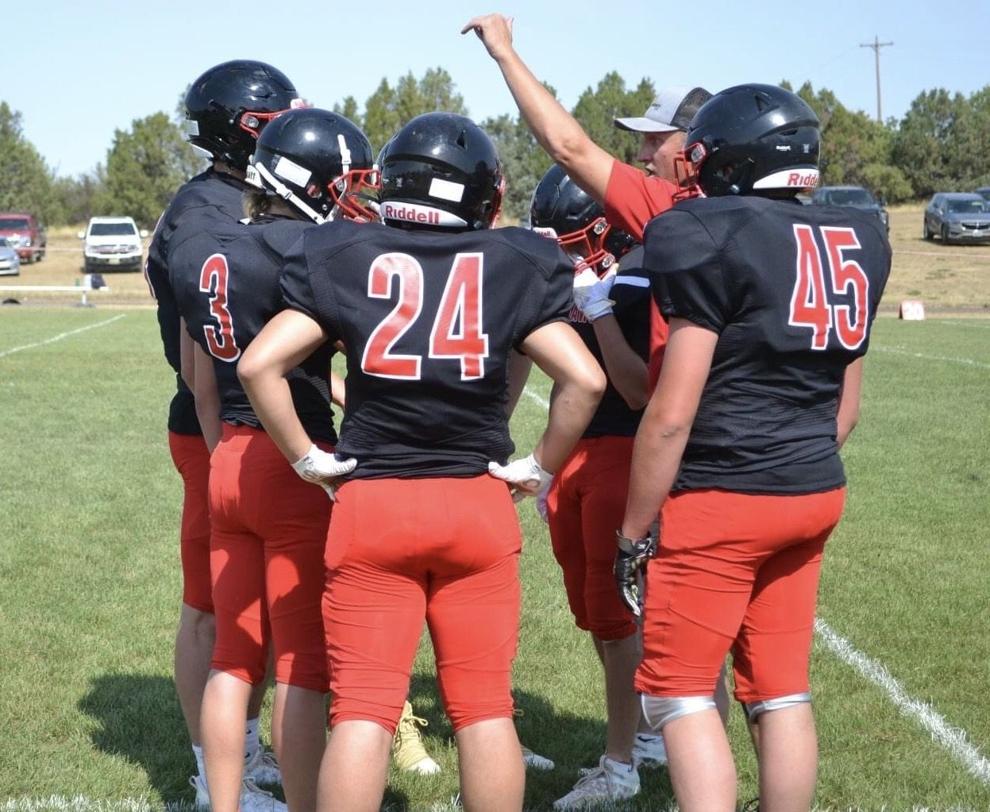 Ator, Miller and senior running back/wide receiver Isaac Johnson are Froid-Lake's main leaders, and the Redhawks are deep, Reiter said. Juniors Ashdyn Hobbs (running back), Connor Huft (RB/safety) and Brett Stentoft (RB/linebacker) have also been key, as has 6-foot-4 freshman quarterback Mason Dethman, the brother of two current and future college basketball players: Mackenzie is a sophomore at Rocky Mountain College, and Sydney is a senior who has committed to Fresno (California) State.
Froid-Lake's team motto is "One More," which emphasizes a day-by-day, game-by-game approach. That's extra necessary this fall with the coronavirus pandemic at full force.
Montana added 615 confirmed cases of COVID-19 on Thursday, and at least 20 Montana high school football games have been postponed or canceled in the last two weeks, including Froid-Lake's matchup at Wibaux originally scheduled for last Saturday. Wibaux had cases of COVID-19, forcing the game to be pushed back to this Saturday.
Neither Froid, Medicine Lake nor the Froid-Lake co-op has won a state title. That is the Redhawks' "ultimate goal," Ator said, but they know those title plans could be dashed by the virus or another tough team.
Any postseason run would be gravy for Froid-Lake. Simply making the playoffs was a towering accomplishment.
"To be that team that brings us back and all the community support … it's amazing," Ator said. "In in this time with COVID-19, there's not a lot to look forward to. We're giving these people something to look forward to."
CORRECTION: A previous version of this story included the wrong grade level  for Sydney Dethman. That error has been fixed.
Friday Night Lights
Following is a look at some of the key games around the region this week:
Great Falls (1-2) at Billings West (4-0, No. 2 Class AA), 4 p.m., Wendy's Field at Daylis Stadium: West moved up to No. 2 in the 406mtsports.com rankings after handling previous No. 2 Billings Senior 41-14 last week. The Golden Bears have scored the most points in AA (214; Missoula Sentinel has 188 points) and have given up the fewest (21; Helena is next at 30). The Bison were off last week after their game with was canceled due to coronavirus issues at Belgrade.
Billings Skyview (2-2) vs. Billings Senior (3-1, No. 5 Class AA), 7 p.m., Wendy's Field at Daylis Stadium: Skyview enters on the game having back-to-back wins for the first time since 2017. The Broncs will be a tougher test than Skyview's previous contests, however. Senior will be looking to bounce back from last week's loss to West.
Billings Central (3-0, No. 3 Class A) at Lewistown (2-1), 7 p.m.: Both teams had games canceled/postponed last week (coronavirus again). The ascending Rams were supposed to play Glendive; Lewistown was up against Sidney. Billings Central has scored at least 21 points in each of its games, while Lewistown hasn't given up more than 22.
Shepherd (2-2) at Baker (1-3), 7 p.m.: Baker defeated Roundup 42-6 on Sept. 25, while Shepherd beat Roundup 52-0 last week. Maybe fans are in for a good game here.
Glasgow (6-0, No. 3 Class B) at Malta (3-0, No. 5), 7 p.m.: This top-five matchup between Northern B rivals will have major playoff seeding implications. Malta beat Glasgow 16-8 last season, but the Scotties have looked even better than last year, when they made the playoffs. Glasgow has outscored its opponents 280-41 this fall, while Malta boasts a 92-31 scoring margin. The Mustangs defeated Conrad 8-6 on Sept. 11, and the Scotties beat Conrad 36-8 a week earlier — their closest win of the season.
Power-Dutton-Brady (3-0, No. 5 6-Man) at Big Sandy (4-0, No. 1), 7 p.m.: These Northern division foes are two of the six remaining undefeated teams in 6-Man. Big Sandy has outscored its opponents 231-60, and PDB has a 130-48 margin of victory.
Broadview-Lavina (3-2) at Harlowton-Ryegate (4-1, No. 8 6-Man), 7 p.m.: After starting the season with three lopsided wins, Broadview-Lavina will face its third ranked opponent in as many weeks (although last week's foe, Bridger, didn't make the top 10 until a 50-25 win over the Pirates vaulted the Scouts to No. 9 this week). Harlowton-Ryegate has scored at least 44 points in three of its five games.