BILLINGS — The first drive of the game was a precursor to Laurel's supremacy in the 76th meeting between Class A football rivals Friday night.
The No. 2-ranked Locomotives received the opening kickoff from No. 3 Billings Central and meticulously marched 63 yards on 12 plays — all runs — capped by a five-yard touchdown burst by quarterback Kyson Moran.
Turns out Laurel, which has shown offensive balance all season, didn't need to throw the ball at all in a 28-14 victory over the Rams at Herb Klindt Field.
The Locomotives called 46 consecutive running plays before its first and only pass attempt fell incomplete in the fourth quarter, and by then the game was pretty much decided. They finished with 314 yards on the ground to prevail in a top-five showdown of two 4-0 teams.
"That's definitely frustrating for a defense," Laurel's Beau Dantic said after a yeoman's effort running the ball. "Great job by our offensive line. I had really good holes I could read. Our offensive line, they did great tonight."
Laurel fed the ball to Dantic 28 times and he responded with 198 yards and a touchdown. Dantic's 53-yard TD jaunt, during which he slipped a tackle and sped down the left sideline to put Laurel up 28-7 with 2:41 left in the third quarter, gave his team all the points it needed.
Was that the game plan going in?
"No," Laurel coach Mike Ludwig said with a laugh. "But I thought our offensive line did a tremendous job of executing, getting to their blocks and maintaining their blocks. If we don't have to pass, we're OK with that."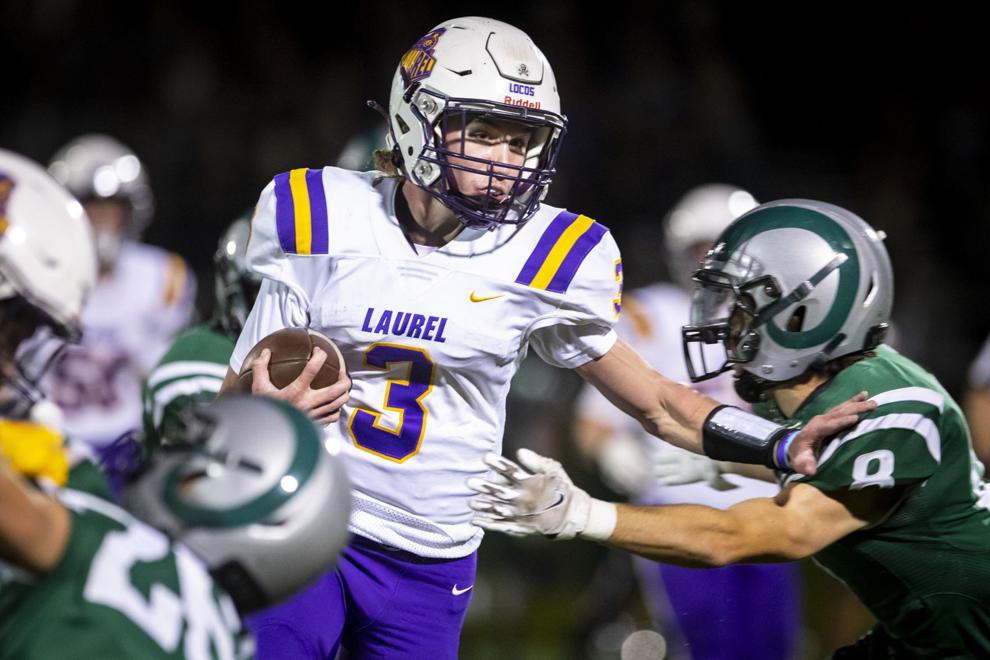 Ludwig said Dantic's performance "was tremendous. That's what we need out of him and that's what we expect out of him, to put the team on his back a little bit. When we get into big-time games like this we need him to step up, and he did that tonight."
Moran, who entered the game with 12 touchdown passes and none on the ground, rushed for two scores. His second, a 1-yarder, came at the 9:40 mark of the second quarter and put Laurel up 14-0.
Moran later took a shot to the head in the second quarter and was held out for the rest of the game as a precaution after being evaluated by Laurel's athletic trainers. Backup Gus Robertus took over and the Locomotives kept churning out yards. Robertus' 15-yard TD run late in the second gave them a 21-7 advantage.
Laurel had 206 rushing yards in the first half. By then, Central had only run 11 plays.
The Rams turned the ball over three times, two of which Laurel turned into touchdowns. But Central suffered a setback in the first quarter when a would-be 64-yard touchdown pass from Adam Balkenbush to Clay Oven was wiped out by an illegal block penalty. The Rams later fumbled the ball away on that possession.
Oven got the Rams on the board with a 1-yard touchdown run in the second quarter, on the heels of a 70-yard kickoff return by A.J. Ulrichs. But they were chasing the lead all game, and didn't score again until Kade Boyd found the end zone on a five-yard run with 55 seconds left. It was Boyd's 10th rushing touchdown of the year.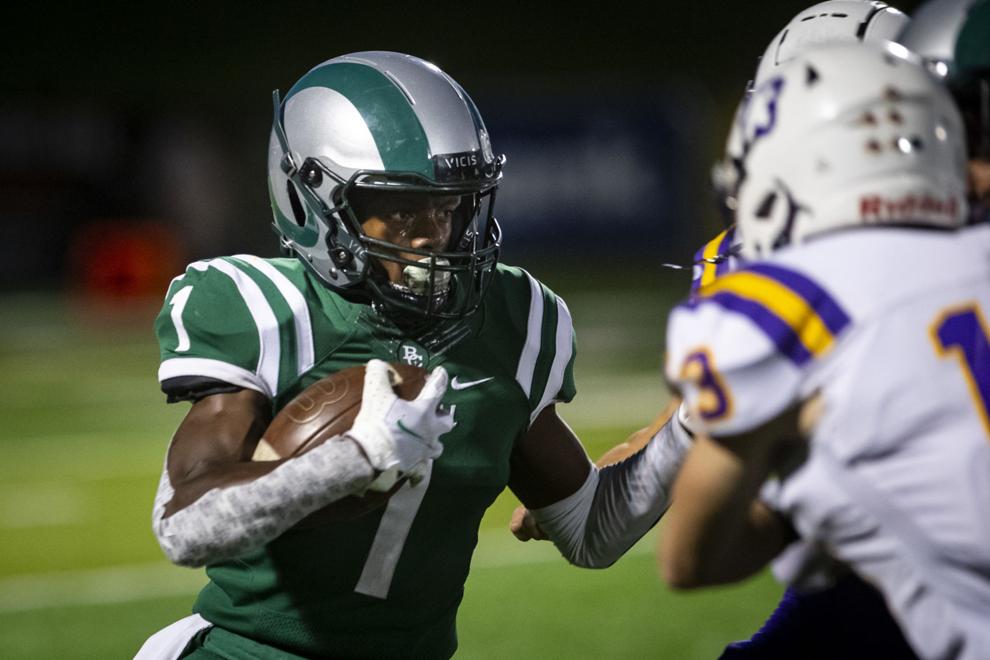 "When you can't stop the run it's a tough day," Central coach Jim Stanton said. "That's a tough thing to go up against. We had the tables turned on us — usually that's our forte. They did a great job of rushing the ball and picking up first downs. We just didn't have the ball enough early in the game, and it kind of got away from us."
"We had three turnovers and a touchdown called back," Stanton said. "We weren't punting the ball, we just didn't have the ball. The opportunities that we dropped on the ground could have been us possessing the ball and turning the tables. Mistakes were big tonight, but there's a lot of football left and I know we'll rebound from it."
The Rams travel to Sidney next week while Laurel hosts Miles City.