HELENA — The Helena Capital Bruins looked at the first two games of the season as a preseason of sorts. Yes, Capital wanted to win those games, but it also wanted to get some of its players valuable experience. 
"We feel good about where we're at," Capital head coach Kyle Mihelish said. "And we grew up a little bit. We are playing with a lot of juniors on offense, defense and special teams. You almost went through two preseason games really. Now, these are the games (conference) that count. It gets real starting Friday night."
In a win over Bozeman and a loss last week to Billings West, the Bruins achieved both of their objectives. They also continued a quarterback competition between Joey Michelotti and Hudsen Grovom that started in training camp.
But now, with Kalispell Flathead coming to Vigilante Stadium for the start of Western AA conference play — the only games that count for the playoffs — head coach Kyle Mihelish and the Bruins have made a decision at quarterback and Michelotti will be the starter.
"We just thought the offense needed a direction," Capital head coach Kyle Mihelish said. "And by no means does that mean (Hudsen) Grovom will just be on the sideline. But we are going with Joey. He's going to be the guy." 
So far this season, Michelotti is 10-for-20 passing for 131 yards and a touchdown while sharing time with Grovom. He led the offense to both touchdowns against Bozeman in Capital's season-opening win.
Through two games, it has been a struggle for the Braves (0-2), who lost 34-7 to Billings Skyview in Week one, as well as 49-7 to Gallatin last week.
"They are young," Mihelish said of Flathead. "They are playing a lot of sophomores. They do have a shifty quarterback who can throw pretty well. They just have inexperience with all those young kids playing."
An early bright spot for the Braves is Jackson Walker, the quarterback Mihelish was talking about. He's got two touchdowns and three interceptions this season, but also rushed for 70 yards last week.
Of course, playing quarterback against the Bruins hasn't been a picnic, not with Talon Marsh wreaking havoc, which he has done to the tune of eight sacks in two games.
"One thing with Marsh is that he's consistent," Mihelish said. "He works hard and he wants to get after the passer. His want to factor is just unbelievable. If we had everyone wanting to play like Talon Marsh, we'd be pretty solid."
As a team, the Bruins have 17 sacks as Cole Soper also has five to his credit and Henry Gross has three. 
However, after scoring just 14 points in the first two games, the Bruin offense will need to give its defense a little more help Friday night.
"We gotta get points on the board," Mihelish said. "We've got to be able to do that."
A long standing rivalry renewed 
There's just something about a team from Butte and a team from Helena meeting on the football field and we'll get that Friday night at Naranche Stadium as the third-ranked Bengals (2-0) will take on Butte (1-1) in the Western AA opener for both teams. 
"This is how it should be every year," Helena head coach Scott Evans said. "We had a few years where we didn't play Butte. It's a natural rivalry and we love playing down there. We got them back in the West and it works out perfectly."
The last time Helena High traveled to Butte it was Kaden Huot's second career start. He and the Bengals were bested by Tommy Mellott and the Bulldogs. But, now in his return to Naranche, Huot is the Division I commit and through two games, he's got five touchdown passes as well as 486 yards while completing 69.5 percent of his passes. 
Huot is also Helena's leading rusher after two games with 117 yards (one rushing TD), thanks to a 60-yard run against Billings Senior last Friday.
"You can't beat having a quarterback," Evans said. "Having a kid who can lead your team and be a three-year starter. We are in the same boat as (Butte) was a couple of years ago. We have a signal caller who has played a lot of football and we expect a lot out of him."
With two starters graduated from last season, it was hard to know what to expect from the Bengals' receivers, but through two games, it's clear that Helena has an abundance of weapons.
Chase McGurran (11 receptions, 159 yards, 3 TDs) has led the way for the Bengals but Kade Schlepp isn't far behind with 10 catches for 134 yards and in terms of actual receptions, Cade Holland with 12 receptions leads the team and is second in yards from scrimmage (158). Carson Anderson and Colter Petre have also started to emerge.
"The quarterback has done a good job of taking advantage of things," Evans said. "He's seeing who is getting double teamed and all the guys he's throwing it to are good football players. Any of those guys can make plays for us."
Defensively, Helena has been dominant and is allowing just seven points per game and multiple players have stood out on both sides of the ball.
Marcus Evans, another Montana Grizzly commit like his quarterback, leads Helena with 27 tackles, as well as eight tackles for loss and three sacks. Helena as a team has 13 sacks and joining Evans with three already are Forrest Suero and Holland. Suero also has six hurries, as well as six tackles for loss. As a team, Helena has made 36 stops in the backfield.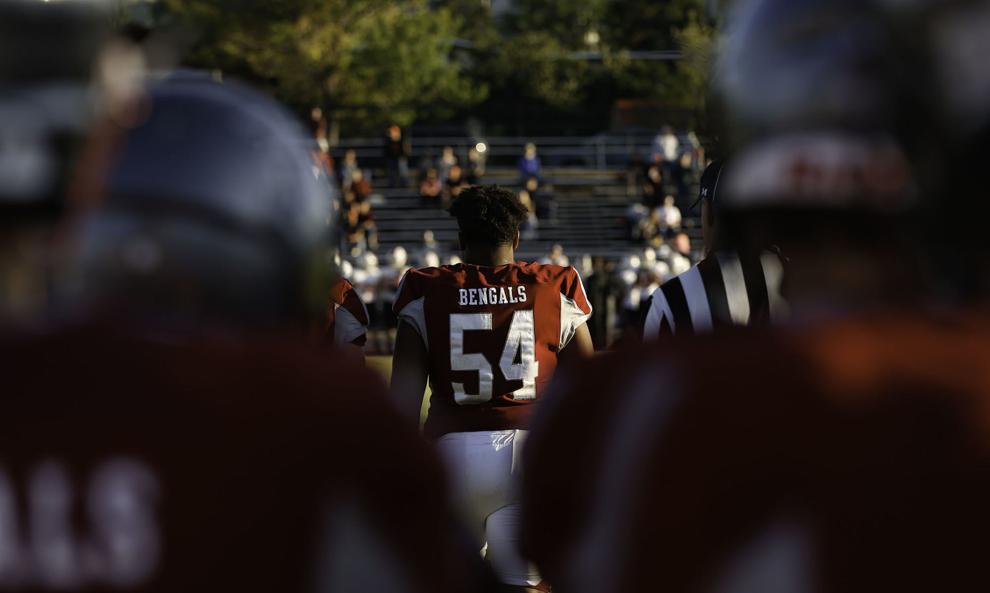 Butte has run the ball 64 times compared 54 passes in two games which means Gavin Vetter should get plenty of work. Jace Stenson (283 yards, two touchdown passes) has played well at quarterback but the Bulldogs have also played Kenley Leary. 
East Helena returns to the field
After not playing last week at Columbia Falls due to COVID-19 issues within the program, the East Helena football team will be back in action, on the road, against Polson Friday night.
"We are just excited about the opportunity to go play a football game," East Helena head coach Tyler Murray said. "That was something I talked about last year. It's never a given, especially right now, so we have to be thankful for every chance we get."
The fifth-ranked Pirates are 2-0 on the season and boast one of the most dynamic quarterbacks in the state of Montana in Jarrett Wilson. 
It will be the second game of the East Helena's first varsity football season. The Vigilantes opened the year at home against Libby and are still searching for their first points as a varsity football team.
"It allowed us to get a taste for the speed of varsity football," Murray said. "It was a learning experience for all of us. It was my first game in Class A. So it just allowed us to see what we need to do to get to that level."
Class B 
Braden Morris, who threw three touchdowns last week for ninth-ranked Jefferson, will lead the Panthers on the road against Cut Bank Friday night in a nonconference matchup.
Jefferson drubbed Whitehall in Week one and the duo of Morris and Joey Visser hooked up for two touchdowns. The Panthers will also look to running back Dylan Root as they aim for a 2-0 start.
Elsewhere in Class B action, Townsend, ranked third this week in the 406mtsports.com poll, will travel to Whitehall.
The Bulldogs were dominant in their season opener against Anaconda, notching a 43-0 win and with offensive weapons such as quarterback Trey Hoveland, wide receiver Gavin Vandenacre and running back Tommy Stewart, the Bulldogs are also seeking their second win ahead of next week's showdown with No. 1 Florence-Carlton at Washington Grizzly Stadium. 
Kickoff for all games is at 7 p.m.