LAUREL — In June, Laurel's football coaches approached sophomore Shel Osborne with a request. The Locomotives were thin on the offensive line, so the coaches wanted Osborne to switch from tight end to offensive line. He said yes.
Conversations like this are common for football teams, but the position switch held extra meaning for Osborne and Laurel.
Osborne's jersey number is 51. Since the mid-1990s, Laurel coaches have given the No. 51 to a talented, hard-working player who moves from a skill position to the offensive line. It's an honor and a responsibility.
"He's just an overall good kid, not just a good football player. Just a good student and a good person. That's why he got" No. 51, Laurel coach Mike Ludwig said of Osborne. "We knew we were giving it to the right person."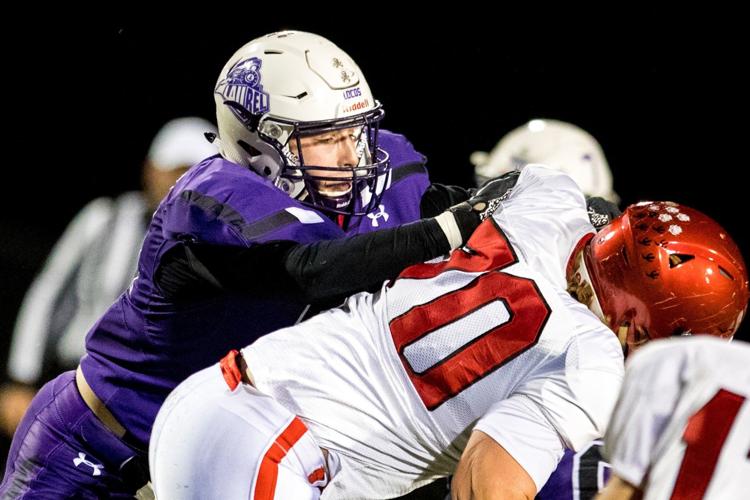 The 51 tradition started with Waylon Robertus. One season in the mid-1990s, he switched from fullback to offensive line for Laurel (he also played linebacker). Offensive linemen must wear numbers from 50 to 79. Laurel's coaches landed on No. 51 for Robertus, inspired by former Chicago Bear and Hall-of-Famer Dick Butkus, according to Locomotives then-defensive coordinator Jim O'Neil. Robertus became an all-state player.
Johnny Perrigo moved from tight end to offensive line during his junior year at Laurel, and he helped the Locomotives win their first state championship in 1999.
That's when No. 51 developed significance in the minds of Laurel's coaches. They decided to reserve the jersey number for a player like Robertus and Perrigo, "butt-kicking middle linebackers" who could/did thrive at an offensive skill position but became offensive linemen, O'Neil said.
"They're just salt of the earth-type people," O'Neil said. "They put the greater good of the team in front of their own achievement, accomplishments or even well-being."
No. 51 isn't handed out to just anyone. Osborne is the fourth Locomotive to don the jersey. The previous recipient was Sean Condon, who graduated from Laurel in 2010 and went on to play for Carroll College.
The exclusivity comes, in part, from rarity — Laurel doesn't always have a linebacker who moves from a skill position to the line on offense. But Ludwig and O'Neil have considered giving No. 51 to players since Condon. Nobody met their standards until Osborne arrived.
Locomotive coaches have been so strict about which Laurel football player wears 51, they have taken the number away from middle-schoolers in the past, O'Neil said. Osborne wore No. 51 in middle school but never had it stripped. Coaches could see his potential back then, O'Neil said, so they let him keep the number.
"It was super humbling to have a great coach like coach O'Neil come to me and get that bestowed upon me," Osborne said. "I had to step up to it and earn it. I haven't earned it yet."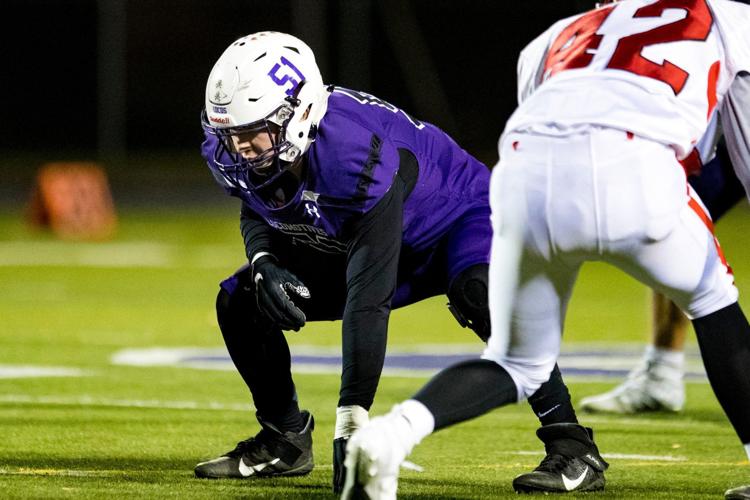 O'Neil left the Laurel football program two years ago, mainly to focus on coaching the high school's successful golf teams. Fifty-one has remained in his life. O'Neil's children have gifted him golf balls adorned with the No. 51 under the brand name, instead of the more common Nos. 1, 2, 3 or 4.
"Every time I golf," O'Neil said, "I just look at that 51 and it gives me strength."
Laurel went 7-1 in the regular season and earned a first-round Class A state playoff bye. The Locomotives, who are No. 4 in the 406mtsports.com Class A rankings, will host No. 5 Libby (8-2) in the quarterfinals on Saturday at 1 p.m.
The young Locomotives (six seniors) hope they'll be playing in two weeks. If they do, Osborne will likely play a key role.
"Whenever Laurel has a No. 51 on their team," O'Neil said, "they've got a chance to win a championship."
No. 5 Helena Capital (8-2) at No. 4 Billings West (8-1), 7 p.m., Wendy's Field at Daylis Stadium: The last time Helena Capital was on the Wendy's Field turf (against Billings Senior on Aug. 30), Parker Johnston was making big play after big play as a receiver and defensive back for the Bruins. Johnston and West's Connor Ryan are two of the most explosive receivers in the state: Ryan is tied for the Class AA lead in receiving touchdowns with Great Falls' Levi Torgerson as 12, while Johnston has hauled in 11 scoring passes.
Billings Senior (5-4) at No. 2 Missoula Sentinel (9-1), 7 p.m.: When these two AA teams met on Sept. 6 it was fairly even statistically. Senior had 177 total yards; Sentinel finished with 171. But the Spartans came away with a 21-3 win. Sentinel has won five in a row, while Senior is on a season-high three-game winning streak.
Billings Central (7-2) at No. 3 Hamilton (8-1), 1 p.m. Saturday: It's a rematch of last year's State A championship game, won by the Rams, so Central knows all too well about Broncs quarterback Carson Rostad, who has accounted for 41 touchdowns this season.
Frenchtown (8-2) at No. 1 Miles City (8-0), 1 p.m. Saturday: The Broncs are coming off a 34-7 State A first-round win over Whitefish, while the Cowboys enjoyed a bye.
No. 6 Malta (8-1) at No. 3 Red Lodge (9-0), 1 p.m. Saturday: The Mustangs cruised 26-7 in last week's State B first-round game at home against Malta. The Rams also moved on to the quarterfinals but had to sweat, beating Bigfork 28-25.
No. 7 Thompson Falls (9-1) at No. 1 Fairview (9-0), 1 p.m. Saturday: The Warriors, who cruised past Choteau 70-8 in last week's 8-Man playoff opener, will face perhaps their toughest opponent of the season in the quarterfinals. The Falcons beat Twin Bridges 55-20 last week, and their only loss happened nearly two months ago, 56-38 at No. 3 Alberton-Superior.
No. 5 Wibaux (8-2) at No. 7 Shields Valley (9-1), 1 p.m. Saturday: The defending 6-Man state champion Longhorns have been shaky the last four weeks, with losses to Jordan and Westby-Grenora and a 26-18 win over Denton-Geyser-Stanford this past Saturday in the first round. The Rebels have only lost to Hot Springs (25-13 on Sept. 13) and defeated Geraldine-Highwood 59-38 last week.