MISSOULA — A lot of high school and college football coaches like to say they view every game the same.
Not Mick Morris. His Missoula Hellgate football team can claim its first city title in more than 15 years and he's not beating around the bush when it comes to Friday's showdown with Class AA third-ranked Sentinel.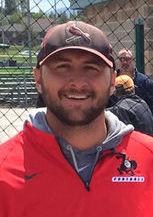 "We could lie and say we haven't been looking forward to this game, but our kids are pretty excited," said the coach, whose 3-2 team has suffered two losses in a row. "I don't know how long it's been since Hellgate won a city championship but I know it's been a while. It's definitely one of our goals."
In order to beat the Spartans for the first time in eight years, Hellgate must contain their balanced offense.
It's hard enough trying to stop 6-foot-1, 200-pound senior running back Jaxon Lee. Then when you factor in Sentinel's ultra-consistent short passing game led by quarterback Dayton Bay, let's just say it's enough to keep a coach up at night.
"When teams have really tried to gear up to stop Lee, Sentinel has done a good job of taking advantage of having so many (defenders) in the box," Morris said. "We have to try to contain him without over-extending ourselves and putting too many guys in the box to allow them to get their passing game going."
Stopping Hellgate's offense is no easy task, either. The Knights have a uniquely talented quarterback/linebacker in Rollie Worster, who will attend Utah State on a basketball scholarship next fall.
"He's a helluva athlete and he makes their team go, so we have to be aware of where he is on offense and defense," Sentinel coach Dane Oliver said. "We're Week 7 now so there's no secrets.
"I thought we were patient last week," Oliver added, referring to a 35-7 win over Big Sky. "We executed some things we've been practicing for a few weeks and obviously our defense played lights out. That's a good formula."
Hellgate's defense hasn't exactly played lights out in losses at Helena and Kalispell Glacier the past two weeks. After allowing 39 points total in their first three wins, the Knights have allowed 76 in their last two losses.
"We've started out really poor on defense the last couple weeks, giving up I think five touchdowns of 40-plus yards in the first halves," Morris said. "Just kind of some mental mistakes, long pass plays that put us in a hole.
"It's a good sign we've been able to come back, but on defense we want to start faster."
Missoula Big Sky (1-5) will be looking to snap its four-game skid when it plays at fifth-ranked Helena Capital (4-2) on Friday night. The Eagles had trouble getting their offense going last week, failing to record a first down in the first half in a 35-7 loss to Sentinel.
Big Sky may find solace in knowing it can get it done on the road. Back in early September, the Eagles stunned Bozeman on a muddy field, 21-18.
Capital will come in just as hungry as the Eagles. The Bruins lost at Butte last week, 56-38, after spotting the Bulldogs a 35-3 halftime lead.
"We didn't lie down in the second half, but we do need to be better in the first half," Capital coach Kyle Mihelish told 406mtsports.com. "We need to fix some alignment issues … we just need get cleaned up and they caught us on a couple things."
The Bruins had a difficult time stopping the vaunted Bulldog rushing attack, as Butte gashed Capital for 332 yards on 55 carries. Quarterback Tommy Mellott and running back Kameron Moreno had 300 of those 332 yards and combined for four rushing touchdowns.
Loyola Sacred Heart will put its No. 6 ranking and 4-2 record on the line Friday night at No. 2 Eureka (5-0).
To their credit, the Rams have played well the last two weeks without starting quarterback Nick Mitzel. Sophomore quarterback Keenan Russell threw three touchdown passes in a 42-8 win at Anaconda last week.
Eureka walloped visiting Anaconda three weeks ago, 63-6. Last Friday the Lions humbled injury-depleted Florence in Florence, 34-14.
Valley Christian (1-5) will have its hands full with Class C six-man juggernaut White Sulphur Springs (4-2) on Saturday afternoon in Alberton. The Eagles have lost five in a row, including a 69-30 decision at unranked Gardiner last weekend.
White Sulphur Springs won at Gardiner two weeks ago, 46-13. The Hornets followed up with a 65-12 win at Sheridan last weekend.