MISSOULA — When Missoula Sentinel quarterback Dayton Bay handed the ball off to do-everything back Jaxon Lee for the final time in the Spartans' 28-25 win Friday night over Kalispell Glacier, he breathed a sigh of relief.
Lee rumbled through the line and barreled 42 yards down inside the Wolfpack 15-yard line, preserving the win at Missoula County Stadium. Two Bay kneel downs later and the Spartans were 8-1 — a place they have not been at the end of the regular season in a very long time.
"I was like, 'Thank God,' it's over, we got it." Bay said of Lee's late run. "We sealed it up."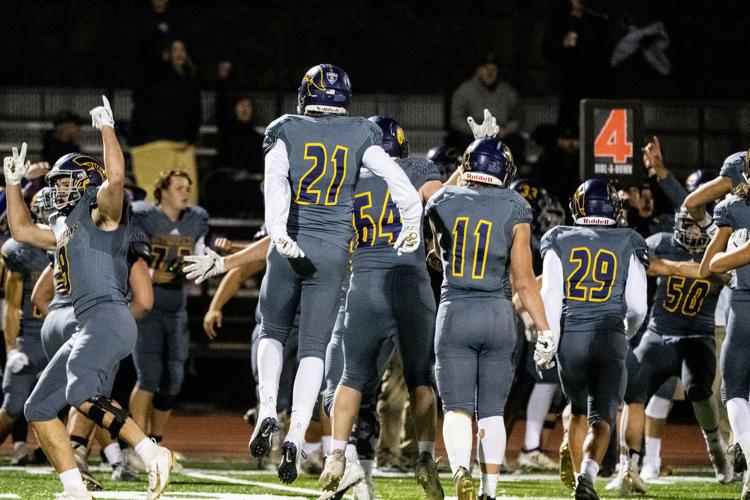 Minutes earlier, however, the game was anything but finished.
Trailing 28-17, the Wolfpack found themselves gifted with excellent field position at the Spartan 30-yard line. With 3:06 left on the clock, Sentinel opted to fake a punt from inside its own territory and the trick play backfired.
The Spartans ate a 10-yard loss and turned over the ball. Glacier's Drew Deck, a Montana Griz football commit, caught a pass for 20 yards down the sideline. Two plays later, Wolfpack quarterback JT Allen found Deck in the corner of the end zone for an incredible touchdown reception.
Deck just barely managed to get a foot inbounds as he gathered in the score from 10 yards out.
The Glacier receiver finished with six catches for 59 yards.
"That's the kind of athlete he is and that's why he's going to play for the Griz," Glacier head coach Grady Bennett said. "I mean he's special. He runs such fabulous routes and you know when he gets a chance one on one with anybody, he's going to get open, he's going to get a chance at it.
"There's very few kids that can extend their body like that."
Earlier in the fourth quarter, Sentinel seemed to pull away for good. Zac Crews rumbled in from 5 yards out with 7:09 left in the contest to give the Spartans a two-possession lead.
Glacier then proceeded to turn the ball over on downs, just inches from converting with 4:13 left in the fourth quarter. It certainly made for a stressful final few minutes for Sentinel head coach Dane Oliver, who now has his most wins in his six seasons leading the Spartans.
"It's supposed to be a fun experience for the kids, but it gets a little intense," Oliver said. "It was a good high school football game. Back-and-forth. Their guys were making plays, our guys were making plays.
"I just have a lot of respect for Glacier."
Sentinel got on the board first, as Jaxon Lee rumbled in from 3 yards out to give the Spartans a 7-0 lead. Lee finished with 25 carries for 105 yards and a pair of scores.
His second put Sentinel ahead 21-17 with 1:24 left in the first half, which capped off an 11-play, 80-yard drive that gave the Spartans the lead for good.
It came after Deck had an incredible interception to set the Glacier offense up with excellent field position. A 27-yard field goal put the Wolfpack up 17-14.
"You talk about responding, we put our defense in a tough spot and we held them to a field goal, that's a win," Oliver said. "Same with offense, we needed to take the lead and we marched back down the field. We just stayed composed."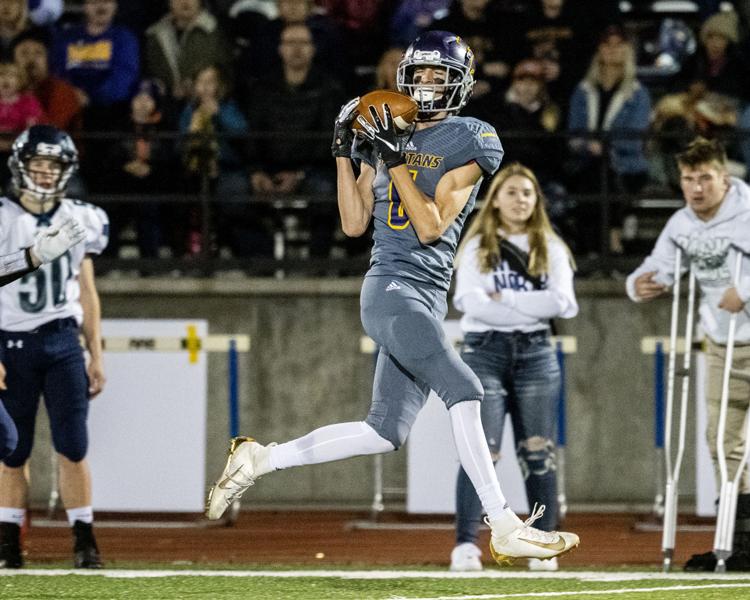 Now, it's on to the playoffs for the Spartans, who will be the No. 2 seed out of the Western half of Class AA. Every team in the classification makes the playoffs this year.
As one of the presumed favorites, Sentinel now finds itself in a very different position.
"It's been a long time since Sentinel has been 8-1. I'm proud of them," Oliver said. "I don't know if they know the magnitude of what they're doing."