BUTTE — With a Montana State-bound quarterback, a dynamic wide receiver group, solid running backs and a fairly experienced line as an anchor, the Butte High offense looks like it will have plenty of teeth for the upcoming 2019 season.
The Bulldogs hosted their annual Purple and White scrimmage on Friday evening at Naranche Stadium, a prelude to the more series affair at home against Belgrade to open the season next week. While the starters got fairly limited reps, there does not seem to be much drop off from last year's squad that averaged nearly 400 offensive yards per game.
"The energy was good, tempo was good," Butte head coach Arie Grey said. "We've got to shore up a couple things here, getting lined up quicker and definitely understanding the idea of, hey guys, just relax. That's part of the deal."
Perhaps one of Butte's biggest advantages will be its passing game. A high-tempo, modern spread offense, the Bulldogs have long had the ability to be explosive and have a group of talented skill position players to run it effectively.
Senior Tommy Mellott, who is verbally committed to the Montana State football team, will start for the third-straight season at quarterback. He completed 194-of-363 passes last year for 2156 yards and 19 touchdowns, adding another 881 yards on 158 carries and 11 touchdowns on the ground.
He will be throwing to a variety of targets, including top-returning wide receiver Quinn Sullivan who caught a team-high 44 passes for 753 yards and six touchdowns.
Seniors Tucker Winston and Cory West as well as junior Ryan Neil are all some names to watch at the wideout spot.
Kameron Moreno got the first reps at running back and will look to improve on a 155 carry, 670 yard, 10 touchdown junior campaign. Josh Nelson, who saw limited time last year, was also in on a number of plays and will likely see a vast increase in carries over the eight he had last season.
The senior is a player the coaching staff thinks highly of and certainly trusts.
"He's been a great leader with the young kids all summer long and all two-a-days," Grey said. His leadership, he's a guy that's just playing offense … he's doing a great job of being positive and being that leader. Really that leader that you need.
"We're excited for him and excited for him to have a big year."
A jump for Olson?
Basketball players often make pretty good tight ends and that is exactly what the Butte coaching staff is hoping for from Jake Olson.
The 6-foot-7, 200 pound junior saw limited time last season on the football field, mostly playing on PAT and field goal attempts. Olson did see some time on offense a year ago, but only a few plays and he hopes to contribute more on that end this season.
"I feel a lot more confident this year, obviously, because I've got a lot stronger and a lot taller," Olson said. "Older, too. The experience last year helped a lot too, but, honestly I'm looking to improve a lot more and help the team as much as I possibly can and win a lot of games"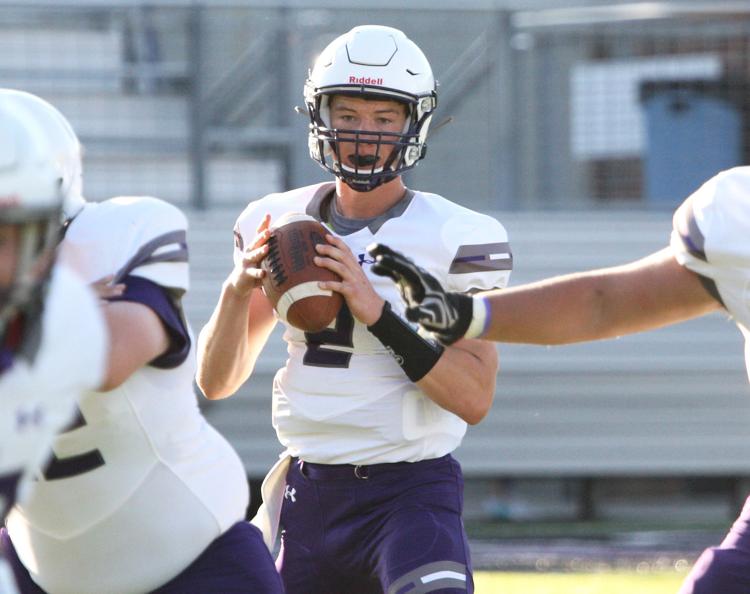 Starting nearly every basketball game a sophomore for the Bulldogs, his jumping ability is impressive, as is his catch radius. Olson is certainly still a raw prospect both on the court and on the field, but there is a lot of hope for him to develop further in both sports.
He had several nice plays during the scrimmage and could see time at defensive end as well. With his added weight and muscle, he could be a dangerous weapon in third-down passing situations.
Regardless of what exactly Olson ends up doing on the field, the Butte High coaching staff is excited about his potential.
"It's always nice to have a big wide receiver," Grey said. "I think our quarterbacks like having a big wide receiver, bigger target to throw to. Jake's progressed. He's still raw, got some things that he has to get better. But he's going to improve every day and I'm excited to see where he goes and what he does."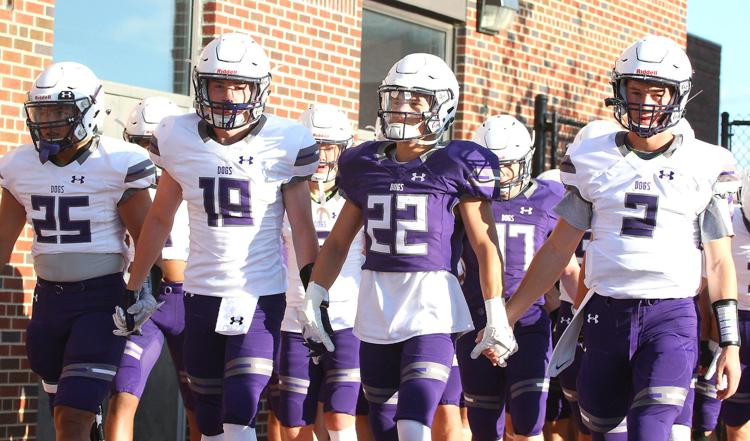 A couple new backers
With standout linebackers Calvin Snow and Carl Anderson graduated, there are a couple holes to fill along the front seven.
Grey was impressed with junior Tucker LeProwse's efforts during the scrimmage and also mentioned Dylan Averyt, Christian Vetter and Quinn Sullivan as other players who will see time on the field. Sullivan finished with 22 tackles last year, which included four for loss — Vetter returns with 15, five of which for loss.
Kameron and Kobe Moreno have also moved to inside linebacking spots and will see time as well. Kameron finished with 38 tackles in 2018, which is second-highest among returning players.
"It's kinda neat, we got a lot of linebackers," Grey said. "That's what's really nice about having two non-conference games, because we'll really get the opportunity to play some kids and battle so when we get into the heart of our season we'll have those guys out there."