Class B, 8-Man and 6-Man all experienced movement in the latest 406mtsports.com high school football rankings.
St. Ignatius (7-1) jumped from unranked to No. 5 in the 8-Man rankings after beating defending state champion Drummond-Philipsburg 50-36 on Friday. The Bulldogs' only loss this season was 54-32 to No. 3 Alberton-Superior (8-0) on Sept. 6. The previous No. 5-ranked 8-Man team was Centerville (6-2), which dropped out of the rankings after losing 40-36 at home to Choteau (5-3) on Saturday. Belt (6-2) cracked the rankings at No. 10 thanks to back-to-back blowout home wins over Choteau and Shelby (5-3), which went from No. 9 to unranked.
In Class B, Florence (5-2) moved up three spots to No. 5 after a 39-21 win at then-No. 6 Missoula Loyola (4-4). It was the Falcons' first win over the Rams in 17 years.
In 6-Man, defending state champion Wibaux (6-2) dropped two spots to No. 5 following a 52-42 loss at Westby-Grenora (6-2), which remained at No. 7. Westby-Grenora's two losses are to No. 1 Big Sandy (7-0) and No. 6 Richey-Lambert (6-2), which lost at Wibaux 45-0 on Sept. 21.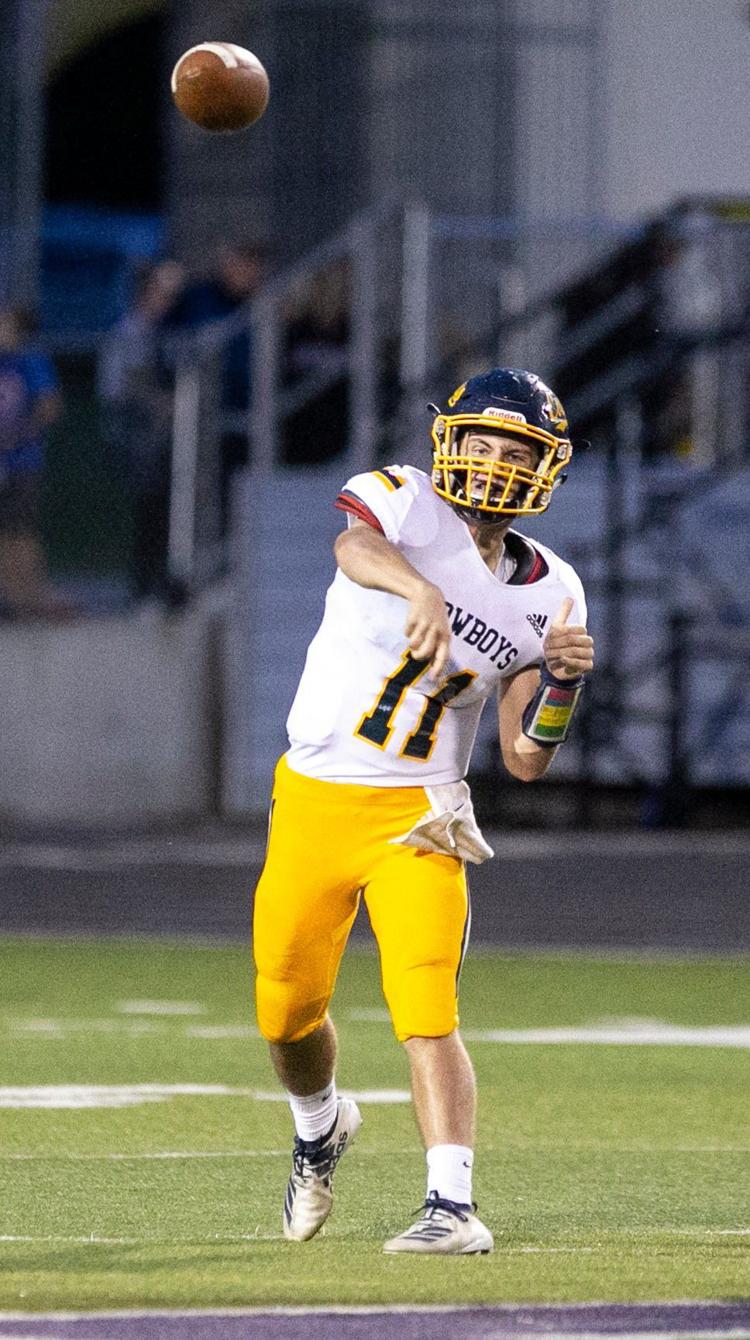 The Class AA and A rankings didn't change. Class A No. 1 Miles City (7-0) is coming off a 55-8 win at Lewistown in which junior quarterback Carson Hunter set school records in passing yards (431) and passing touchdowns (eight). Cowboys senior Jess Bellows caught eight passes for 213 yards and four touchdowns, and junior Jayden Venable tallied 179 yards and three scores on five catches. Hunter, who completed 14 of 21 passes, also tied a Class A record for most TD passes in a game, per Miles City coach Jeff Regan.
Class AA
1. Butte (8-0)
2. Billings West (7-0)
3. Missoula Sentinel (7-1)
4. Bozeman (6-1)
5. Helena Capital (6-2)
Class A
1. Miles City (7-0)
2. Dillon (7-1)
3. Hamilton (7-1)
4. Laurel (6-1)
5. Frenchtown (7-1)
Class B
1. Fairfield (7-0)
2. Eureka (7-0)
3. Red Lodge (7-0)
4. Manhattan (7-0)
5. Florence (5-2) (+3)
6. Malta (6-1) (-1)
7. Missoula Loyola (4-4) (-1)
8. Townsend (5-2) (-1)
9. Jefferson (5-2) (+1)
10. Huntley Project (5-2) (-1)
8-Man
1. Fairview (7-0)
2. Fort Benton (8-0)
3. Clark Fork/Alberton-Superior (8-0)
4. West Yellowstone (7-0)
5. St. Ignatius (7-1) (Not ranked last week)
6. Great Falls Central (6-2)
7. Thompson Falls (7-1)
8. Park City (6-1)
9. Scobey (6-2) (+1)
10. Belt (6-2) (Not ranked last week)
6-Man
1. Big Sandy (7-0)
2. Jordan (7-1)
3. Hot Springs (8-0) (+1)
4. Power-Dutton-Brady (6-0) (+1)
5. Wibaux (6-2) (-2)
6. Richey-Lambert (6-2)
7. Westby-Grenora (6-2)
8. Shields Valley (7-1) (+1)
9. Noxon (5-2) (+1)
10. White Sulphur Springs (5-3) (-2)