FAIRFIELD — The first member of the Manhattan football team to hold the program's first state championship trophy was not a coach or an active player. It was Cayl DeBoer, a senior in street clothes.
DeBoer, a lineman and team captain, was one of Manhattan's best players until Oct. 16, when he suffered a life-threatening injury. DeBoer's scare devastated the Tigers but also galvanized them. They rewarded him on Saturday.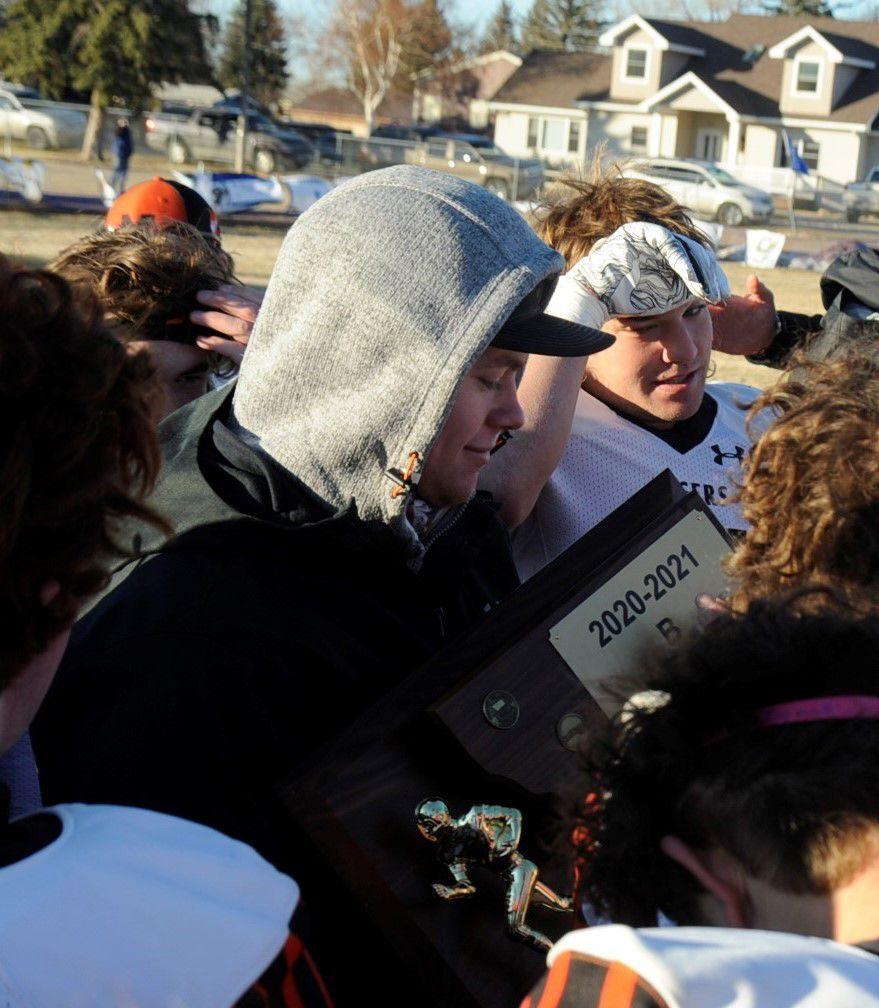 After spending the first several decades of its existence without a title, Manhattan finally finished first in the Class B ranks. The top-ranked Tigers beat No. 3 Fairfield 23-6 Saturday afternoon to complete a 12-0 season. Many of Manhattan's 12 seniors played major roles in the win, and they got a boost from their classmate on the sideline.
"It's going to be a fun bus ride home," Manhattan senior Gabriel Delgatty said shortly after the game ended. "I don't know if it's set in yet, but we're all having a good time."
An opposing player's knee struck DeBoer in the stomach during Manhattan's game at Townsend on Oct. 16. The blow ruptured DeBoer's intestines, bruised his aorta and bruised his pancreas. He was life-flighted to Great Falls that night and underwent surgery 30 minutes after he got to the hospital. He called it "a life or death situation."
"I was worried. I kind of kept fading in and out," DeBoer said Saturday. "I just told myself to keep fighting."
The 6-foot-3, 215-pound senior remained in the hospital for eight days. Though DeBoer is able to move around now, he's been told to avoid any strenuous activity. He has a few more weeks of recovery.
DeBoer's team responded by pasting his No. 62 on every player's helmet. The Tigers came up with a "For Cayl" slogan that they put on T-shirts and signs. After Oct. 16, the Tigers were playing for more than simply a state title.
"It hurt us, but it motivated us at the same time," Delgatty said. "He's a role model for everybody."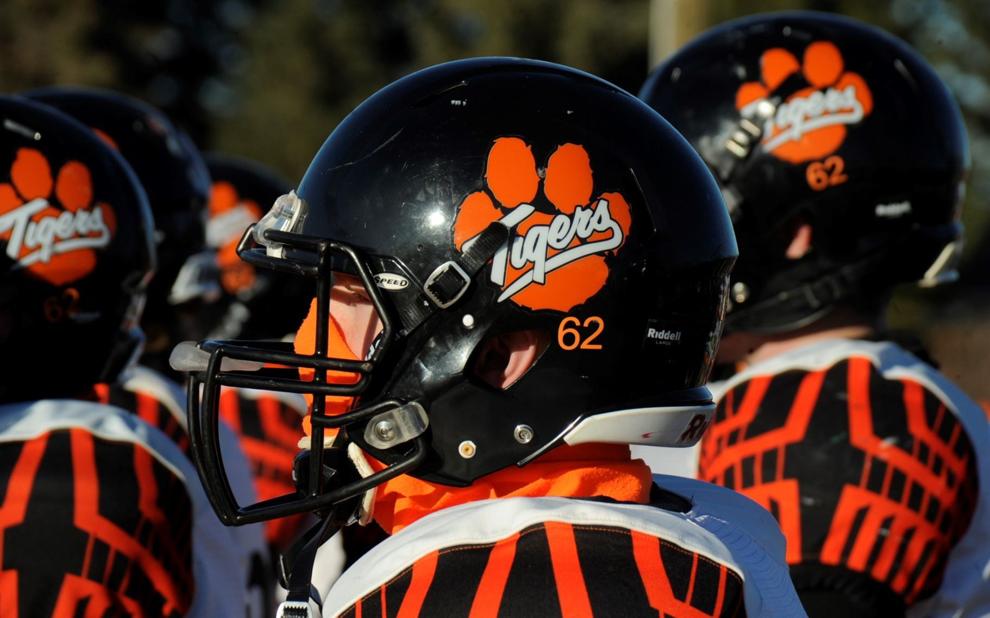 Manhattan reached its first state title game a year ago and lost 20-6 to Eureka. The defeat "left a sour taste in our mouths," said Manhattan coach Chris Grabowska, but the Tigers knew they would be good again, considering all of their returning talent.
The coronavirus pandemic made the Tigers wonder if they'd even be able to play in November, and they nearly lost their season opener — they edged now-No. 2 Florence-Carlton 35-29 in overtime, their only single-digit win all season.
Saturday's game did not go nearly as smoothly as the previous 10.
Fairfield (8-2) opened the scoring on a 34-yard touchdown run from junior Daniel Faith with 3:48 left in the first quarter, capping a drive that featured a horse collar penalty on third down and long and a roughing the punter call. Faith intercepted a Caden Holgate pass a few plays after his TD.
Daniel Faith rushes 34 yards for a TD with 3:48 left in the 1Q. Two fourth down penalties from Manhattan kept Fairfield's drive alive. Two-point run was stuffed.

Fairfield 6
Manhattan 0#MTscores pic.twitter.com/FTeoZt4lUl

— Victor Flores (@VictorFlores_BG) November 21, 2020
Early in the second quarter, Holgate fumbled and Fairfield junior Miguel Perez jumped on it at Manhattan's 15-yard line. The Eagles were in great shape to go up two scores, but three plays after that turnover, Delgatty forced and recovered a fumble from Faith.
"You've got to pick up your players," Delgatty said.
A few minutes later, Faith left the field with a sling around his right arm, and he didn't return. A tendon in Faith's left triceps had likely torn, according to coach Greg Misner.
"It kind of took the wind out of our sails," Misner said.
As Faith was being tended to, Manhattan took the lead. Holgate completed a 27-yard TD pass to junior Corban Johnson with 1:52 left in the half, and he found fellow senior Tate Bowler for the two-point conversion.
The 8-6 halftime score ballooned to 16-6 just 38 seconds into the second half, when Manhattan junior Sven Stenberg intercepted a pass from senior Guidry Giles and returned it 29 yards for a score.
Holgate finished 6 of 11 for 90 yards, two touchdowns and an interception (he also picked off a Giles pass in the fourth quarter). His second TD went to Bowler (three catches, 44 yards) from 29 yards away with 6:42 left in the game.
Johnson caught two passes for 68 yards, and senior Toby Veltkamp rushed 10 times for 84 yards. Manhattan's defense held the Eagles to 116 total yards, the bulk of which were accrued on their lone scoring drive.
"Manhattan just did a good job of swarming to the ball," Misner said.
Despite the disappointing finish, Fairfield's first-year coach was pleased with his players' performance Saturday and all fall.
"They played their guts out," Misner said. "We started with 40 kids and we ended with 40 kids. Their commitment to the football program was phenomenal."
DeBoer's emotions were mixed after Saturday's win. It was hard for him to watch the final five games, hard for him to accept his program's historic first-place trophy while wearing jeans and a jacket.
"It's kind of been tough keeping myself included," a tearful DeBoer said. "I tried to help them out the best I could, but there was just nothing I could do."
DeBoer's teammates and coaches don't agree. He helped them on the field in their first seven games of the season, and he played a major role off the field in their final five. His injury re-framed this season as more than a title chase.
"He's what our program's all about," Grabowska said. "That kid works his tail end off. He's a great, humble leader. He'll knock a kid down, pick him up, pat him on the helmet, get back to the huddle and run the next play. He's just a gentle giant, loves his teammates, loves the game of football.
"To see him hoist the trophy first, that was so awesome. I was just so happy for him."
Photos: Manhattan at Fairfield for State B title
Manhattan vs. Fairfield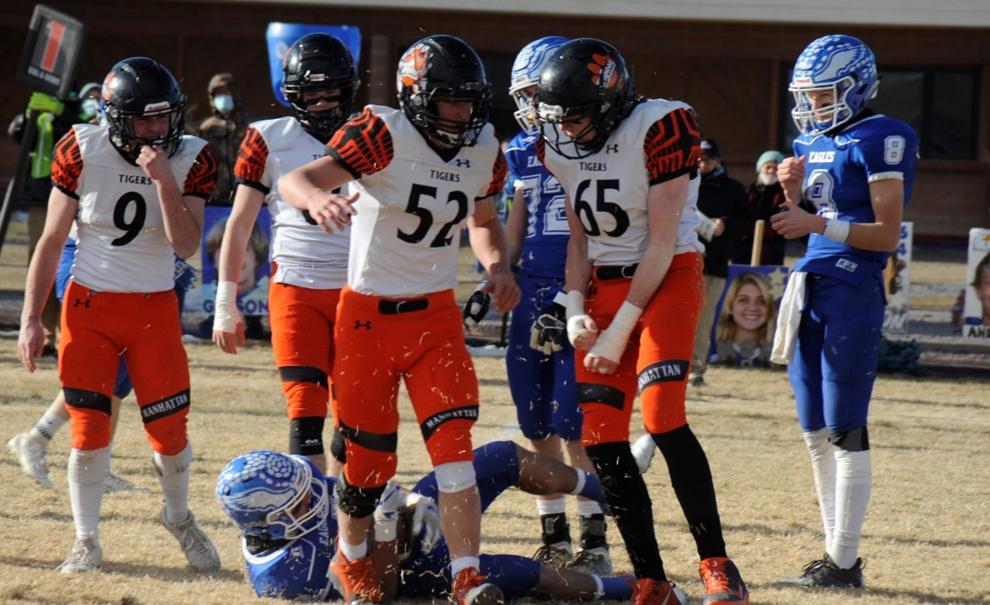 Fairfield's Malaki Hvamstad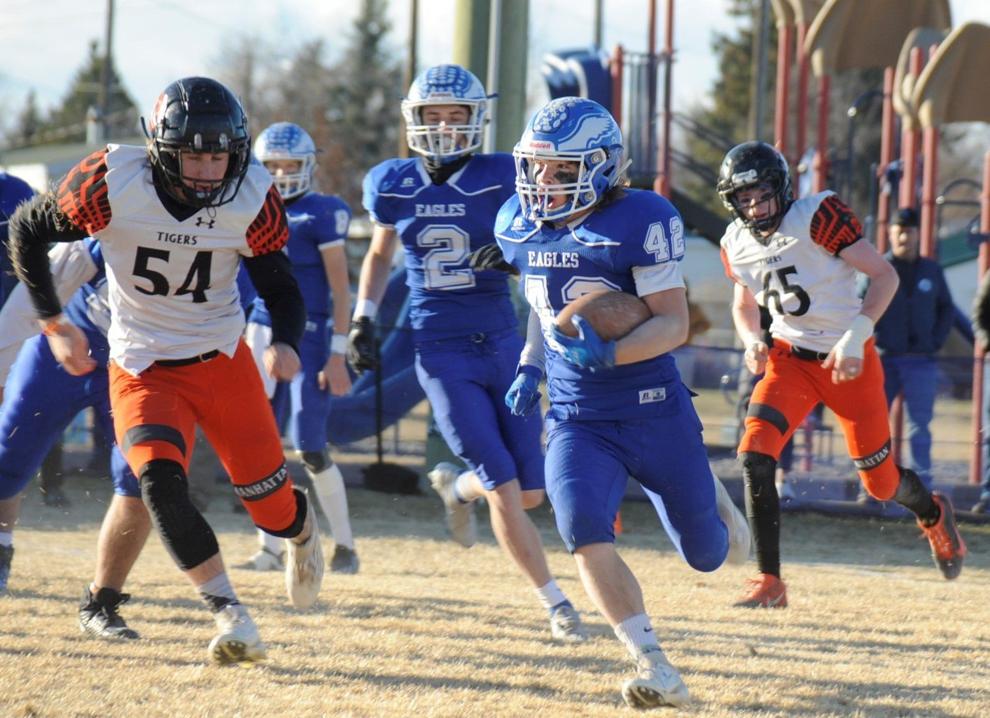 Manhattan's Isaac Richardson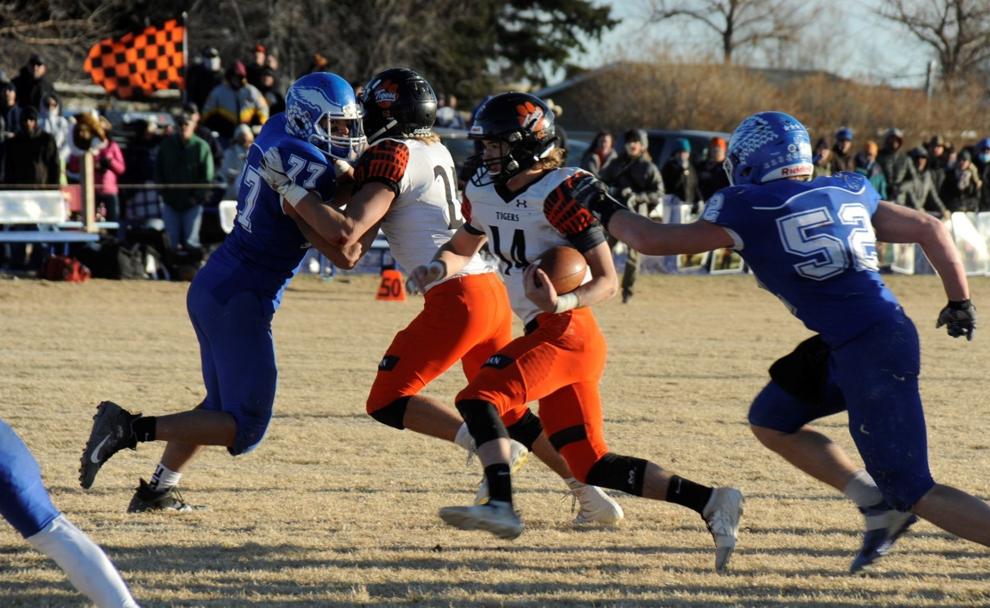 Manhattan football 2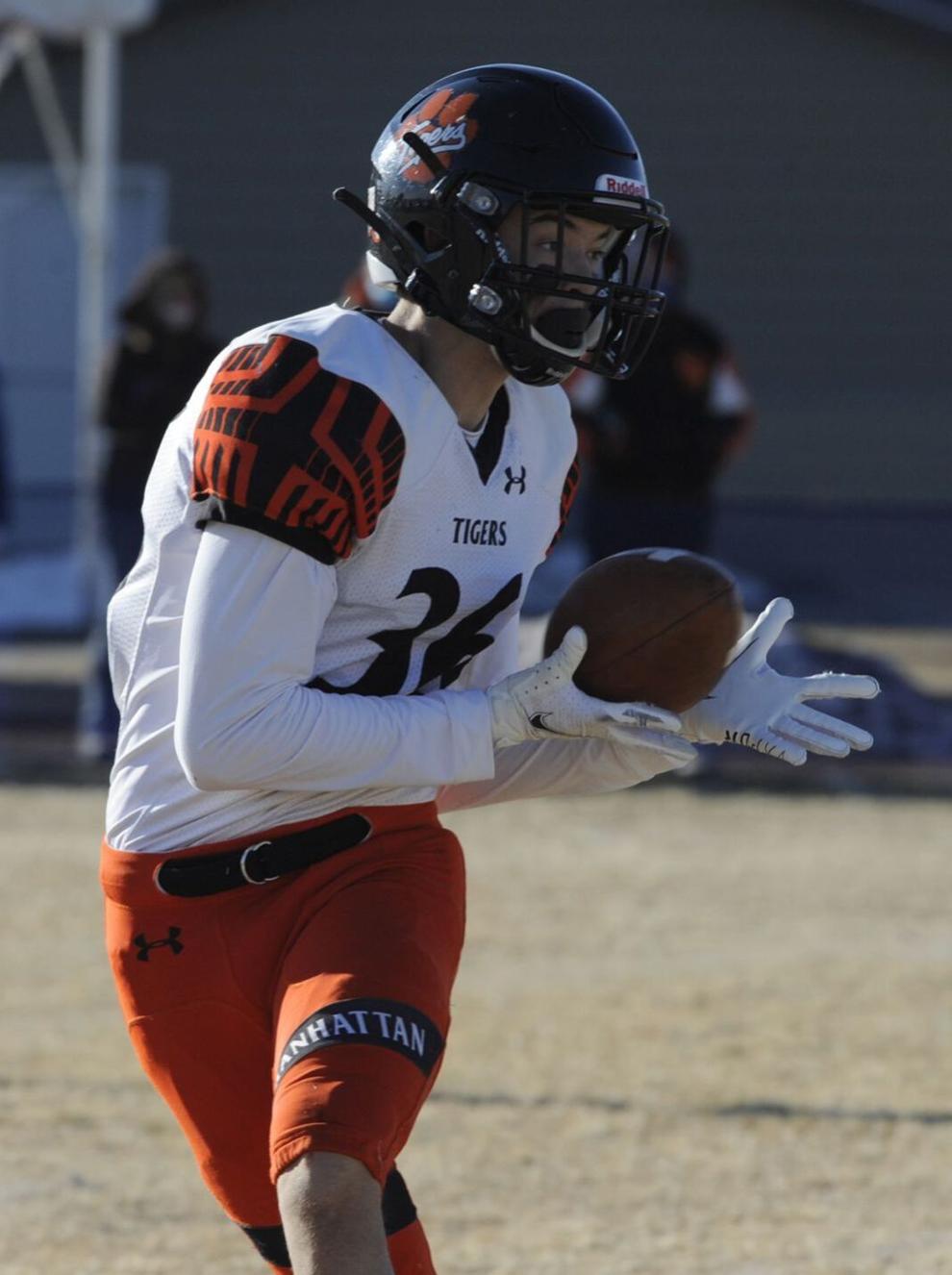 Manhattan football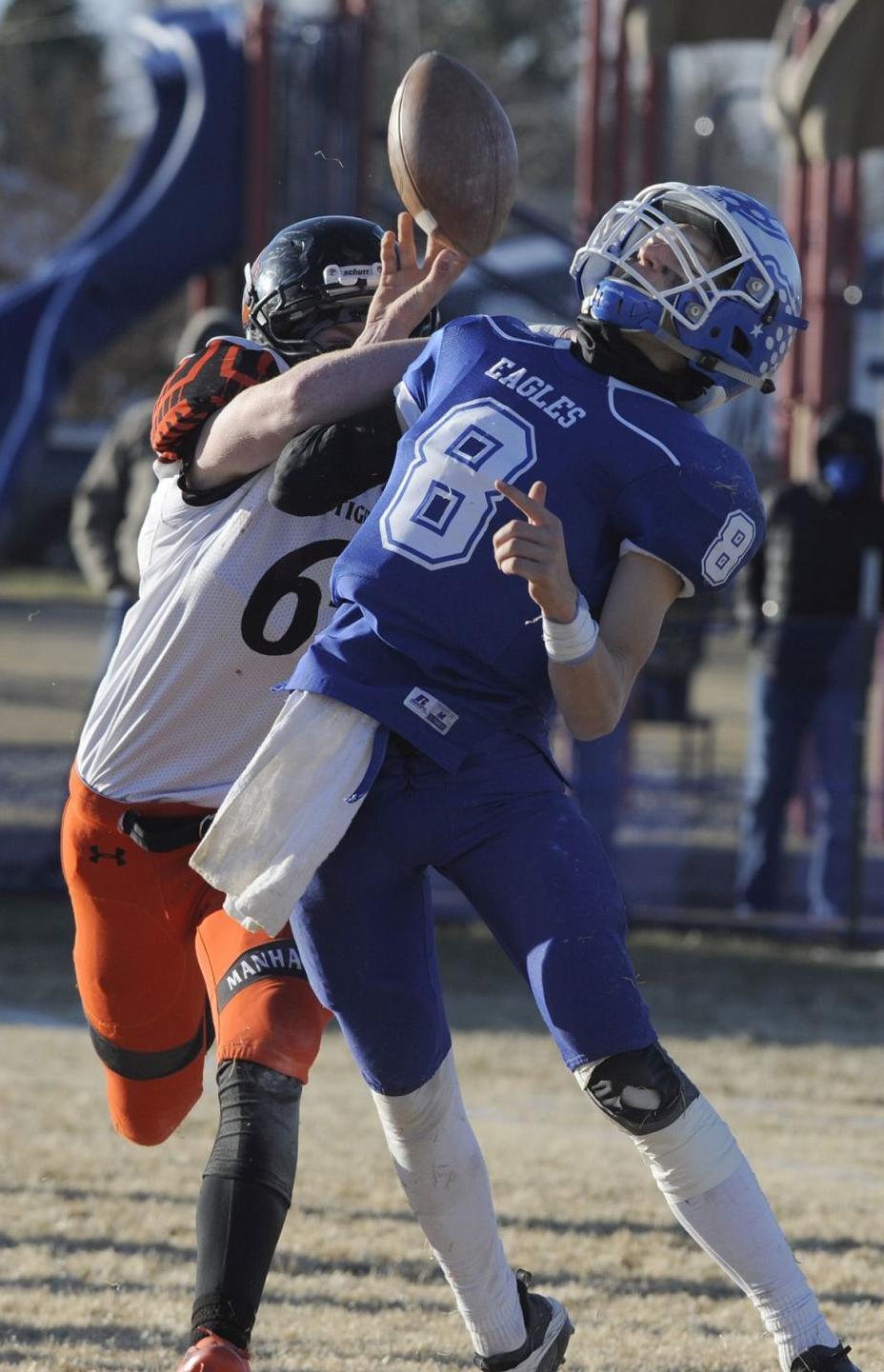 Manhattan football five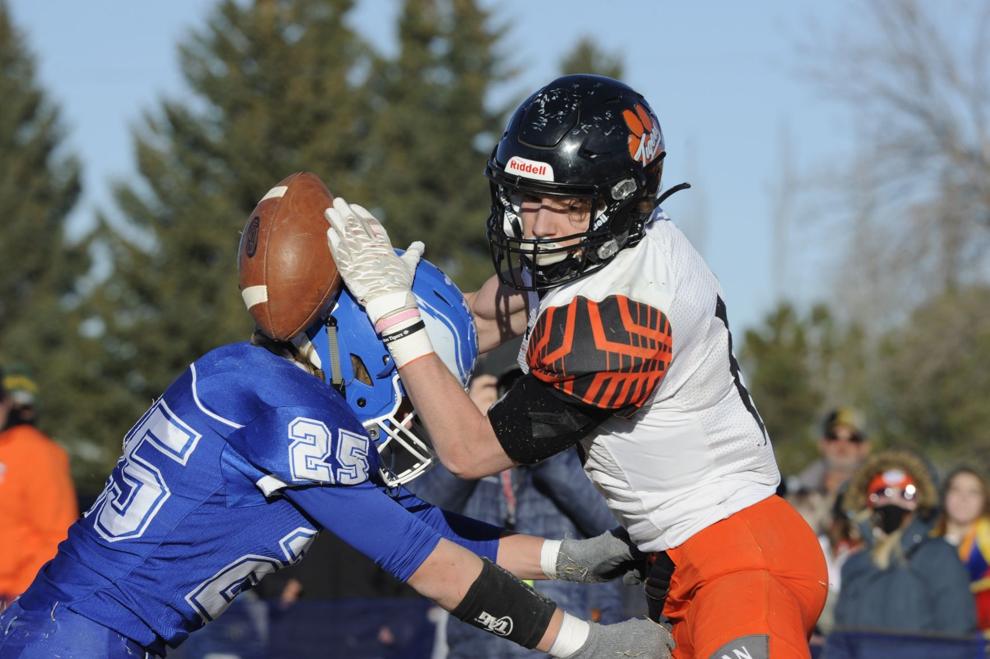 Manhattan football 4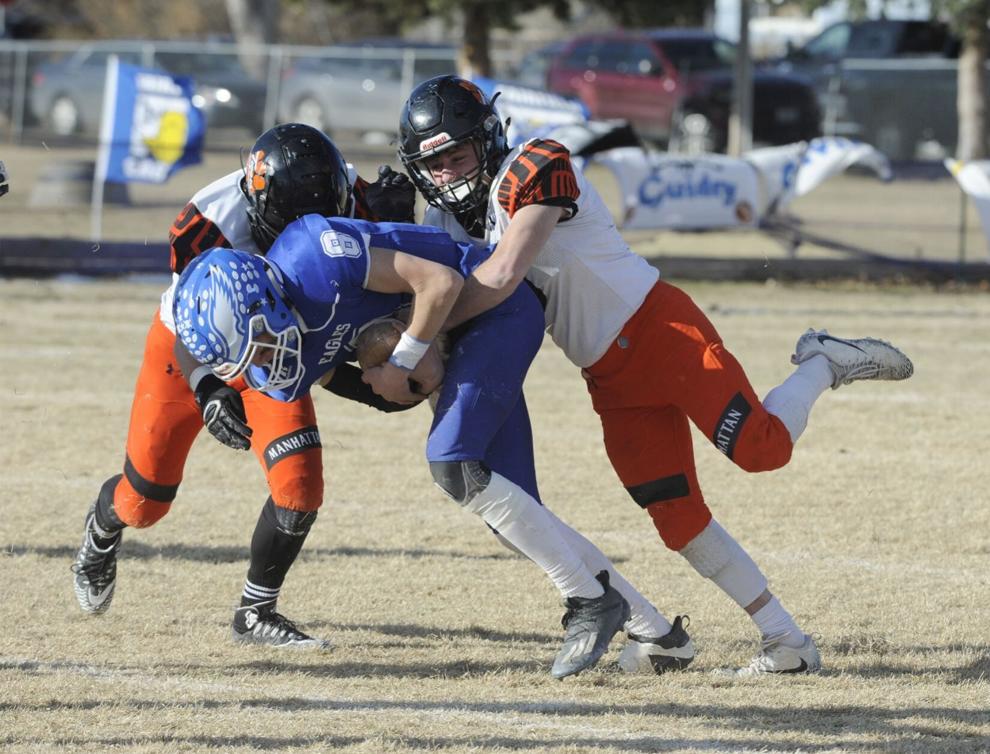 Manhattan football 3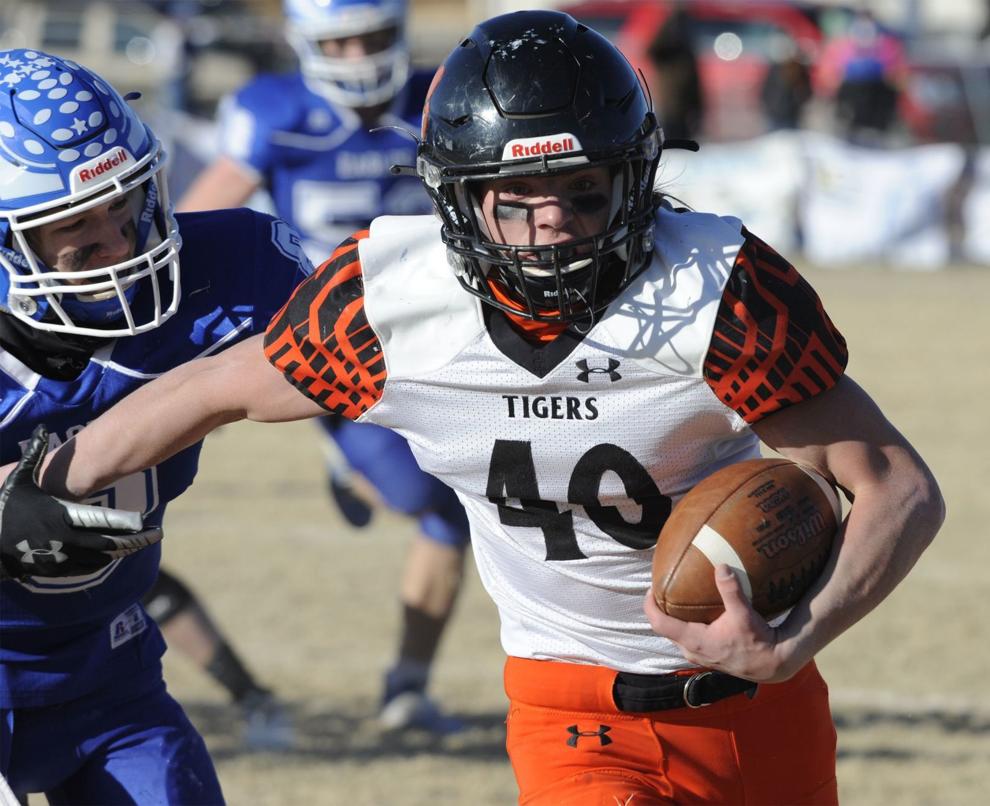 Manhattan football 7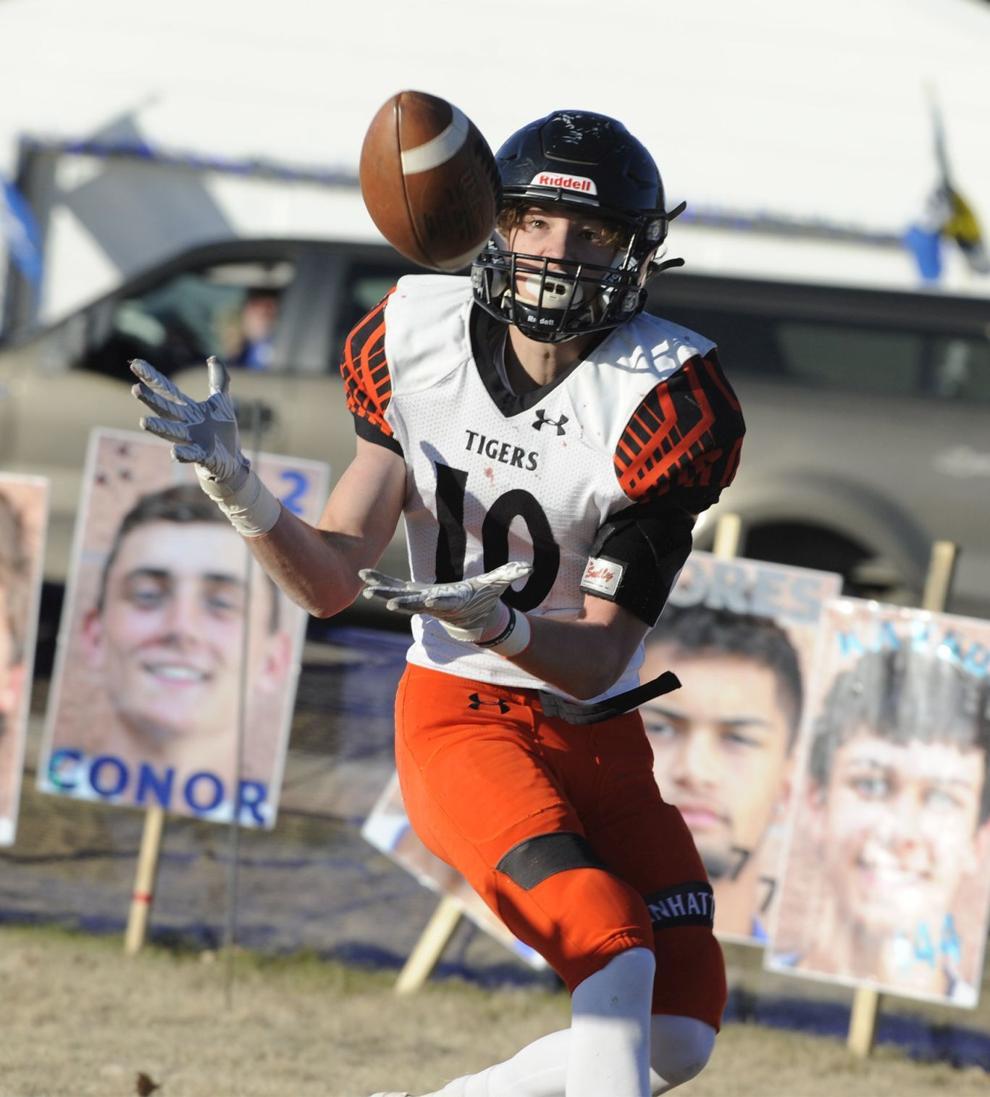 Manhattan football 6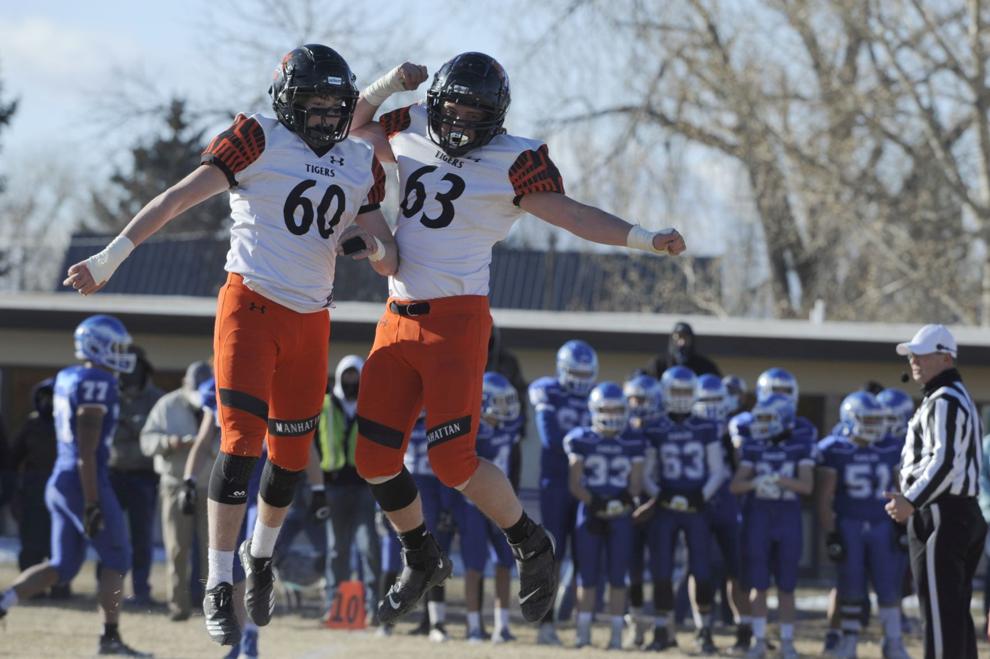 Manhattan's Caden Holgate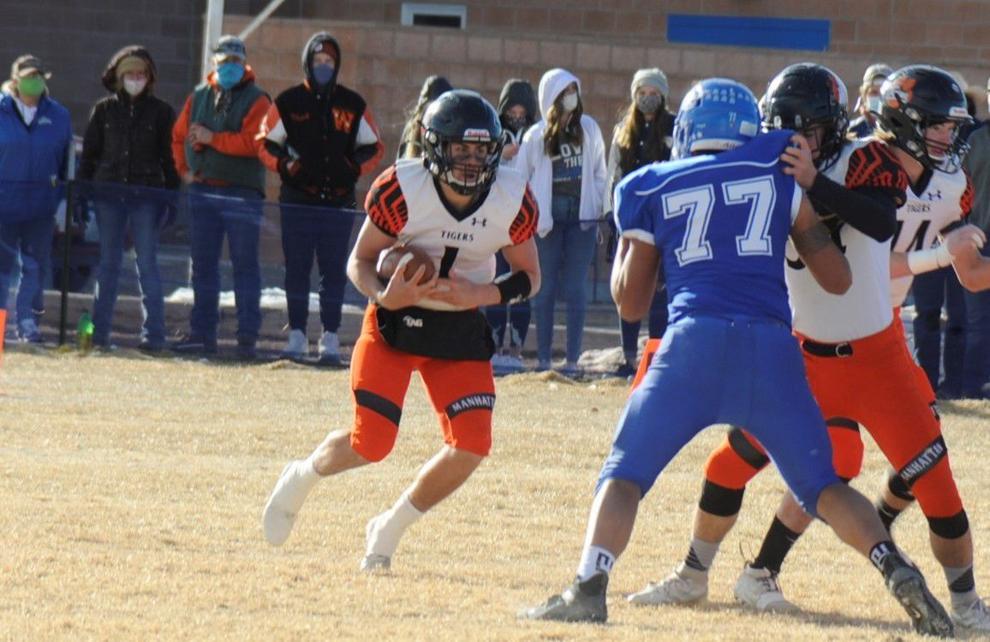 Manhattan No. 62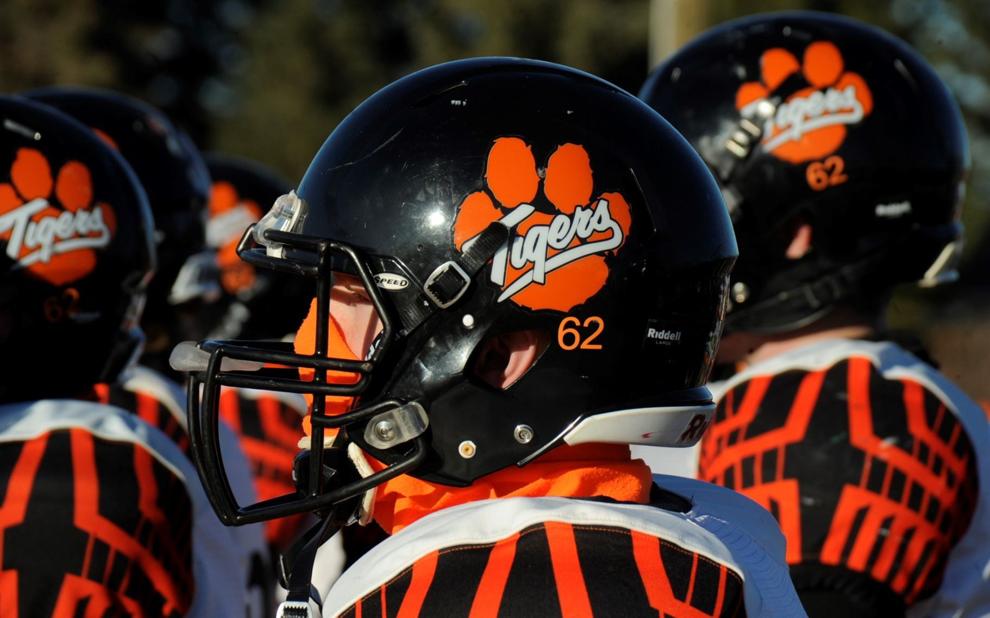 "For Cayl" sign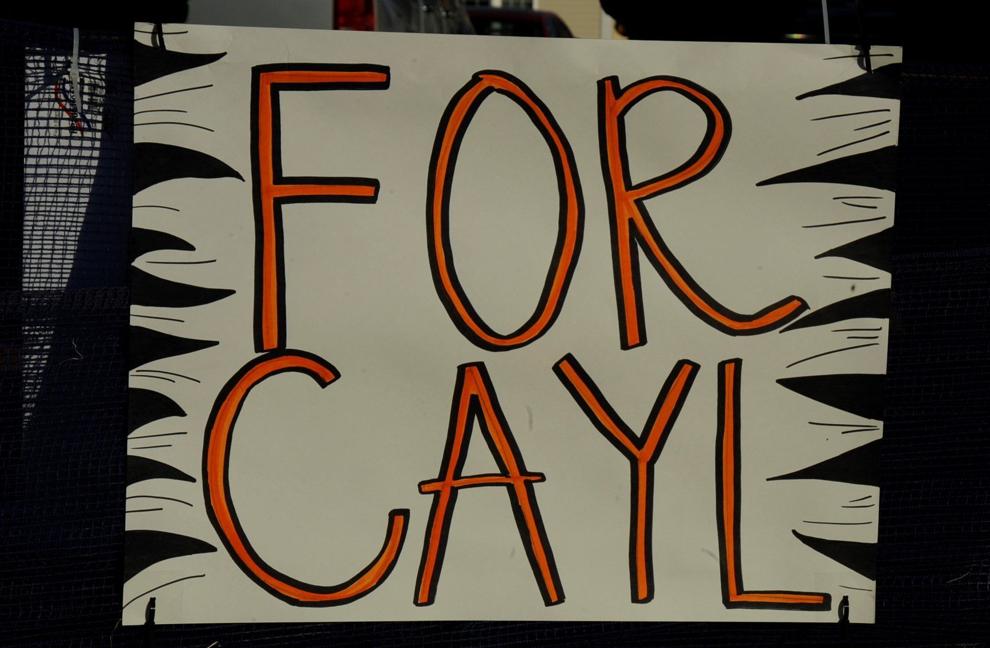 Manhattan's Cayl DeBoer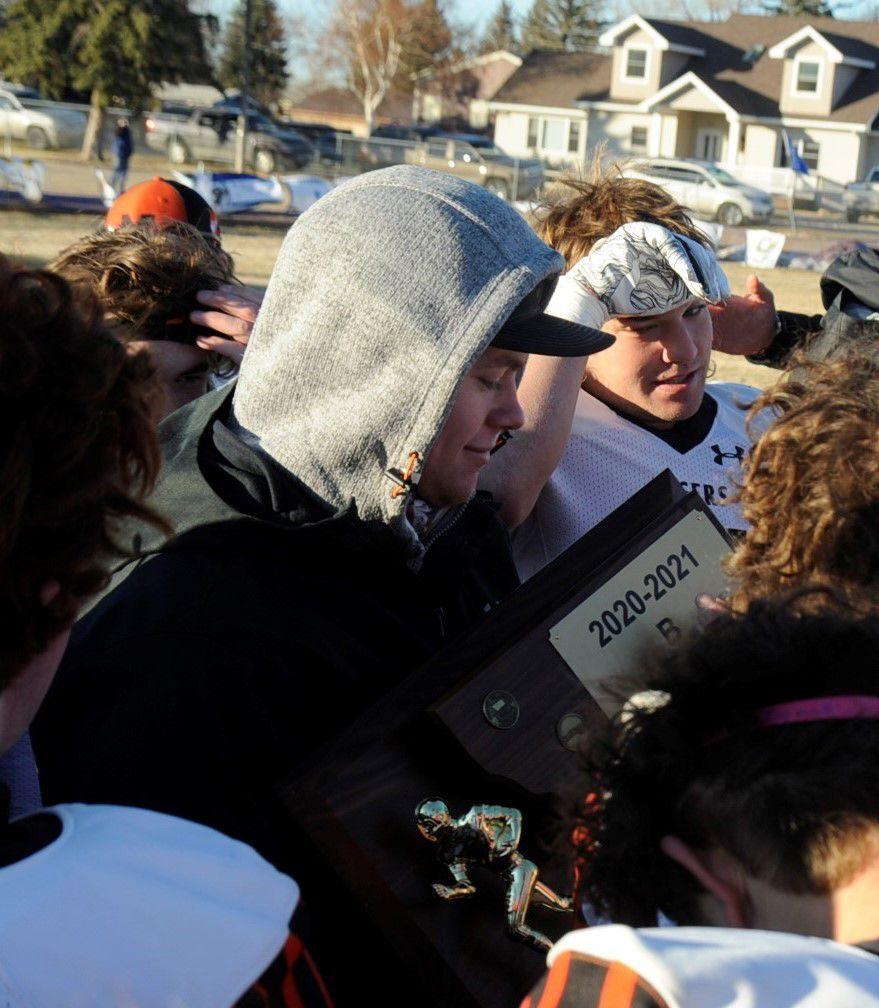 Manhattan vs. Fairfield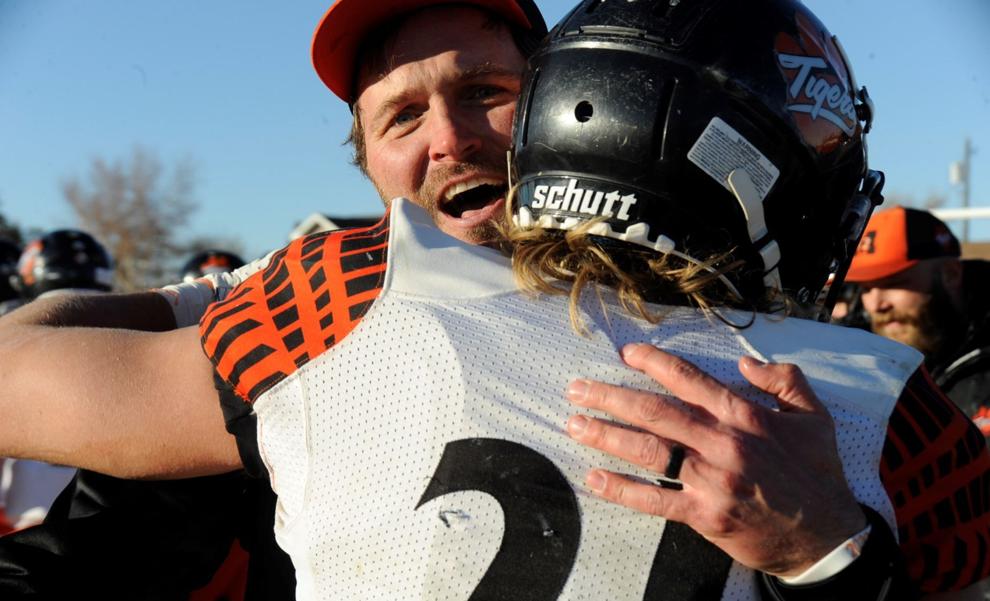 Manhattan celebration