BUTTE -- If you hadn't noticed, the Butte Central Maroons have a quarterback.
In his first year as a full-fledged starting quarterback, senior Thomas McGree has: played over half the season with a broken hand, helped keep Central's playoff hopes alive, and his 1738 passing yards currently leads Western Class A.
But to understand McGree's success as the field general, it's important to understand his journey into a leadership role at Central, which begins decades before his birth.
Thomas' father, Jim played four years for the Maroons from 1977-1980. Jim's five brothers, Mike, Pat, Steve, John and Dan, all played for Central, and won three state titles between their generation, which leaves no surprise when Jim talks about Thomas being raised in the game of football.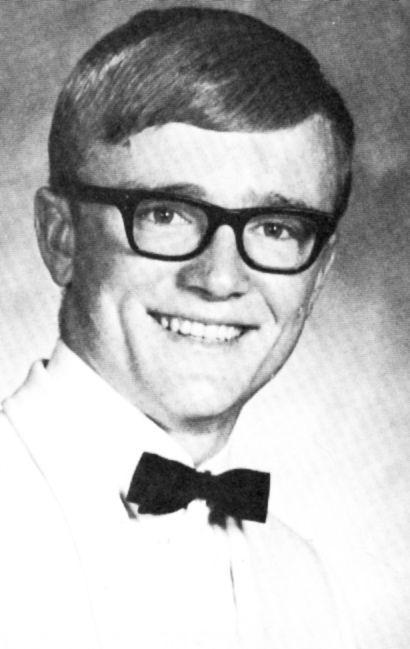 "His coronation into football," Jim McGree said. "Was when we bought a Montana State helmet at an auction, for a few hundred dollars or so. Well, the next day, our kids are slamming it up against a fence before we even get out of bed. It's been in his genes, you could say."
When you consider Thomas' success and perseverance through injury, it makes sense. McGree was raised with two competitive older brothers, Nate and Connor, whose standout performances at Central led both to Carroll, with Nate still playing for the Saints.
According to the 6'1" senior, the brothers never went easy, but McGree was never asking for easy either.
"It was a good time," McGree said. "But there was some trial and error. I remember when Nate was in junior high and I was in Little Guy, I made him get in full pads and I got in my full pads and we played one-on-one in the yard, and it didn't go so well for me."
Learning the game and learning to deal with pain and adversity through older siblings is a classic story, but it was also the beginning of Thomas' adverse relationship with injury.
After overcoming a concussion last season, McGree's senior year faced an early threat in the season-opener against Hamilton: on the last defensive series of the game for the Maroons, the quarterback/safety's hand collided with an opposing helmet, creating a stable break.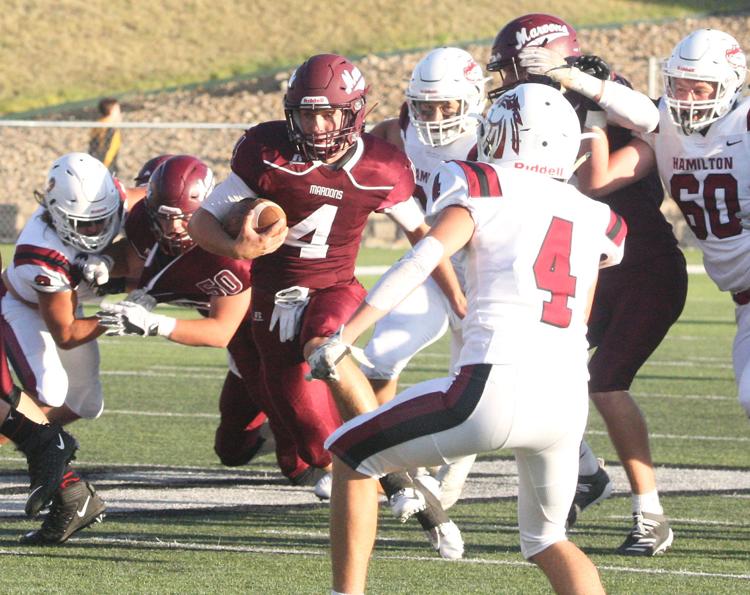 Interestingly enough, while the numbness and lack of movement in his hand registered in McGree's mind, he didn't think much initially. The first-year quarterback even drove Central down the field on their last offensive possession.
After a few days of motherly concern though, McGree owned up and visited Dr. Nick DiGiovine and Jenny Heglund at Montana Orthopedics.
"The next week, my mom was like, 'Go to the doctor!'" McGree said. "I definitely didn't think it was broken at first. I kept telling her I was fine, but on Thursday she made me go to the doctor and I found out it was broke. I was sitting in the waiting room, and Jenny told me it was broken, and my face just went blank as soon as she said that."
Bad luck or the nature of the game, the situation on paper looked brutal. First year as a starting quarterback, last year as a Maroon, and the threat of missing crucial games in said last season all weighed on McGree.
But the prospect of missing games was a possibility, not a guarantee. The staff explained that McGree could play the next day with a club on his non-throwing hand, which was not preferable to the Maroons' quarterback but the hand he was dealt.
"It was scary," Jim McGree said. "Dr. DiGiovine and Heglund did a great job. They said that if they club it, he could keep playing, but if he risked it and hurt it, they'd have to perform surgery at some point and he'd be out for a month. Once they said that, we said, 'Club it up.'"
Thomas and his father agree, there was no way that he was missing a single minute of the senior season.
"Last year when I sat out a few games because of my concussion, it killed me," Thomas McGree said. "I said I wasn't doing that this year and part of it is because of the Butte Central way. It's stuck in my brain and I'll do whatever it takes to keep playing."
Now that the initial scare of injury was over, it became about how the Maroons would work with a one-handed quarterback. Fellow Class A contenders Dillon and Frenchtown would be insurmountable tasks for the first couple games with a one-handed McGree, but it set a standard for Central's performances.
Peoples pointed out that McGree's toughness through injury was representative of Central's reaction to the opening gauntlet and 0-3 start, and that it's an important factor and testament to the Maroons' toughness and response since then, winning three of their last four games.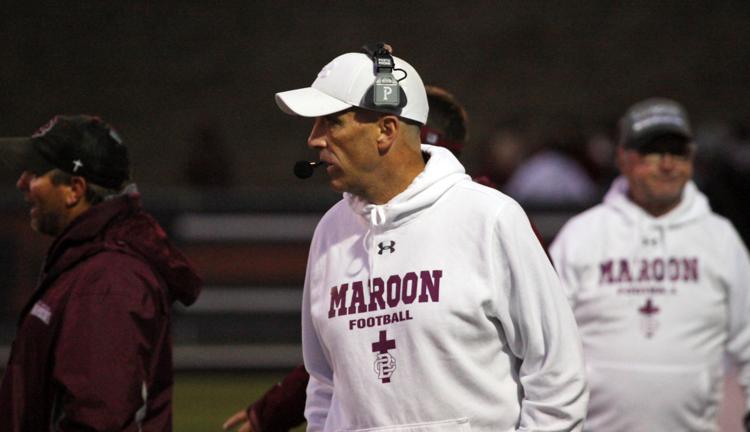 "It was amazing to see how he played with the cast," People said. "He basically only had use of his pinkie and his thumb, and the rest of the hand was covered in padding. We were in the shotgun 100 percent of the time then, and he did an amazing job of handling snaps. Even normally it's hard to take a snap well. We had to modify the offense a little bit, but it was amazing what he accomplished with one hand."
It helps to work around injury and unseen issues when a team or group has a depth of experience.
Little Guy football and junior high allowed McGree to learn the various positions and understandings of the game, but it also helped further establish the relationship between the senior and his fellow classmates.
"Me, Aaron [Richards], Trevor [Neuman] and Guido [Ossello] have all been on the same team for nine years in a row, between Little Guy, junior high, and then here. It's been awesome."
Central head coach Don Peoples Jr. says that a big reason why Central is pushing for playoffs is due to the toughness and focus of the group of seniors that have seen the Maroons respond to a 0-3 start with a 3-1 run.
"The team stayed positive," People said. "Which I think is special about this group, a lot of kids could've hung it up. If you're looking at one characteristic to describe our seniors this year, it's the fact that they are a close group of kids but competitive and focused."
Things have changed over the years for McGree and this group. Back in junior high, Ossello was the quarterback, McGree was the receiver. However, Peoples and the Maroons staff noticed something in McGree as he came into the varsity team.
With another Central standout Cade Holter as quarterback for McGree's first three years of high school, the senior played both sides of the ball, but was slowly prepared to take over at QB. An injury to Holter in 2017 saw McGree's first starts at QB, but was not considered the surefire starter until this season.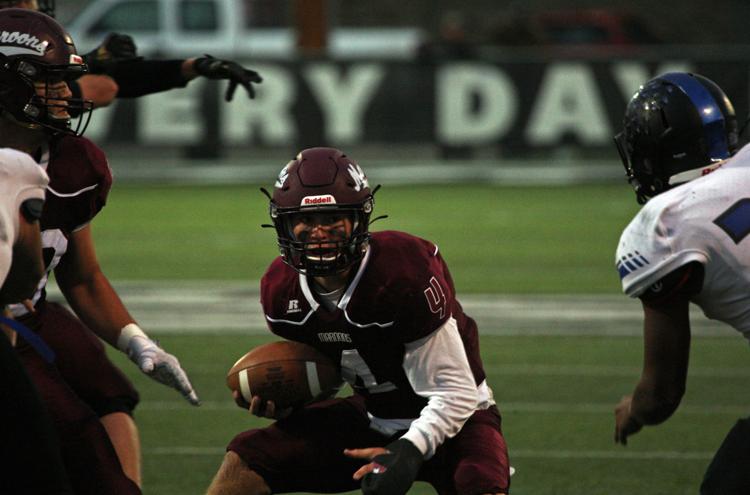 Peoples acknowledges his quarterback's growth into the position was part of an overarching plan, but that his effort and athleticism have been the reason the senior has excelled in the role.
"We knew we needed to develop a quarterback in every class," Peoples said. "So we broke it to [McGree] that first offseason, and we made that transition before his freshman year. He just seemed to be a natural at the position with his mentality and athleticism, but he's worked really hard over the past year and all four years to grow as a quarterback. "
Now, the quarterback's hand has healed, he's putting his year of work to use, and Central has injected life into their season.
A key step in that preparation came in the last two years, with Peoples' son, Danny, coming into help coach the Maroons but also work with McGree on his quarterbacking skills.
Danny mentioned that McGree's foundational understanding of the game due to a variety of positions was crucial to getting him ready to take over the position full-time.
"His mentality has been great all throughout his high school career," Danny Peoples said. "He's been able to step into any position and play a big role. He knows what all eleven guys on the field are doing, not just his own assignment. He can help everyone and orchestrate the offense."
The process was executed to order, and even before the season began, the feeling around the practice field was that McGree was ready. Now, it's time for the next test.
The Maroons control their destiny, and with Polson (4-3) a game ahead in the playoff race coming into town for senior night, there's a feeling that the 2019 edition of the Maroons are just getting started.
Friday night will be special. For McGree and all the seniors on roster, it's the last time they suit up in front of the home crowd. The air of postseason implications and sentimental value will overtake the atmosphere as Central continues their fight to take their season as far as possible.
But McGree is focused less on the past or future. As he's done every game, one-handed or not, the third-generation Maroon has a singular goal: win.