BILLINGS — A bit of bad luck turned into a blessing for the Westby-Grenora football team.
The Thunder were supposed to begin this season with some "intro to 8-Man games," as first-year coach Blake Lambert phrased it. They played in 6-Man last year and didn't want their first 8-Man opponent to be too tough. COVID-19 caused some opponents to redo their schedules, and Westby-Grenora had to do the same. The result: a season-opening home game against Scobey on Aug. 28.
Westby-Grenora's players and coaches predicted Scobey would be one of the toughest teams in the Eastern 8-Man, if not the entire state, and they've been proven correct. They were also confident in their chances to compete. They proved it, beating Scobey with a last-second touchdown.
"Our first 8-Man game, we didn't know what to expect. We were kind of crossing our fingers that things would go well. And here in the fourth quarter, we're in a dogfight," Lambert told The Billings Gazette and 406mtsports.com earlier this week. "It was an exciting game. I was so proud of the kids."
Lambert and his team simply wanted to make the 8-Man playoffs this season, and they've accomplished that heading into Friday's regular season finale at Ekalaka. At 6-1 and No. 6 in the 406mtsports.com 8-Man rankings, the Thunder's expectations have been recalibrated.
"Beating Scobey that first game was pretty fun. Showed we're not just a 6-Man team," said Keegan Nelson, a senior running back/wide receiver/linebacker who attends Westby. "We knew we could compete with anybody after that."
In 6-Man, every drive starts at first down and 15, rather than the standard first and 10. A point-after attempt in 6-Man is two points for a kick and one for a run or pass, the opposite of 8- and 11-Man. A 6-Man quarterback cannot rush unless another exchange has been made.
The center is the only offensive lineman on a 6-Man team, and he is eligible to catch passes, unlike 8- and 11-Man centers. The number of offensive linemen in 8-Man varies by formation, but most teams use a center and two guards whose sole roles are to block.
"In 6-Man, it's wide open. It's like a track meet," Lambert said. "It was a transition for the kids to get them in that mindset of, 'Hey, we're not 6-Man anymore.'"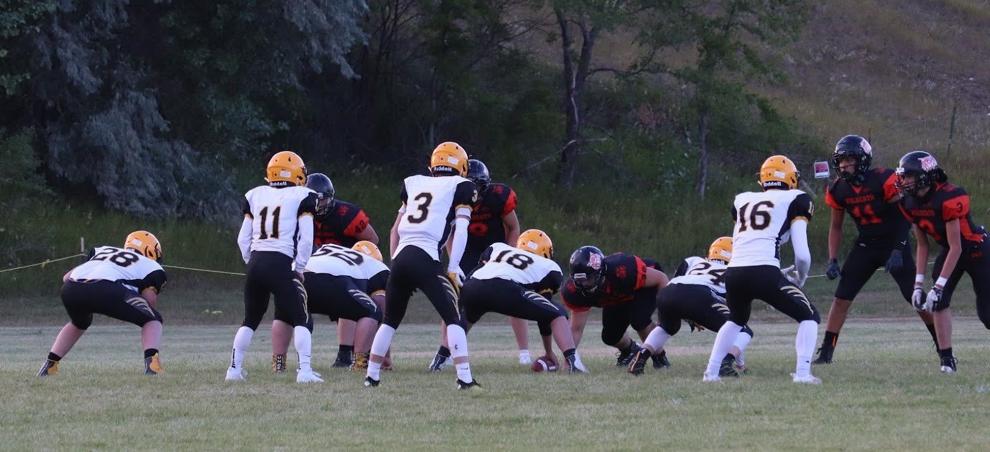 Westby junior Ledger Pulvermacher often blocked last season from the slot receiver position. This year, the 6-foot-1, 190-pounder is a right guard whose only focus is to open up holes for players like Nelson, senior quarterback Darian Holecek and junior running back Erik Field. Pulvermacher, junior center Spencer Rudningen and the rest of Westby-Grenora's linemen have been asked to pull, drive block and do other things that are not possible in 6-Man.
Lambert has been impressed by how quickly his linemen have learned their new positions, and Pulvermacher has embraced the one-on-one, rugged nature of the trenches.
"I probably take more pride in that" than catching passes, Pulvermacher said. "Right guard, you don't touch the football as much, but you get a sense of dignity when you open up a hole."
The Thunder beat Bridger for the 2017 championship and lost to Wibaux by eight points in last year's semifinals. They knew they were talented and deep enough to make a successful 8-Man debut, but doubts lingered before the Scobey game.
Westby-Grenora led Scobey, now ranked No. 4, by a touchdown at halftime and maintained a one-score lead late into the fourth quarter. But the Spartans tied it up with about 30 seconds left, and the Thunder figured they were heading to overtime.
Westby-Grenora drove into Scobey territory on the first few plays of the ensuing drive. Holecek threw an incomplete pass as time expired, but a pass interference penalty gave Westby-Grenora one more chance. Field attempted a 32-yard field goal and missed it, but Scobey was penalized again, giving the Thunder a second chance with zero time on the clock.
Holecek and Nelson, who have played catch in each other's backyards since they were little, figured Field would attempt another field goal. After seeing Scobey rush all eight defenders on the previous kick, Lambert decided to call a fake.
Holecek, the holder, received the snap, jumped to his feet and fired a pass to a wide-open Nelson in the end zone. Nelson caught it and was mobbed by his 18 teammates.
"That crosses your mind when you're little. You want those moments," Holecek said. "Pretty crazy that it actually happened."
Westby-Grenora rolled in its next four games before falling 40-8 at defending state champion Fairview on Oct. 2 (now-No. 5 Fairview lost 36-6 to Scobey the previous week). The loss dampened the Thunder's hopes but didn't extinguish them.
A playoff spot and a Fairview/Scobey split looked far from certain before the season. Now that the Thunder have accomplished both, their sights have wandered over to late November, coronavirus willing.
"Last year, we played pretty well. This year, we hope to keep that going, try to make a run in the playoffs," Holecek said. "I think we can beat anyone in the state."
Friday Night Lights
Following is a look at some of the key games around the region this week:
Friday
Wibaux (2-3) at Big Sandy (5-0, No. 1 6-Man), 1 p.m.: This playoff opener was moved up a day because of a snowy weather forecast, according to the Havre Daily News. Big Sandy reached last year's state semifinals, where it fell to eventual champion Jordan 55-25. The Pioneers' 2020 playoff run begins against the 2018 state champs (and last year's runner-up). This season, Wibaux handled Jordan and Bainville but lost by at least 27 points to its other three foes: Savage, Richey-Lambert and Froid-Lake.
Richey-Lambert (5-2) at Shields Valley (7-0, No. 2 6-Man), 1 p.m.: The forecast also prompted this game to move up a day. Richey-Lambert began the season 4-0, then lost to Froid-Lake 73-36 and to Savage 64-13. Shields Valley has won every game (not counting a Denton-Geyser-Stanford forfeit) by at least 20 points.
Bozeman (4-1, No. 4 Class AA) at Billings West (6-0, No. 2 Class AA), 7 p.m., Wendy's Field at Daylis Stadium: West will sew up the Eastern AA's top seed outright with a win. A Bozeman win coupled with a Billings Senior win would throw things into a tiebreaker situation. But, based on winning percentage, the seeding would still be West, Senior, Bozeman with West and Senior getting first-round byes as the top two seeds.
Billings Senior (5-1, No. 3 Class AA) at Bozeman Gallatin (1-5), 7 p.m.: A Senior win secures the Broncs the No. 2 seed and a week off for the first round of the playoffs. A loss and a Bozeman win at West would drop the Broncs to third and no bye week. The Raptors, in their first season in Class AA, have lost three in a row and have been eliminated from postseason contention.
Laurel (4-1, No. 4 Class A) at Miles City (5-1, No. 5 Class A), 7 p.m.: In a rematch of last year's Class A state championship, won by Miles City, this game decides the Eastern A's No. 2 seed for the upcoming playoffs. Miles City is coming off a 42-0 loss to now-No. 2 Billings Central, while Laurel defeated Lewistown 48-10 last week.
Shepherd (4-2, No. 10 Class B) at Red Lodge (4-2), 7 p.m.: A Shepherd win would clinch the East's top seed for the Mustangs, who would finish 5-0 in league play. A Red Lodge win, however, would put Shepherd at 4-1 and Huntley Project and Red Lodge both at 3-1 in conference. Red Lodge would need to beat Shepherd by at least 12 points to earn the top seed. In that case, Shepherd would be the second seed and Project would be third. If Red Lodge wins by 11 points or fewer, Project would be No. 1, Red Lodge would be No. 2 and Shepherd would be third. The tiebreaker is "Taylor Points," or point differential in games between those three teams.
Noxon (2-2) at Harlowton-Ryegate (5-1, No. 8 6-Man), 7 p.m.: Noxon earned a couple blowout wins and lost 33-18 to now-No. 4 White Sulphur Springs (which hosts Sunburst at 1 p.m. in its playoff opener) and 48-28 to Hot Springs. Harlowton-Ryegate's only loss was 22-16 to Roy-Winifred on Sept. 12. The Engineers opened the season with a 26-6 victory over now-No. 10 Hobson-Moore-Judith Gap.
Saturday
Broadview-Lavina (3-2) at Froid-Lake (6-0, No. 3 6-Man), 1 p.m.: This playoff opener will be Broadview-Lavina's first game since Oct. 2 after suffering back-to-back losses to now-No. 2 Shields Valley and No. 9 Bridger. Froid-Lake is in the playoffs for the first time since 2006. The Red Hawks have outscored their opponents 381-95, an average score of 63.5-15.8 per game.
Bridger (5-1, No. 9 6-Man) at Hot Springs (3-1, No. 7), 1 p.m.: Bridger enters the playoffs with a near-perfect resume: a forfeit win over Fromberg-Belfry, a 50-25 victory over Broadview-Lavina and three shutouts totaling 189-0. The Scouts' one blemish is a 36-12 loss at Shields Valley on Sept. 11. Hot Springs started 3-0 and lost to White Sulphur Springs 53-15 on Sept. 10, its second game in three days.
Denton-Geyser-Stanford (3-4) at Power-Dutton-Brady (3-1, No. 5 6-Man), 1 p.m.: Denton-Geyser-Stanford enters the playoffs on a four-game losing streak, most recently a 52-49 loss to Richey-Lambert. The Bearcats' first loss was 44-42 at Harlowton-Ryegate, followed by a 36-0 defeat at Hobson-Moore-Judith Gap. Sandwiched between a couple canceled games for Power-Dutton-Brady was a 46-29 loss at Big Sandy.
Hobson-Moore-Judith Gap (5-2, No. 10 6-Man) at Savage (4-1, No. 6 6-Man), 1 p.m.: Hobson-Moore Judith Gap is rolling into the playoffs on a five-game winning streak after beginning the season with a 26-6 loss to Harlowton-Ryegate and a 54-14 defeat at Shields Valley. Savage has blown out four of its opponents, including Wibaux and Richey-Lambert, but fell to Froid-Lake 50-19 on Sept. 12 after building a 13-0 lead.