BUTTE — Early in the second quarter of Kalispell Flathead's win over Butte, Braves quarterback Jaden MacNeil scrambled to the right immediately after snapping the ball.
Without warning, he suddenly shifted his body around and laid a perfect screen pass to running back Blake Counts. A split second later Counts was waltzing into the end zone from 12 yards out and Flathead had a seven-point lead.
It wouldn't be the last time the play worked. Early in the third quarter Counts again was the recipient of another soft screen pass from MacNeil — in his first-ever varsity start — though this time the senior running back had to race 43 yards for the score.
The two screen passes would end up to the be the majority of the difference in the game as the Braves topped the Bulldogs 42-21.
"We just had some situations where we felt they were going to bring pressure,"" Flathead head coach Kyle Samson said of the two screens. "It was just good execution by our team. Our O-line set it up and Jaden (MacNeil) did a good job to get the ball out."
Butte struck first, scoring on the very first play of the game. The Bulldogs ran a reverse to senior wide receiver Kash Kelly, who then threw it to Quinn Sullivan for an 81-yard touchdown.
The Braves, however, settled into their offense quickly after that point. MacNeil scrambled 33-yards for a score and then Counts had the first of his aforementioned screen passes to give Flathead a 14-7 lead.
Butte quarterback Tommy Mellott threw a touchdown to tie the game, but the Braves would add two more before the end of the first half to take control. Mellott did scramble for a score in the second half, but Flathead played excellent defense throughout the evening.
"We had such a good start with great momentum, it got us going, got us going and everything was great," Butte head coach Arie Grey said. "But really what happened was that we didn't get into a great rhythm offensively." 
Mellott was sacked several times and after an early injury to running back Kobe Moreno, the Bulldogs were never able to get into a groove rushing the football. Moreno did not play in the remainder of the game after getting hurt, but was still in pads and ran a bit during halftime in an effort to see if he could play.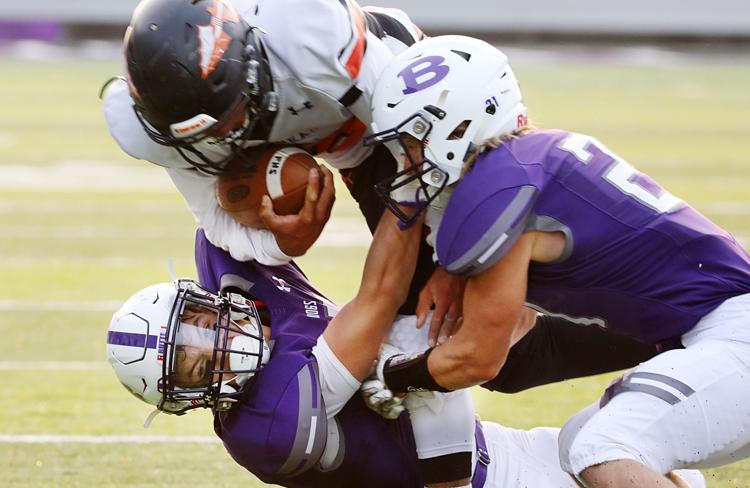 Lineman Konor McClafferty was also injured the game and had ice on his leg and was on crutches after he came out of the locker room.
"There were a lot of teachable moments tonight," Butte head coach Arie Grey said. "There's a lot of things from tonight where we can grow to be a better player or a better person and grow.
"We got punched in the face tonight. Now we know what we need to do."