MISSOULA — As fall approaches, Missoula high school sports are in limbo.
With COVID-19 raging in the country and cases spiking in Montana, it's been a strange, frustrating and challenging summer for coaches in the Garden City.
"We want to play sports," Hellgate football coach Mick Morris said. "We also want our kids to go to school and don't even know if they can do that right now."
As a teacher and coach at Hellgate, Morris is plugged into the daily changes affecting both parts of his work. The administration sends out updates on what Missoula County Public Schools is planning for the fall several times per week.
That's constantly changed, like other aspects of daily life in the US since March. On July 14, MCPS superintendent Rob Watson told the Missoulian "We are committed to some type of in-person learning."
But as Montana has had spikes in COVID-19 cases, the plans being drawn up now could be obsolete days later.
With sports likely tied to in-person learning, this presents a dilemma for Missoula coaches. Add in the fact the city has some of the state's strictest coronavirus measures — it was the state's first major city to mandate wearing masks — and the issue is more complex.
The three Missoula AA schools have worked together to submit a fall plan to the Missoula City-County Health Department. Sentinel football coach and health enhancement teacher Dane Oliver said trainers and medical staff worked on it for three weeks and will submit it this week.
It could be a situation where only 50 people are allowed on the field, which would mean 20 or so players on each team, then a few coaches, officials and the down-and-distance crew.
"The most challenging part is the long-term forecast, right?" Oliver said. "And I think that's everybody."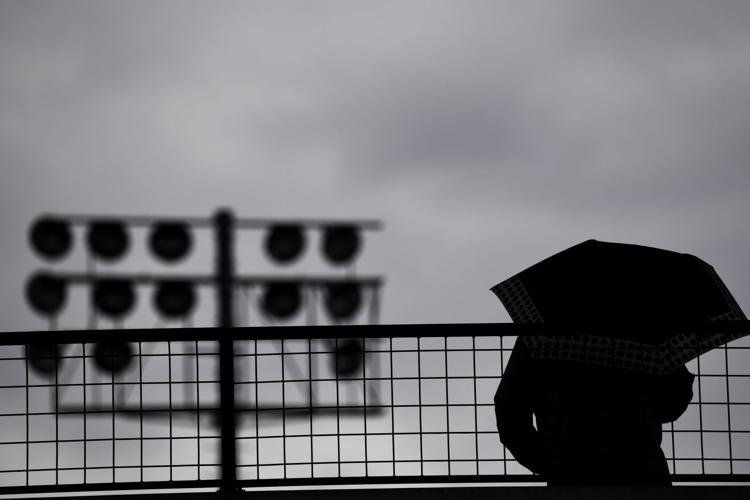 The city's football teams began workouts in late May and early June. The Montana High School Association designates June 1 to Aug. 1 as a time when players can be in the weight room and engage in voluntary workouts.
In normal years, this coincides with team camps at in-state colleges. Players get the chance to put pads on before official workouts begin in August.
Those camps didn't happen this year. So, Big Sky, Hellgate and Sentinel put other plans into place at the cost of a tremendous amount of coaches' time.
Sentinel has put its weight room on the track, something Oliver and his staff have liked. This allowed the athletes from various sports to work out in a socially distanced area. Sentinel also had workouts available during quarantine, which was possible because the school has a strength and conditioning program that includes all sports.
Oliver said football workouts begin Monday. Volleyball, he said, moved its nets outside after practicing indoors.
"I think everybody has embraced the mindset of, you know, we make the best of the situation and there's other people going through far more difficult things," Oliver said. "I think mainly the families and Sentinel have been happy to have kids back together safely."
Big Sky and Hellgate have gone about things differently because of the room they have.
Big Sky is undergoing a renovation, with the parking lot torn up and practice fields being re-irrigated. Luckily, the Eagles have MCPS Stadium on campus.
Big Sky coach Matt Johnson said they've gone through most of what they want to do — with proper cleaning and distancing — but it's still been a challenge.
Following a proposal drawn up by Johnson, Big Sky got in the weight room for three days in early July before it was shuttered because of a spike in cases.
Big Sky expects to start preseason camp next week but has avoided using the word "camp" due to concerns by the administration. All football activities are voluntary, he said.
Another big issue for athletic programs? Hydration.
"Honestly one of the hardest parts is the hydration piece," Johnson said. "We can't have them drink out of the watering station, right, and every kid, you know, they have to bring their own water, and it's got to be marked."
Space at Hellgate is normally at a premium because the school is in a residential and commercial area. Morris said his players haven't been in the weight room this summer and haven't lifted unless they have their own means.
Outdoor workouts began at a school property in the Rattlesnake, and the team is now practicing at Toole Park.
"It's been a mess for sure," Morris said.
Knights cross country has had a fairly normal summer, according to coach Anders Brooker, but reminders of a deadly virus are still there.
"We're taking temperature, we're taking roll and we're making sure that when we send a group out, we send them out in smaller groups, so that, you know, that's been a little bit more specific," Brooker said.
The stringent guidelines Missoula has for social-distancing in indoor spaces aren't uniform across the state. Billings West and Bozeman held a joint practice July 11, and their students can be in the weight room.
Gallatin County and Yellowstone County have the two highest number of COVID-19 cases in the state.
"There's no consistency across the board," Johnson said.
Summer workouts are one headache for coaches. On Monday, the MHSA is expected to release a plan for fall sports.
It's not known what this will look like. Most AA coaches assume it'll be close to normal, perhaps dropping two conference games. Johnson hopes so.
But some are more open to drastic change in line with Washington, which will start football Feb. 28.
"I'm 100% open to look into doing those things, I think, if we attack this like we're going to start on time, that we're going to get everything in, I think we've seen around the country that doesn't work," Morris said. "As you know, unfortunately, the virus isn't currently under control, especially in Montana.
"I think it's also going to be hard if the school district is 100% remote learning. How do you justify kids showing up to play sports?"