BILLINGS — It would be understandable if Mark Hutchinson questioned his decision to coach the Billings Central golf team on Tuesday.
The temperature was below 40 degrees when golfers from Central, Hardin, Laurel and Lockwood teed off at 10 a.m. at Lake Hills Golf Course for the Billings Invitational. As he tried to stay warm, Hutchinson also had to think about guidelines meant to limit the spread of COVID-19, the disease caused by the novel coronavirus.
Hutchinson dealt with all of this while being away from Mitchell Golf, where he's the store manager. Dedicating more time to that job was one of the main reasons he resigned as Central's coach last October.
But Hutchinson is back for his ninth year with the Rams (sixth as head coach), and he's happy to brave the chilly weather. He wanted to provide some semblance of stability for his players in a surreal year.
"After last year ended, (I thought) it would be really nice if they had some familiar faces," Hutchinson said after the tournament ended Tuesday. "Is it going to kill me? No. Do I love what I do? I do. So the positives outweigh the negatives."
The end of last season contributed to Hutchinson's choice to step down. He admitted that Laurel had a better boys team, but his Rams were in contention the entire Class A state tournament. The Locomotives beat Central by four strokes.
"I was like, 'Do I really want to go through that grind again?'" Hutchinson said. " 'Maybe I'm ready to play some golf in the fall as opposed to coaching.'"
That mindset changed once the coronavirus pandemic disrupted everyone's lives beginning in March. Classes were taught remotely for the final two months of the 2019-20 school year, and the entire spring sports season was canceled. The last thing Central's golfers needed, Hutchinson thought, was a new coach during the craziest year of their lives.
Central was also struggling to find a new coach as spring moved along, so Hutchinson decided to return for at least one more season. He was officially rehired in May.
Malachi Stewart was thrilled when he heard his only high school coach would be there for his senior season. Stewart knew most, if not all, of his teammates felt the same way.
"He's a really good guy," Stewart said Tuesday. "You can just have a conversation as friends."
Stewart hits a natural draw but was pushing many of his shots earlier this season. Hutchinson noticed that Stewart's backswing was starting too far inside, so he gave the senior some tips to fix the problem. Stewart's consistent draw is back, and his scores have been strong. He shot a 79 on Tuesday, good for fourth in the boys field, and he finished third at last week's Hardin Invitational with a 74.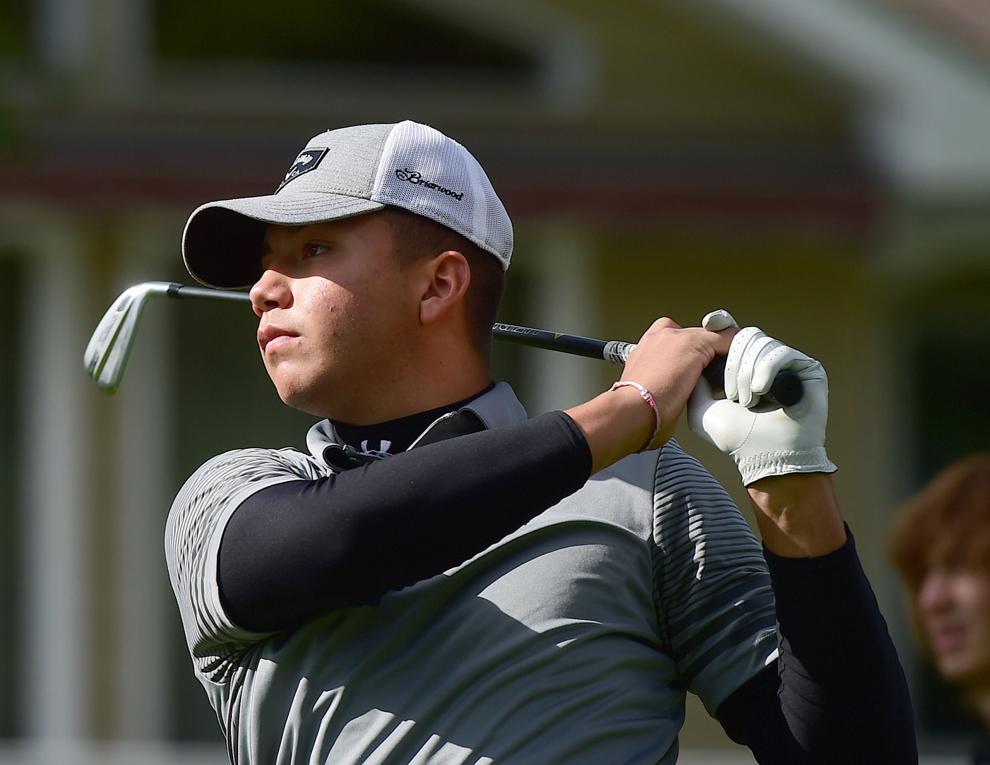 The grind is still there for Hutchinson, probably more than ever. Central's schedule has been adjusted many times this season, and the guidelines from the Montana High School Association and individual counties can be hard to keep track of.
While Hutchinson doesn't agree with every rule, he understands that they were made with safety as the top priority. He praised his players for their adherence and their resilience.
The Rams would love to get revenge for last year's close state finish. But like any good coach, Hutchinson constantly reminds his players to have short-term focus.
"I tell them, 'This could be the last tournament of the year, so you should play it like it's your last,'" Hutchinson said. "But at the end of the day, we feel the kids are safe and they're going to be able to play golf. If you had told me that two months ago, I wasn't sure that was going to happen."
Laurel sweeps titles
Laurel earned both team titles and had both medalists at the Billings Invitational.
The Laurel boys finished with a team score of 322, five strokes better than Billings Central, while the Locomotives rolled by more than 100 strokes in the girls tournament. The Hardin girls were the only other team with at least four golfers.
Laurel's Kade Ewalt took first among boys individuals with a 2-over 74, one stroke ahead of teammate Carson Hackmann. Central's Nick Pasquarello, who transferred from Laurel before the season, finished third with a 78.
For the girls, Laurel's Breana Jensen medaled with a 79, followed by teammates Alivia Webinger with an 84 and Haylee Adams with an 85. Central's Kenzie Bender shot an 86, and Laurel's Hannah Adams (Haylee's twin sister) carded an 87.