HELENA — For about as long as he can remember, Luke Murphy has been around the rodeo. It's in his blood, after all, with a mom who competed in the NFR in Las Vegas and a sister who competed for Montana State.
But last weekend in Baker, at the Montana High School Rodeo Finals, Murphy, a Helena Capital graduate, added his own claim to fame in the rodeo, becoming a dual-event state champion in tie-down and team roping, finishing atop the standings in each event.
"Achieving that and having it be my senior year made it a lot better," Murphy said. "It was nice going out with a punch and it just shows, that technically, you're the best in the state. It's an awesome feeling knowing you just beat 40 other kids to be No. 1."
Murphy also finished 11th in the overall competition, but his rodeo career is far from over. In the fall, he will pick things up in the collegiate ranks at Montana Western, where he will compete for the Bulldogs after passing up opportunities at Montana, Montana State and Wyoming, among others. 
Yet, Murphy has his sights set on a much bigger goal, even bigger than the College Finals Rodeo.
Like any rodeo competitor, his dream is to reach the National Finals Rodeo in Las Vegas, yet watching his mom, Shelley Murphy compete at the NFR when he was a child, serves as extra motivation.
"We were down there (Las Vegas) for 14 days I think," Luke said. "I remember every run she made. That was a big part of making the NFR and getting there one of my big goals. I am just trying to work my way up and winning a state championship, that just gets me that much closer to my goal of making it to the NFR."
Shelley was a 2008 NFR barrel racing qualifier and Luke, who qualified for the National High School Finals Rodeo in all four years of high school, has picked up on her talents.
"It's our in our blood," Shelley said. "But he's our only guy in the family and he is a very talented roper. I've let him know he needs to finish his education before he hauls for the bright lights of Vegas."
Las Vegas will be a long way from the land a few miles outside Helena where Luke learned all about rodeo in the family's arena.
"We have a bunch of team-roping steers, some calf-roping calves, and a big-ole arena we practice in just about every day," Murphy said. But his education started much earlier.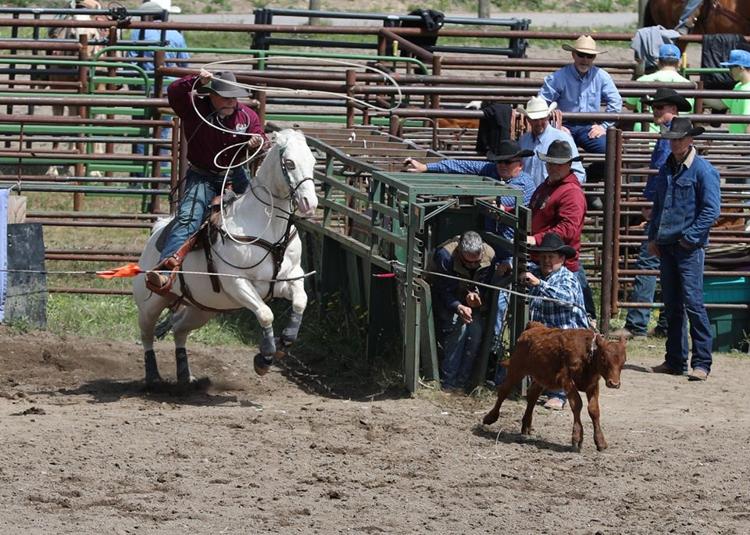 "I probably started riding when I was four or five," he said. "My mom, my dad, my middle sister, they all taught me how to ride and roping was just kind of second nature, like I started when I was born."
And like Shelley, he's starting to have success in rodeos all over. 
"A couple of years ago, we were still going together and we would both win a rodeo and it's just awesome to do that with your mom," Luke said. "And even when I am off by myself, I'll be coming back and tell her I won the rodeo and she will be like, 'Well, I won that too this many years ago.' And that just makes you feel that much closer."
Luke's list of achievements is quite long but among the most notable are the 2017 state heading championship, as well as the 2018 and 2019 reserve heeling championships. He also finished 8th in the nation in 2018 in the team roping.
While the ultimate goal is reaching the NFR someday, Murphy is focused on one thing at a time. Next on his list, is qualifying for the College Finals Rodeo with Montana Western, a quest that will begin this fall.
"That's definitely the goal, getting to the CFR," Murphy said. "And winning the region a few times."
Luke also wants to live up to his family name, which is made easier, he said, by being around his mom. 
"Practicing every day helps," Murphy said. "But iron sharpens iron and when you are around better people it makes you better, so just being around mom, being the kind of horse gal she is, she's been there and done that, up and down the road. That's helped me a lot keeping my head right."