BILLINGS — Pending trustees' approval next week, Lockwood Schools will hire veteran activities director Mike Erickson to be its next AD.
Lockwood superintendent Tobin Novasio made the announcement Monday.
Erickson has spent 13 years as an AD in Montana, the last five at Hardin.
"While we had a large number of highly qualified candidates, Mike's experience, specifically in Class A activities, really stood out as a positive," Novasio wrote in an email to 406mtsports.com. "Mike is a top-flight educator who will be committed to helping Lockwood's students become successful leaders in activities, in the classroom and in the community."
Erickson will take over for Tony Derrig, who helped usher in the sports programs at Lockwood High School, which opened its doors to freshmen last fall and will welcome its second class this year. Once Lockwood reaches varsity status for its athletics teams — expected to be in the 2021-22 school year, though athletes in sports like wrestling and cross county have already competed at the varsity level — Lockwood will be in the Southeast A conference, along with Billings Central, Hardin, Laurel, Livingston and East Helena.
Derrig stepped down after the school year to take a teaching position at Billings Central Catholic High School.
The ability to "start from scratch" was one of Lockwood's main selling points for Erickson, he told 406mtsports.com on Monday.
"I like going in and building, and I'm very passionate about bringing school pride, getting to know our kids, building traditions, doing things in our community," Erickson said. "This fits my personality. This is what I want to do, and this is what I've done here in Hardin in five years."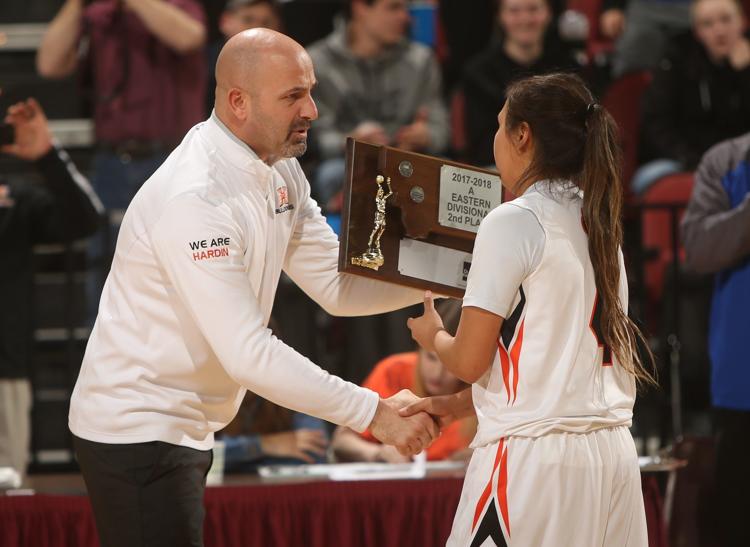 Erickson was born in Vida and graduated from Circle High School. His teaching and coaching career began at Wolf Point, which is also where he spent his first eight years as an AD. 
Hardin has been a power in several sports during Erickson's tenure, winning eight state titles the last four years. Leaving will not be easy, he said.
"What a great ride," Erickson said. "I'm so ingrained in the Crow culture and the people that I know there. It's going to be hard. There are personal reasons why you want to stay, but there are professional reasons why you want to move on."
Erickson will not be under a long term contract at Lockwood, but he plans to be there for a while, at least long enough to see his son, who is currently 8 years old, graduate from Lockwood High.
"It just felt like it was a complete fit," Erickson said. "I'm going to give them every ounce I can for as long as I can."
Lockwood's next trustees meeting is July 14. Hardin's AD position opened up Monday, Erickson said.