MISSOULA — Sid Triepke's senior savvy saved the day.
Triepke's wraparound goal in the second period was the difference as the Missoula Lady Bruins U19 team secured its third straight state hockey championship with a 1-0 win over Glasgow on Sunday.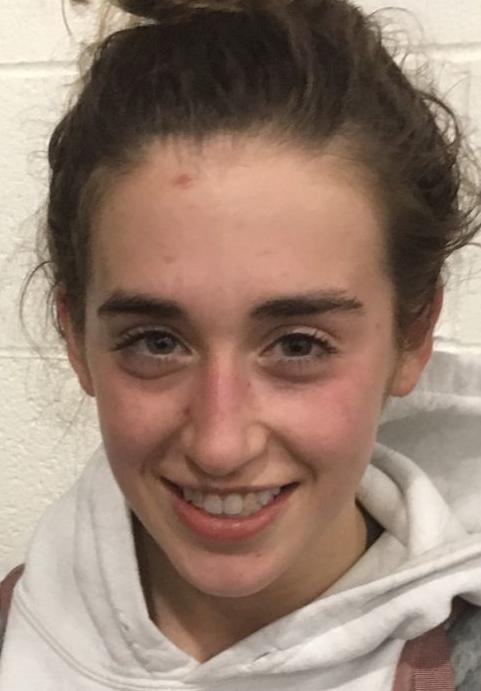 Her ice-breaker at 7:47 of the second period was the only blemish on an otherwise heroic day for Ice Dawgs goalie Kassie Moore. She piled up 46 saves in front of a large crowd at Glacier Ice Rink.
"I just figured out that trick this year and I started using it," Triepke said of her unassisted score. "It works pretty well until they figure it out. I saw that no defenders were in front of the net so I did an escape and shot it in."
Lady Bruins veteran coach Grace Hoene said her team was "getting a little frustrated" before the goal. That tends to happen when you pile up 19 shots on goal to your opponent's two in the first period and still find yourself in a scoreless tie. 
"That took some patience for Sid," Hoene said. "She's our little tea kettle. And if she doesn't score, she's going to burst.
"That was like releasing the pressure to score that goal. Everyone could breath a little bit. It's opportunistic. (Moore) was looking on the left side of the net and Sid saw the opening. (Moore) was maybe a little bit out of position."
Sunday's drama was unexpected considering Missoula blew out Glasgow on Friday night, 13-0. Hoene said there were extenuating circumstances Friday. The Ice Dawgs were likely feeling the effects of a seven-hour trip from northeastern Montana.
"They had an off game (Friday) and we had a really good game," Hoene noted. "Their goalie was the difference there today. We had puck possession a majority of the game. We had a lot of shots on her and (Moore) kept them in that game. It could have been another blowout."
Missoula (21-11-2) finished with a gaudy 47-2 edge in shots on goal. The fact the Lady Bruins only scored once was astounding, but by the same token, winning in nail-biting fashion made the title even sweeter.
"It was definitely more exciting for the fans," Hoene said. "More stressful for the coaches and a little more intensity from the players, too.
"It was a fun game to coach and the girls were fired up the whole game. They played all three periods all the way through."
The day was bittersweet for Triepke because it marked her final Montana Amateur Hockey Association (MAHA) game. The good news is that she and her teammates still have another month of practice before playing in nationals in Cleveland.
"It's special that we won it here," Hoene offered. "We wanted to host it. We knew we'd have a good team.
"Before us the 14U team from Missoula won. That's pretty special to have two Missoula teams the same day bring home the banner. It shows our program strength."
Missoula's U14 team took top honors with a 3-1 win over Bozeman Sunday. Trista White had two goals and Jayden Nash added an empty-netter for the Lady Bruins, who avenged a Saturday loss to Bozeman.