BILLINGS — The pair of young girls were laying side by side on their stomachs on the grass, heads turned toward each other, obviously having a good time. The photograph was taken from behind them, but the smiles etched on their faces can still be discerned.
Though neither Ashlyn Dvorak nor Eliza Bentler can pinpoint the exact moment their close friendship took hold, the bond has endured for nearly a decade despite the two never going to the same school. They, and their families, connected first in the club soccer scene and out of a love for the sport. But they all found there was more to it than that, spending plenty of non-soccer time together, including family trips.
Soon, the Dvoraks and Bentlers will have another bond. Dvorak, a goalkeeper for Billings West, and Bentler, a forward for Billings Senior, took different paths to get there, but come next fall, both will be members of the University of Montana soccer team. They'll square off as opponents for just the second time in their high school careers Thursday when the Golden Bears (11-0-2) and Broncs (8-3-2) close their regular seasons at Amend Park.
With the help of a back-line rotation that includes Bella Murphy, Avery Lambourne, Courtnie Gagnon, Ela Bloyder, McKinsey Allen and Grace Curnow, Dvorak has seen just two goals slip past her in 13 matches so far by combining a mix of quick reaction, quick decision-making, and playing an aggressive high line.
"I haven't seen the goalkeepers from the (Western AA), but I would argue with anybody that she's hands down the best goalkeeper in the state of Montana," West coach Rob Zimmerman said.
Bentler's ability to put the ball into the net has helped the Broncs reach third place in the league. Her 11 goals are the second-highest total in the conference, tied with West's Emma Lensing, who both trail Bozeman Gallatin's Olivia Collins (14).
Stephanie Wagner was an assistant coach at Senior during Bentler's freshman season. Wagner stepped away for two years when Chez Keehn ran the program, but after Keehn left for Lockwood, Wagner became the Broncs head coach. So Wagner has seen the beginning and now the end of Bentler's high school career.
"You have to see her on the field in order to really … stats don't show anything, I don't think," Wagner said. "I mean, she's a ball-winner for us. She plays in the offense, but she's our first line of defense. She wins balls so we can go score our goals."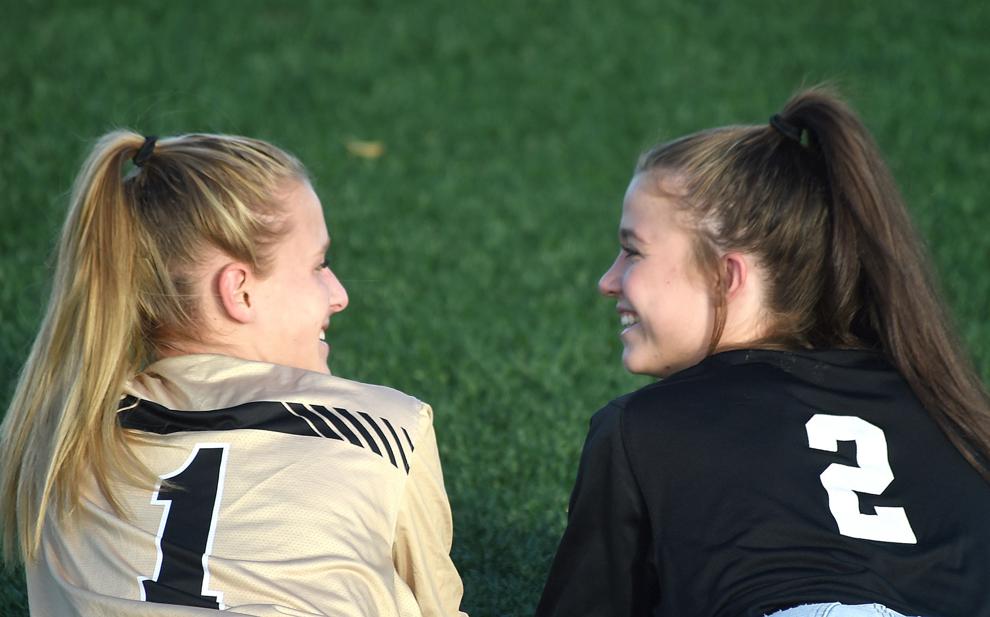 Dvorak and Bentler have been taking trips to Missoula for soccer camps since they were young. Both decided long ago that being a member of the Griz was their goal. Dvorak just got their first.
Soccer players, at least in Montana, largely have to recruit themselves. Unless college soccer coaches can see players with their own eyes, they don't put a lot of stock into high school results. That's why ID camps, where players flock to university campuses to be put through drills and scrimmages under the watchful eyes of coaches, are so important. Video of athletes competing against other athletes from regional or national tournaments is the next-best thing.
That requires players — and their parents — putting in a lot of miles to be seen or to compile highlights they can send off to coaches. It's that type of dedication that Dvorak was able to make a commitment to the Griz in October of last year without even having had a varsity high school start on her resume.
In the case of Bentler, it also meant registering for regional tournaments in what could be best described as a pick-up player. In other words, if a team was looking for help, she'd be available.
"I loved it, actually, because I got to meet a bunch of new girls," Bentler said. "It was a little awkward at first, but then once you get to know them, it's fun. It helped me with social skills, too."
It also taught her to quickly adapt to other playing styles, and she was able to record that much-needed video to eventually send out to coaches. Still, her chance to be a Griz came down to one last camp in Missoula this summer before she was finally asked to commit.
"When she told me she was talking to the UM coaches, I would text her and ask for updates, like, what's going on?" said Dvorak, who admitted she had drafted an email to the Griz staff extolling the virtues of her friend before deleting it. "I was always wanting to know. I'm pretty sure that I was one of the first people that she told about her committing. I was so excited. I told her it made my year."
Dvorak spent her first three seasons on the West bench behind Kendell Ellis, who is now at the University of St. Thomas, an NCAA Division I program in St. Paul, Minnesota.
It wasn't easy. Yes, Ellis was an all-state keeper with the Golden Bears, but Dvorak is full of the confidence that good keepers have, confidence she said that was partly instilled in her by her club coach Stephen Cavallo, who is also the women's coach at Montana State Billings. Though she was just a freshman, Dvorak felt she should be the one out there in net. Immaturity, Dvorak said, got the best of her. She was angry, hurt, disappointed. And not a very good teammate.
Things clicked for Dvorak her sophomore season. She wasn't logging any more minutes, but, according to Dvorak, she grew up. Still sitting behind Ellis, who was only a year ahead of her, Dvorak became one of the most supportive and vocal players on the bench. She finally bought into Zimmerman's preaching that everyone on the team has a role.
The coach took notice, too, and after Dvorak's sophomore season, let her know.
"She was a backup and she wasn't getting minutes, and it's hard when you're coming from a club program and other competitive teams where you're the one and you're playing all the time," Zimmerman said. "She had a hard time with it. She had to grow and mature as a player and she definitely did that. She was a different player her sophomore year in those regards and I just wanted to make sure that she knew that I recognized that."
Those good vibes did not mean more playing time, however. Ellis had one more season to go, and Dvorak saw what little playing time she did her junior season by getting in some late minutes if West was way ahead, sometimes even as a forward.
Bentler's high school path has been more smooth. She's been a part of the Broncs starting lineup since midway through her freshman year, and has 21 goals to show for it, 18 in the last two seasons.
"She's goal-oriented and goal-driven and that's what she had in mind and that's what she wanted," Wagner said of Bentler's desire to play for Montana. "I'm proud of her for going out and getting it. I think even if (Montana) hadn't offered her she would have landed at a quality school, so I hope she get out of Missoula what she wants."
West defeated the Broncs 1-0 earlier this season, and Bentler put one shot on frame only to see Dvorak make an easy save. So what would happen if, on Thursday, Bentler beats an offside trap or chases down a through ball to get a 1 vs. 1 chance against Dvorak? Who wins that battle?
Both players thought about that question for a bit. Not surprisingly, the friendly rivals came up with basically the same answer.
"I don't know if I should say," Dvorak said with a laugh. "We both know each other and how we play pretty well. I think she'd score some and I'd save some.
"She's just as competitive as I am. She wants to score just as much as I want to save her shots. We have fun when we practice together, for sure."
"Oh, gosh, I don't know. Sometimes me, sometimes her," said Bentler, before recalling a match when the two played on different club teams. "We were playing my '03 (club) group and her '04 group against each other and I scored on her and it was one of those things where I was like, oh, my gosh, I just scored on Ashlyn. But she'll definitely save it on me, too, you know."
She was smiling at the memory, just like in that photo.