HELENA — The intensity is always a notch higher for crosstown soccer between Helena High and Helena Capital and Tuesday, at the Siebel Soccer Fields, in a playoff showdown, the two rivals didn't disappointment.
After battling each other and the elements for 100 minutes, which included extra time, fourth-seeded Helena High edged out fifth-seeded Capital by the slimmest of margins, 1-0.
"It's playoffs and it's crosstown, so there was lots of emotion," Helena High's Josh Wilcox said. "We knew that if we lost the game, we were out, so it was a big deal."
Both teams played with that desperation and at least in the early going, chances were hard to come by. However, each team would earn a penalty kick in the first half, yet both keepers, Dylan Maharg of Helena High and Henry Lauerman of Capital turned away penalty shots, keeping the score 0-0 at half.
In the second half, Helena continued to mount the pressure and the Bengals were awarded another penalty in the second stanza, which was also a miss. Another shot attempt hitting the crossbar also kept it nil-nil.
"I thought that Henry was exceptional," Capital head coach Stefan Wall said  of his keeper. "I don't ever remember being part of a match where there were three penalties called and none of them went in." 
Following 80 minutes of regulation and eight more minutes in the first stoppage frame, Helena finally broke through as Wilcox scored a goal from outside the box, giving the Bengals the lead.
"It felt great but I knew the job wasn't done," Wilcox said. "And in a situation like that, you can't let your emotions get the best of you."
Wilcox was right to be worried. The Bruins created a few chances in the second frame of extra time, including a couple in the final minutes, but they couldn't find the back of the net, so Helena advanced. 
"This was a great showcase for Helena soccer," Helena boys head coach Carl Straub said. "I know guys on both sides and I am super proud of both teams. It was a heckuva game, it was a super entertaining. Our seniors boys really stuck with it in the end, they just kept believing."
"This was as good as we played all year," Wall said of his Bruins. "And I think that says a lot about our senior leadership. We just had trouble finishing and we had trouble with that all year."
While the season is over for Capital, the win moves Helena into the quarterfinals. The Bengals are heading to Bozeman for a matchup Saturday. 
Helena girls 10, Butte High 0
During the same time the Helena vs Capital crosstown boys match was going on one side the of the Siebel Soccer Fields, on the other side, the top-seeded Helena girls rolled over Butte by a score of 10-0.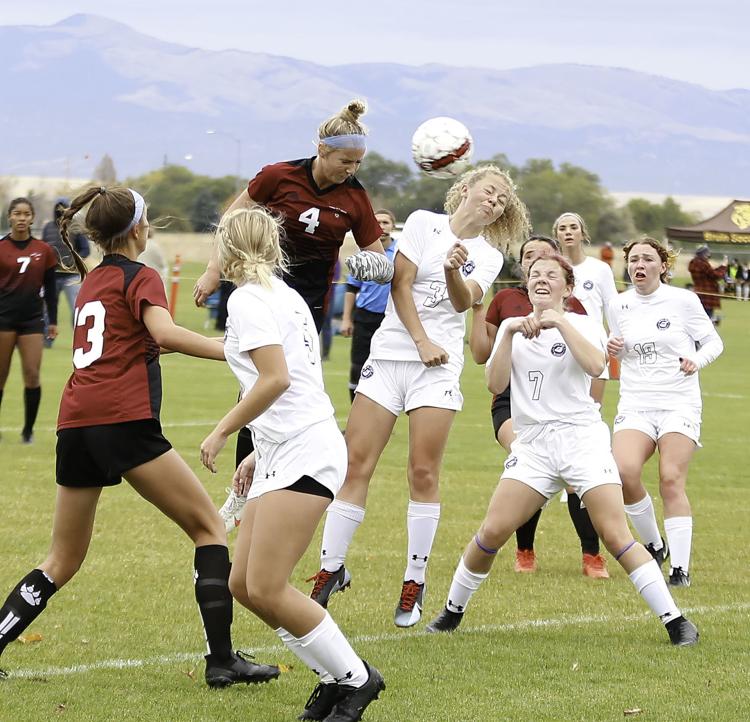 The Bengals who scored more goals than any other team in the Western AA, flew out of the gates and grabbed control with a pair of goals by Rachel Plaster, who finished with a hat trick.
After finishing with six goals in the first half, Helena High added four more goals, including one from Kaiya Newby to win 10-0. 
Additionally, Elsa Grebenc, Avery Kraft, Kea Normandy, Linnea Onushco, Meghan Rake and Bailey Root also scored in the win. The Bengals will host a quarterfinal matchup Saturday.
"Everything that we have been trying to do all year, we were able to do," Helena girls head coach Mike Meloy said. "They were packing the box and it was necessary for us to get outside to create chances to score and I thought we did a great job of that. This was a real good warm up for Saturday, we just have to keep it up."
The Helena Capital girls were also in action, on the road Tuesday for the opening round of the state playoffs and fell against Kalispell Glacier by a score of 5-0.