BILLINGS — Billings Skyview senior Jordan Roe paid almost no mind to the crowd that gathered for Saturday's Class AA state title girls soccer match.
"I don't like hearing my dad yell at me anyway, so I try to tune things out," she said with a laugh.
Billings West beat the defending state champion Falcons 1-0. As Roe coped with the loss, spectators made their way onto the turf at Wendy's Field at Daylis Stadium. That's when she grasped how many people were in attendance. 
The crowd at Saturday's match was tied directly to Class AA's new playoff format. After decades of using a three-day tournament at a neutral site to decide state champions, the state's largest classification followed Class A's lead and switched to a single-elimination playoff format at home sites: first round on Oct. 22, quarterfinals on Oct. 26, semifinals on Oct. 30 and championship on Nov. 2.
The format is in the first of a two-year trial run. Not everyone wants to see it continue past 2020, but several people involved with Skyview and West were pleased with the first edition of this playoff system.
"That crowd for the championship game was awesome," said Skyview girls soccer coach Cameron Icenoggle. "You go to a neutral site, you're probably not gonna get that."
Travel
The last time Billings hosted a State AA soccer title match was 2015. The quarterfinal and semifinal rounds, plus a third- and fifth-place game, were also played that late October weekend at Amend Park.
Kalispell hosted the boys and girls tournaments the next year, followed by Missoula in 2017 and Helena last fall. This year, the venue for each round went to the high seed.
The Skyview girls never left Billings for any of their three matches, while West went to Missoula for the quarterfinals and Kalispell for the semis. The Golden Bears spent more than 80 hours together on those road trips, coach Rob Zimmerman estimated, due in part to poor weather and a car crash.
Zimmerman and West senior forward Jillian Hust didn't like the delays as they were happening, but they appreciate the long road trips now.
"I actually enjoyed traveling with my team because it was my last time," Hust said. "We got to be more of a family because we were together for 80 hours in a week."
Conversely, one of Roe's main issues with the new playoff format was Skyview's lack of travel. The Falcons bonded on the bus rides to state the previous three years, Roe said. During the tournaments, she often spent time with girls from different schools.
"We didn't have very much camaraderie between other teams" this year, Roe said.
Energy
The increased travel this postseason concerned Icenoggle, Zimmerman and Billings Public Schools Director of Athletics and Activities Mark Wahl. They worried road players would be more tired than the hosts.
If those long road trips caused some exhaustion in West's players, Zimmerman couldn't detect it. That's easy to say when you win every game, but perhaps sitting on a bus has little-to-no negative impact.
This year, teams received at least two days off between every playoff match — perhaps the biggest difference between this format and the three-day tourney. Zimmerman and Icenoggle valued the extra rest and preparation time, and they don't think it's a coincidence that all of their postseason matches this fall were decided by one goal.
"For the final, I didn't have to worry about girls playing 100 minutes in the semifinal because they had two days to recover," Icenoggle said. "Everybody was more ready to go."
Both Hust and Roe appreciated the recovery time and felt relatively fresh the previous two weeks.
"I don't know if I would've performed as well if we had three games back to back," Roe said.
Class A teams take an entire week off between each playoff matches because the postseason is spread out over three weeks instead of 12 days. This year's State A quarterfinals were played on Oct. 19, the semis took place on Oct. 25 and 26 and the title match was held this past Saturday.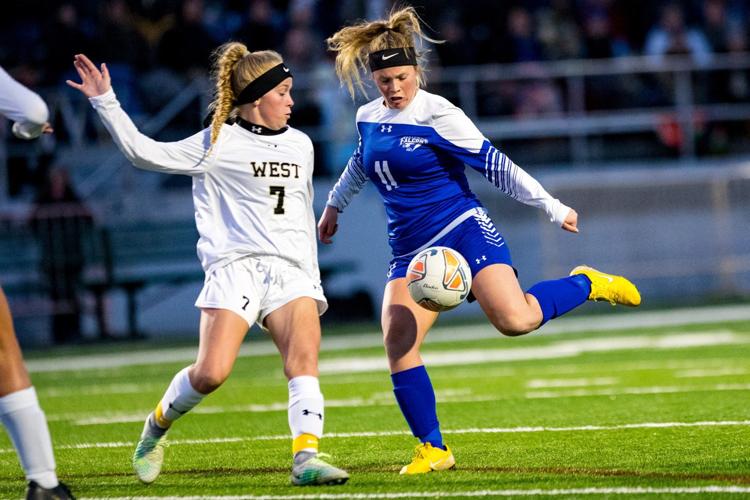 Atmosphere
Class A switched from a three-day tournament to its current playoff format in 2004 (three years after Class A was formed). The Laurel and Billings Central girls have played each other in the last five finals. On Saturday at Wendy's Field at Rocky Mountain College, 750 to 1,000 people saw Laurel shut out Central, according to Central principal Shel Hanser. Revenue for that match came out to $5,083, the most from the last five State A title matches, per Hanser.
About 850 tickets were sold for Saturday's State AA championship match, Wahl said, which equates to around $5,500 in revenue and approximately 1,000 total spectators. It's the largest crowd he's seen for a Billings soccer match. Hust has only seem a comparable audience for state playoff football games.
"A lot of people I know were watching," Hust said. "You feel like you have to play better."
Past three-day tournaments typically included a little more than 1,000 spectators all told, Wahl said. Skyview and West met during last year's state semifinals, and Wahl is certain the attendance would have been larger if that match had been played in Billings instead of Helena.
"Not everyone can drive hundreds of miles away," Icenoggle said, "but everyone can drive 10 minutes down the road."
While the crowd at Saturday's final was large, Roe said the quarterfinals and semis felt like regular season contests. She preferred the early round vibes from the three-day tournament. The Daylis attendance also would have been much smaller if Skyview faced Kalispell Glacier instead of West.
But the new format eliminates the chance that two teams will play for a championship hundreds of miles away from their hometowns, like when the Skyview girls played Missoula Big Sky last year in Helena. The odds of Billings, Bozeman, Helena, Kalispell or Missoula hosting a state final between two local schools are much greater when playoff venues are awarded to high seeds instead of a neutral site.
The potential for a match like Saturday's is one of the main reasons why this format was proposed, Wahl said.
"Not only was it a large crowd, but they were involved," Zimmerman said. "It was just a phenomenal atmosphere for the kids to be a part of."
The future
Class AA athletic directors, principals and the Montana High School Association executive board all approved the trial run for the playoff format, per Wahl. There's no guarantee they'll agree to extend it after 2020.
If Roe had a choice, Class AA would go back to the three-day tournament. Hust likes the new format but was skeptical of it at first, mainly because the postseason switched from double to single elimination.
"It was a little nerve-wracking knowing that if we lost, our season would be over," Hust said.
Icenoggle and Zimmerman miss the third-place match. 
Consensus is hard to achieve, and one postseason can only reveal so much. But this new playoff format has precedent. Class A tried it out 15 years ago and has stuck with it ever since.