BILLINGS — Things weren't going well for the Shepherd Fillies softball team on this day.
On the road at rival Huntley Project on April 17, the game went south for Shepherd in a hurry, but catcher HaiLeigh Davis returned to her spot behind home plate after a visit to the pitcher with a smile on her face.
Win or lose, through good or bad, Davis, a senior, simply finds the joy in everything, especially softball. When the Fillies appear to be down on their luck, Davis does what she can to lighten the moment.
"Sometimes, girls get really hard on themselves and they already beat themselves up, so having somebody in there to tell the joke and tell them that 'everything's going to be OK, let's get back into this' (is important)," Shepherd coach Lori Goodell said. "The girls just kind of fall in behind her. They laugh, and then they're right back in there."
Heather Davis, HaiLeigh's mom, was the head softball coach at Hardin when she was pregnant with HaiLeigh. In that regard, HaiLeigh feels she didn't have a choice but to become a softball player. In her own defense, Heather said the Davises encouraged HaiLeigh to try everything.
It just so happened that HaiLeigh gravitated toward her mom's sport. Upon a little further reflection, Heather conceded with a laugh: "I might have influenced her a little bit."
However HaiLeigh found softball, she found success, as well.
Thanks to meticulous stat-keeping by Paul Martin, who has compiled season and career statistics for the Fillies since 1999, we know that Davis could leave the program with its top career batting average. (Who knows how long she'll keep that mark, however. Sophomores Aubrey Allison and Bailey Watson are off to blazing starts to their careers, currently hitting .745 and .588, respectively, in their first varsity seasons).
Going into postseason play, Davis was batting a career .509 in 173 at-bats, ahead of Katlyn Stringari, who hit .495 in 275 at-bats from 2010-13. 
And it's not just batting average that has Davis high on the charts. Her 63 bases on balls are second on the program's list (keep in mind she missed an entire varsity season to compile career stats since last year was canceled due to COVID) to Jessica Gorham's 72, and she's struck out just 21 times in her three seasons. This season, Davis is batting .705 and has walked 17 times and struck out just once in 61 plate appearances.
Her career on-base-percentage is .641, tops among players with three seasons or more. Davis gave a verbal shrug to explain her capacity to get on base.
"I think I've just been around the game so much and I've watched it a lot so I guess I just have an eye for it," Davis said. "I'm also a catcher, so I can read the ball really well out of the pitcher's hands."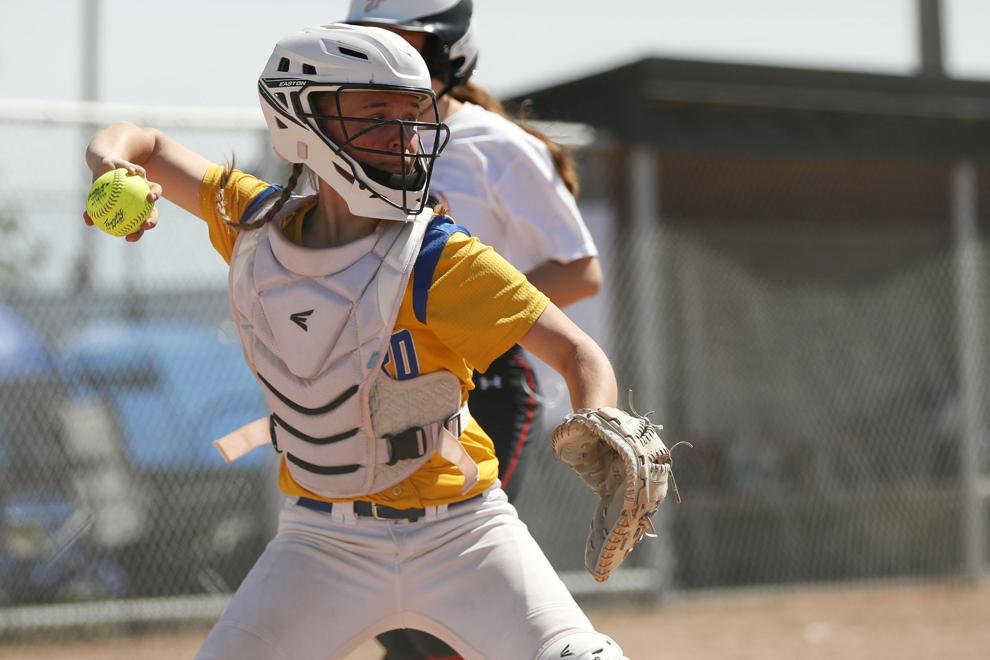 Despite the numbers, it's probably not what Davis will be remembered for most. They certainly aren't what she'll remember, anyway. It'll be the relationships.
Heather Davis said her daughter knows someone from just about every team they play, whether it's high school ball or travel ball, and that HaiLeigh has many families: Her life-and-blood family, her high school softball family and her travel ball family.
HaiLeigh will attend and play softball for Miles Community College next school year, and, true to form, she's already developed close bonds with people in that program.
The Fillies enter the postseason 10-7, intent on being one of the four teams to make it out of this week's Eastern B Divisional in Glasgow. Shepherd has reached the state tournament each year since Davis was a freshman (minus the COVID spring of 2020) and she wants nothing more than to do so again this year and perhaps help earn the program a trophy.
Through all the smiling, though, reality sets in for Davis near the end of a conversation. She's asked if she's thought about her final weeks with the Fillies, and suddenly the person who has a ready sunny answer for everything is at a loss for words.
Even over the phone, it's easy to tell Davis, who hopes to one day be a coach and school counselor like her mother, is struggling to find her composure. But when she does, the message is uplifting.
"It's bittersweet for me," she said between sniffles and long pauses. "These girls, mainly the seniors, have been my best friends for so many years. I've grown up with them, I have a picture of all five seniors on one Little League team and I've noticed how much we've grown.
"I've also played with some of the underclassmen before, and I just love how they've grown throughout the season as people. So it's going to be very hard for me to leave, but I know that they're great people and they're going to do great things."
Just another way Davis encourages her teammates.