Prior to her senior season, Brooke Ark and athletes all across the state of Montana weren't sure what competing was going to be like during this school year.
"In the beginning of the year, in the fall, we didn't know if we were going to get a season," Ark said. "We didn't know about volleyball and basketball, or any of it. And then being able to play softball and playing for the girls who didn't get to play last year, that has really driven us. We are just trying to enjoy every moment that we get." 
At the plate, Ark's motivation to improve has been a key to her success and after a 3-for-6 performance Saturday, she's hitting .464 for the season with five home runs. The Helena senior has 13 hits in 28 at-bats and 17 percent of her plate appearances have resulted in a home run. 
"Last weekend, Brooke wasn't happy with how she hit," Helena High head coach Ryan Schulte said. "She wasn't satisfied and she really took to some of the adjustments that we talked about."
Whatever she did, it's worked. 
Earlier this week, in the crosstown softball game against Helena Capital, Ark belted two home runs in a 13-7 defeat of the Bruins and in the first of two games against Missoula teams, Big Sky and Sentinel, Ark continued her hot streak, going 3-for-3 with another home run in 16-3 win over the Eagles Saturday at Mihelish Field.
Ark's bomb was one of four for the Bengals as Reegan Walsh, Kylee Wetzel and Brooke Richardson also went yard for Helena High. 
"It's been a lot of fun," Ark said of hitting five home runs. "My teammates still get really excited with every one and we all get excited for each other."
Amber Countryman also had three hits and Walsh led the Bengals with four RBI. Faith Manibusan also got the win on the bump after more than three innings of work and just three runs allowed. 
Yet, in the second game of the day for the Bengals, Helena High was defeated by Sentinel, which won 15-3 at Mihelish Field after knocking off Capital earlier in the day 15-10 at Northwest Park, giving the Spartans a sweep.
Kodi Fraser notched two hits, a home run and three RBI for the Spartans, who jumped out to a 9-2 lead after two innings and didn't look back. Grace Hardy got the win after allowing just three runs and striking out nine. She also helped her own effort on the mound with two hits.
Countryman stood out in the loss for Helena, going 3-for-3 with a homer, a double and three RBI. 
Earlier in the day, against Capital, Hardy set the tone for Sentinel with a home run that helped the Spartans build an early 5-0 lead. Capital started to battle back with four runs in the bottom of the fourth, but Sentinel managed eight in the top of the fifth and held on to win by five.
Chirlee Hoover was dominant on the mound for Sentinel with six strikeouts, one hit and zero runs allowed in three innings of work. She was credited with the win. 
Taylor Sayers led the way for Capital with three hits, including one double and four RBI. Amanda Nettleton pitched in with two hits and an RBI.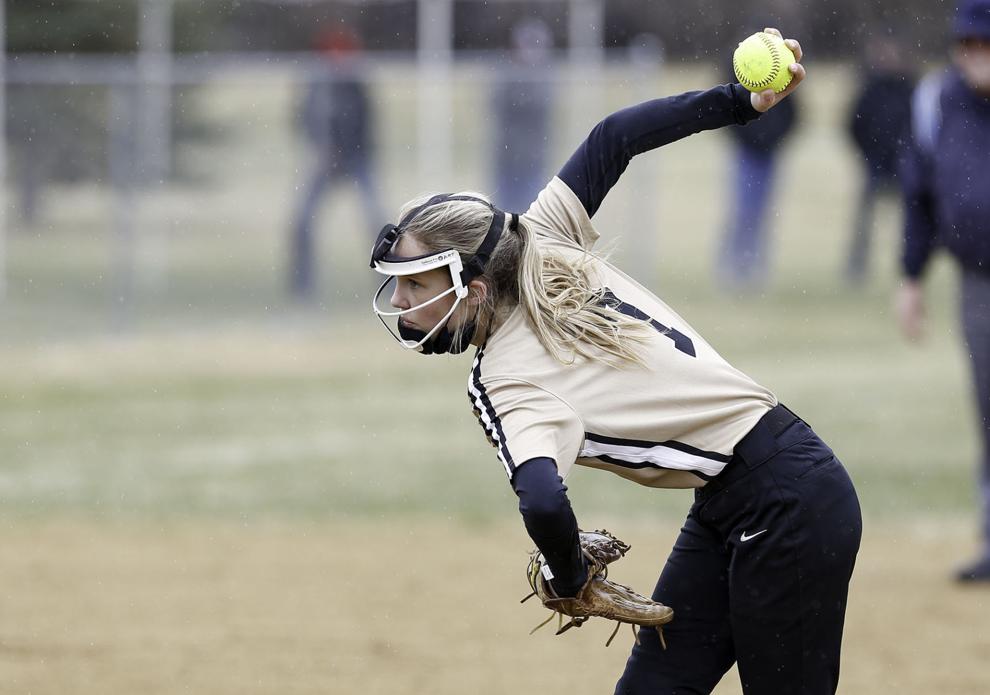 In the Bruins second game of the day, CHS plated at least two runs in each of its four innings at the plate in a 14-2 runaway that ended in five innings.
Nyeala Herndon notched the win after allowing two runs and four hits in four innings. She also struck out four. Jaedyn Kent and Mackenzie Siegers each hit home runs and had two RBI in the win. 
Kathryn Emmert led both teams with three hits, three runs scored and two RBI. Jenna Priddy and Anna Cockhill each added two hits, as well as a combined three RBI for the Bruins, who are now 7-4 on the season. Helena High is 4-5.