GREAT FALLS – A handful of red rose petals and shiny glittery pom pom strands floated on the surface of the pool as the workers cleaned up after the 2020 State Swim Meet.
They were remnants of the celebration by the Bozeman Hawks who earned both the AA boys and girls team titles, ending a streak of finishing runner-up to Missoula Hellgate for the past six years and accomplishing something no Bozeman team had done for the lifespan of the swimmers.
"The last time the boys and girls won together was in 2002 and so that's the year that a lot of these kids were born, that our oldest kids were born, so that's pretty amazing," Bozeman coach Siobahn Gilmartin said. "The girls haven't won since 2007 and the boys haven't won since 2012."
The Hawk girls won by putting up 257 points. Missoula Hellgate was second with 205 and Butte High earned the third-place trophy with 107. The Bozeman boys won with 222 points, leaving crosstown counterparts Great Falls CMR (190) and Great Falls (181) with second and third place.
The girls came out in their first race firing on all cylinders when they swam 1 minute, 50.22 seconds in the 200 medley relay to set a new school record and they kept on from there. Erin McKinney won every race she was in, including the 200 IM (2:11.90) and 100 breast (1:06.41). The Hawks capped the day by lowering their school record in the 400 free relay to 3:37 after just breaking it a day before.
Conversely, the Hawk boys did it on the depth of their team.
"It really was those boys that fell seventh through twelfth who just kind of kept chipping away at it," Gilmartin said. "You know we didn't finish with a single first or second place, other than our 200 medley relay that got second place, but to win state with that, it's pretty incredible."
And after the meet got off to a slow start literally with delays for mechanical and medical issues, including one that required paramedics in the stands, the moment was extra special for the Hawks.
"With all of the sort of difficult things that happened at the beginning of the meet, that really put into perspective what really matters and it was pretty humbling," Gilmartin said. "We're just glad everyone is safe and here and that dad was able to make it back and watch his son win a state championship which is pretty amazing.
"We're all Hawks right now and the Hawks just won a state championship."
AB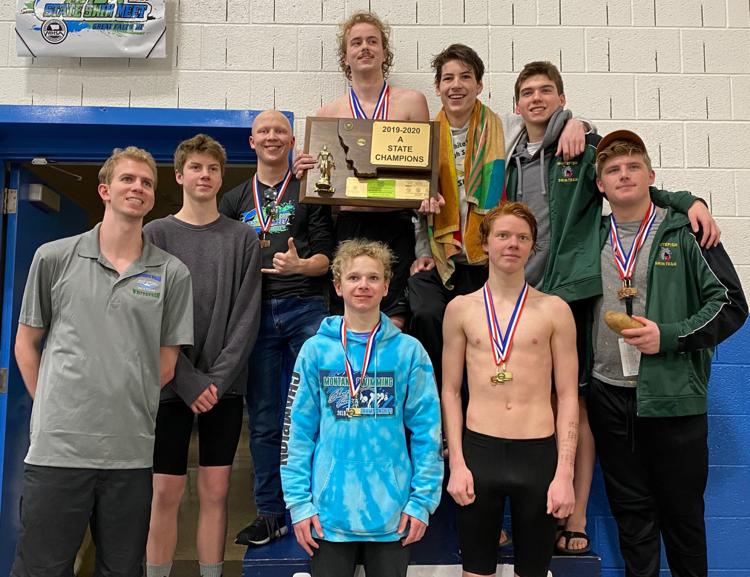 The Whitefish boys earned what they thought was their first team championship with a 96.5 point performance over Hardin (61) and Billings Central (44.5).
Preston Ring won the 200 IM (2:03.05), 100 free (48.17) and Logan Botner won the 100 back (58.43) and 200 free (1:52.88) to lead the Bulldog effort.
Ring admitted that seeing the Whitefish girls win in 2019 had helped to motivate them and was looking forward to the celebration in Whitefish.
"The Whitefish boys have always come so close," Ring said. "We get second every year."
Hardin's Dominic Stevens won the 50 free (22.56) and 100 fly (54.51) to lead the Bulldogs up the podium.
"This was a groundbreaking race for our team because we had a lot of boys make finals, but a lot of them placed fourth and fifth so now we just need to start placing higher and hopefully I started that," Stevens said.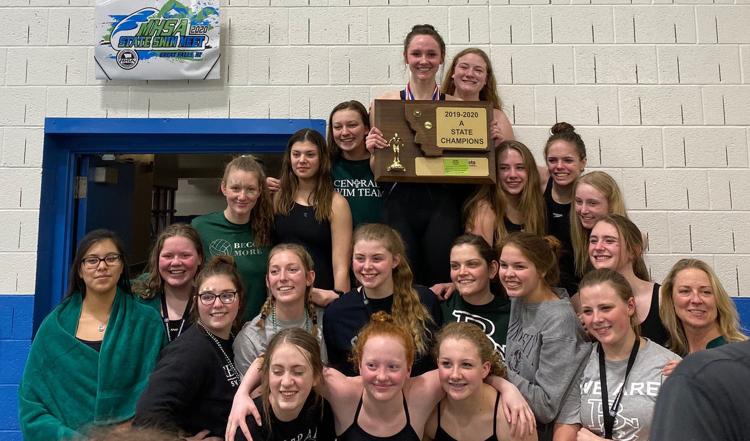 Billings Central won the girls team title with 109 points, taking back the trophy from Whitefish who finished runner-up this year with 89 points. Hardin was third with 32.
Rams senior Julia Peterson ended her swimming career with wins in the 100 breast (1:09.94) and 50 free (24.62), and was also the anchor in the girls 400 free relay. As she finished the final race for the Rams in first place, she looked up at the board and her teammates and started to get emotional.
"It was super special because obviously we won, but it was my last meet ever and my last race ever and a lot of these people, even from the AA teams, I've been swimming with them since I was really little so all the memories behind the sport, not just the sport itself, makes it really emotional," Peterson said after.
She has an array of medical conditions where her body reacts to the water and so she spent her sophomore and junior years playing basketball to stay in shape for swimming. This season, she decided to focus just on swimming and by training dryland and minimally in the pool.
Bigfork breakthrough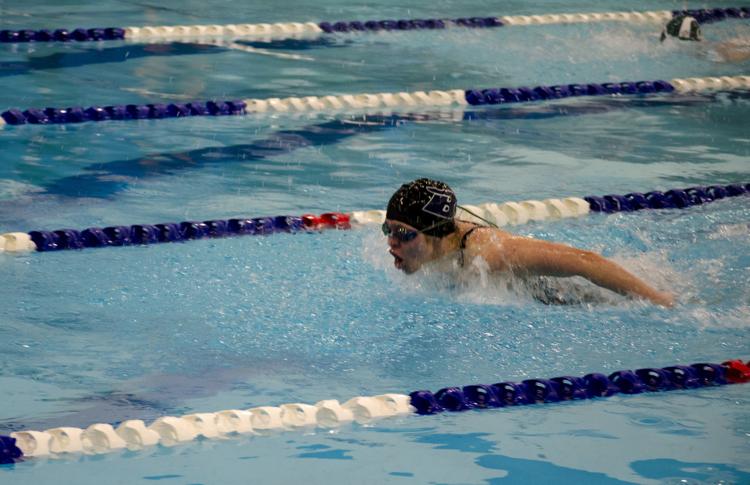 Bigfork has had a girls swimming team since 2013, but for the first time in seven years they were competing on the second day.
"We come every year and my team has just gotten better and better every time and this is the first time that I've had swimmers the next day," Bigfork coach Charlie Ball said.
And not only did they compete, but they notched their first state champion in Sophi Logue (100 fly, 1:03.73) and earned a medal in the 400 free relay by placing third in 4:18.87.
"I just kept telling them to leave it here, like this is your day, let's do this. They've done incredible and I'm so proud of them," Ball said.
Logue joined the team after moving from California this year, but the other thirteen swimmers in the program just swim during the high school season.
"She just really brought that spark to our team that we needed that energy," Ball said.
Catherine Russo caps stellar career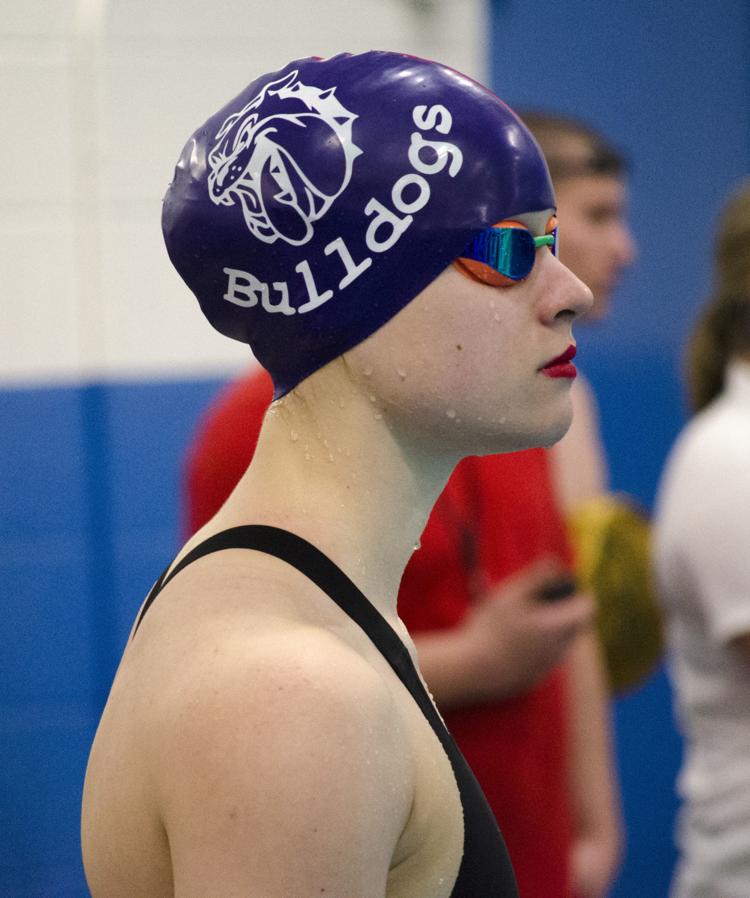 Butte's Catherine Russo capped off her stellar high school career with a perfect eight individual titles and her teammates helped to add a ninth with a victory in the 200 free relay (1:41.70).
"That was cool because I definitely did not ever expect to come away with nine state championships so that was kind of insane," Russo said.
It was something that had never occurred in Russo's career. And when she got the handoff for her anchor leg in third, she chased down the field to earn the win.
"Our 200 free relay was absolutely insane," Russo said. "That was probably the most fun ever that I've had racing in my life."
That helped to make up for what she said was initial disappointment after not lowering her state records in the 50 free (22.76) and 100 fly (54.89) as she hoped, but that the relay and perspective helped to ease that quickly.
"I still won and I still did what I really wanted to which was come away with eight (state titles)," Russo said.
That's another to add to her list of accomplishments as she prepares to swim next year at Ohio State. She was reminded recently when she found an art project from second grade with her mother stating that she wanted to qualify for the Olympic Trials in swimming before she graduated high school.
"That full circle moment is pretty cool."
Teammates and rivals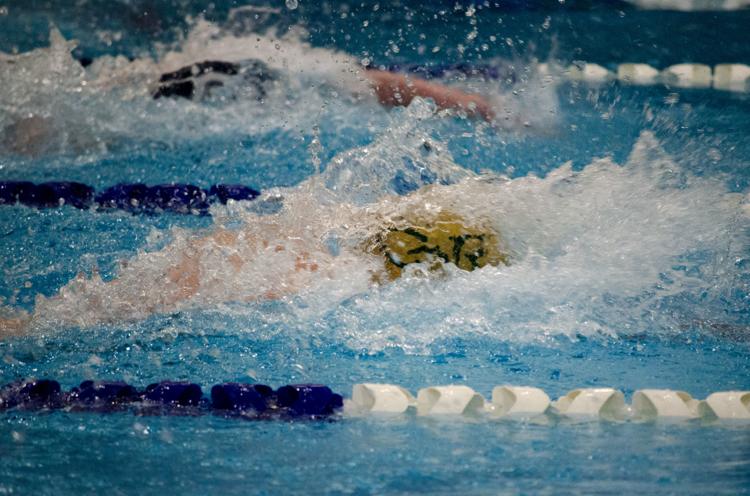 Like many schools this year, Great Falls High and CMR share a coach. They practice together and cheer together, but they also compete against one another.
The Rustlers edged out their crosstown counterpart Bison to both land on the podium this year.
As coach Ed McNamee watched the 200 free relay, he came to a realization.
"It puts you in that weird position because you know for the first time it was me having to deal with the fact that they're going 1-2 and that's amazing. We've never had that before," McNamee said. "It's the first time in any memory that both boys teams won a trophy so that was a pretty amazing feat for them."
CMR now has back-to-back runners-up performances. But Great Falls High had been in a drought.
"You don't realize how hard it is to get there until you don't get there. It's been since 1989 since Great Falls High's guys have won a trophy so that feels really good to get that monkey off my back," McNamee said.
In the individual races, they also found themselves racing to the top of the podium. CMR senior Ben Huotari edged out Great Falls High's Issac Woldtvedt in the 50 free by winning in 21.73 compared to Woldtvedt's runner-up performance in 22.22.
"It was a bit scary," Huotari admitted after. "I knew he was going to be close behind or right next to me so it was good to push me."
AA schools in Missoula, Helena, Kalispell, and soon to be the two Bozeman high schools, all employ similar methods of coaching and training together so it will continue to be a added facet to the experience for many swimmers and coaches.
As for McNamee, the cycle was complete on Saturday with the addition of the Bison's finish.
"I've had the pleasure of coaching all four teams to a trophy," McNamee said. "Real proud of the guys."