A decade-long swim career that includes multiple high school records and an impending trip to the 2020 Olympic Trials would seem to indicate an athlete that as a child naturally took to the water.
But Butte High senior Catherine Russo—who on Wednesday inked a National Letter of Intent with Ohio State's swim team while surrounded by the family and coaches who helped her reach this milestone—was anything but eager to hop into the deep end during her first practice with the Butte Tarapon's as a 7-year-old whose heart at the time was more set on dancing than swimming laps.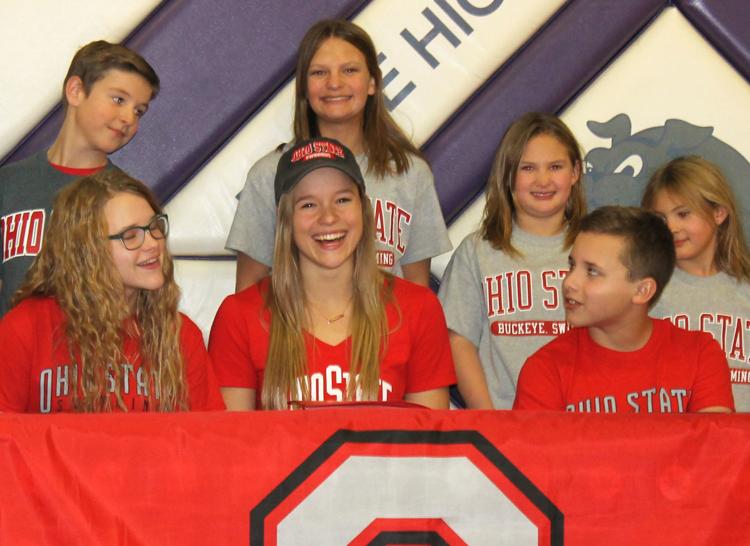 "It wasn't something that appealed to me," said the Class AA three-time defending champion and state record holder in the girls 50 freestyle and 100 butterfly. "I didn't really want to do it but my mom told me I had to try it.
Russo's mom, Amy, can still remember her daughter's hesitation.
"She was in swim lessons and was fairly proficient so we said 'Why don't you try the swim team?'" Amy recalled. "But she took one look at everyone in the pool and said 'Nope, I'm not going to do this.'"
Not wanting to watch her daughter squander an opportunity before even giving it a shot, Amy came up with a subtle way of helping Russo ease her way into the water.
"My mom tossed me in the pool," Russo said with a grin. "And from there I kind of just picked it up and didn't want to stop."
***
Over 10 years after that inaugural plunge, Russo found herself at the 2019 USA Swimming Futures Championships in Des Moines, Iowa, in early August as as member of the Bozeman Multisport Aquatics Brookies.  
Up for grabs: spots in the 2020 Olympics Trials. 
But after the preliminary round of the 100 fly, Russo walked away feeling less than optimistic about her prospects. 
"I thought I had done pretty well but my time wasn't what I was expecting," she said. "I was honestly a little disheartened. I didn't think that it was going to happen." 
So she swam in the finals, touched the wall and couldn't bear to look at the results board because she feared that her Olympic dreams had been doused.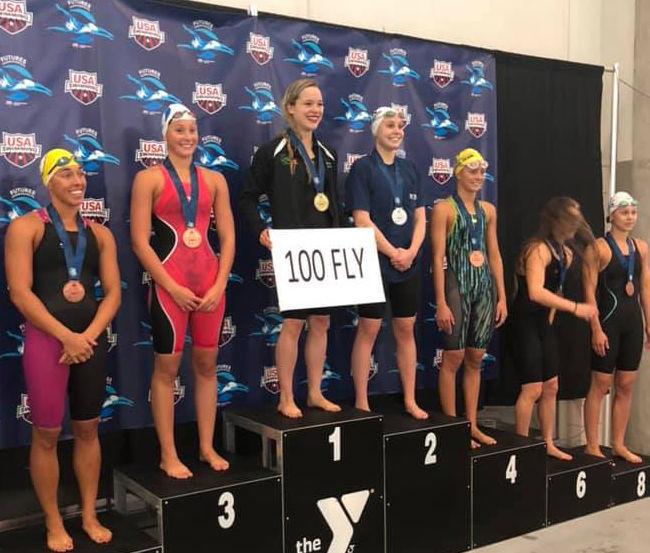 An outburst of jubilant yelling from some familiar voices in the stands let her know that she had done better than she originally thought.  
"I heard my coach Caty (Flikkema) and mom screaming," Russo said. "So I looked up at the board. It was crazy."
She had logged a first-place time of 1:00.61 against a qualifying mark of 1:00.69 to book a trip to the Olympic Trials in Omaha, Nebraska, next June where she'll compete for a chance to head to Tokyo. 
Considering she's still a teenager, Russo feels she's a long shot to make Team USA this time around—she thinks her chances will be much better in 2024 after finishing four years of collegiate swimming—but she can still imagine how it would feel to reach that goal at such a young age. 
"I wouldn't say it's super likely, but if it happens that would be amazing," she said.  
*** 
Fast forward to Wednesday's signing ceremony, and Russo was still trying to absorb everything. She committed to the Buckeyes in March and it wasn't until a few weeks ago that her decision began to truly sink in.      
"I woke up this morning and was talking to my mom and my sister and it was just crazy how fast it came up," she said. "In some ways I feel like it took such a long time but then I think back on it and it flew by."
With the Class AA season arriving shortly, a shot at the Olympics upcoming this summer, and a Power 5 program awaiting her next fall, there was a whirlwind of emotions coursing through her shortly after faxing off her Letter of Intent to Ohio State.  
"It fluctuates between excited and overwhelming at times," she said. "Most of the time I'm very excited. It's my senior year and it's supposed to be fun. But definitely at times it's a little overwhelming." 
Her goals for the upcoming AA season are simple—break her records and defend her titles.  
"It's my senior year," she said. "I want to go out with a bang."