MISSOULA — In a clash of Class AA tennis titans at Fort Missoula, Liam Johnson used his heavy topsin forehand to score a gritty win Thursday.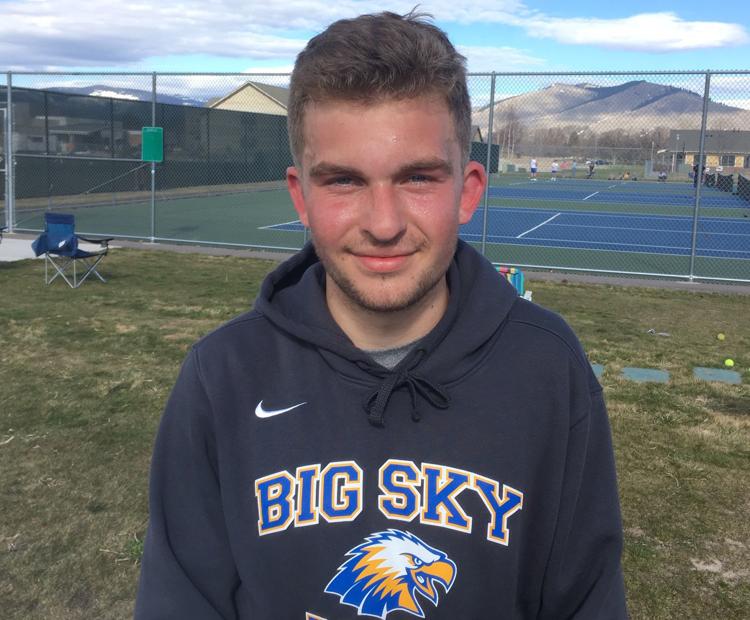 The junior is determined to get back to the state singles championship after reaching the pinnacle in Kalispell last spring. His hard work in the offseason showed as the Missoula Big Sky standout outlasted previously-unbeaten Ethan Violette of Missoula Sentinel, 2-6, 6-4, 6-2.
Johnson was simply better when it mattered most in the third set. He used his hard, dipping forehands to keep Violette off the net and a wide variety of strokes, including lobs and drop shots, to pull away and remain undefeated.
"I'm just really competitive this year and I want to prove to everyone that I'm the person to beat," said Johnson, whose team dropped a 6-2 decision to the undefeated Spartans (6-0). "I was really excited for the match today, a little nervous too because I haven't had a lot of big matches like that. It was fun playing. Ethan played well."
With defending State AA boys' singles champion Jesse Dimich-Louvet of Billings Senior trading in his tennis racket for track spikes, Johnson looks like a good bet to improve on his second-place finish in 2018. There's a lot of work to be done but Johnson appears up for the challenge.
"I feel like people kind of slept on me last year and I just want to let everyone know that I'm that guy that's in the equation at state," he said. "I want to prove to everyone I can do it."
Violette showed his senior maturity in storming to a convincing win in the first set. He held a 3-2 lead in the second set before Johnson found a rhythm, winning four of the next five games to even the match at a set apiece.
"First set I was not playing well — just ripping shots out and my feet weren't really moving," Johnson said. "Then in the second set things started kicking in. I was hitting passing shots more and just pounding my forehand. That's my favorite shot."
Johnson won the final two games of the second set and carried the momentum over to the third set in building a 5-1 lead. Violette broke Johnson to extend the match but Johnson returned the favor, using two monster forehands to seal the deal.
Sentinel earned the team win behind a sweep in doubles action. The Spartans' No. 1 team of Cody Curtis and Connor D'Angelo, who are also expected to be in the mix come state tournament time, whipped Big Sky's Jace Tolleson-Knee and Kris Rosenbaum, 6-1, 6-1.
"All our boys doubles teams played really good," Sentinel coach Kelly Crisp said. "They're starting to gel, getting things together and ready to get to the big matches now."
The Sentinel girls battled Hellgate to a 4-4 draw on Tuesday, but there was no doubt Thursday as they rolled to an 8-0 victory at Big Sky. The Spartans' state-tested No. 1 singles player, Meredith Murdock, posted a 6-1, 6-4, win over Big Sky phenom Logan Roberts.
"Logan is a good player but Meredith, her experience I think took over a lot," Crisp said. "She (Murdock) has been hitting really well. They all played well in winning their matches today."
The teams will have a rematch next Thursday at Playfair Park.