MISSOULA — Liam Johnson was a serious favorite to reach the State AA tennis boys singles championship this spring.
Then life got a lot more serious for all Americans earlier this month. Then it became even more serious for Montanans Thursday when Gov. Steve Bullock issued a shelter-in-place order, meant to keep the state's 1.06 million residents at home to slow the spread of the coronavirus.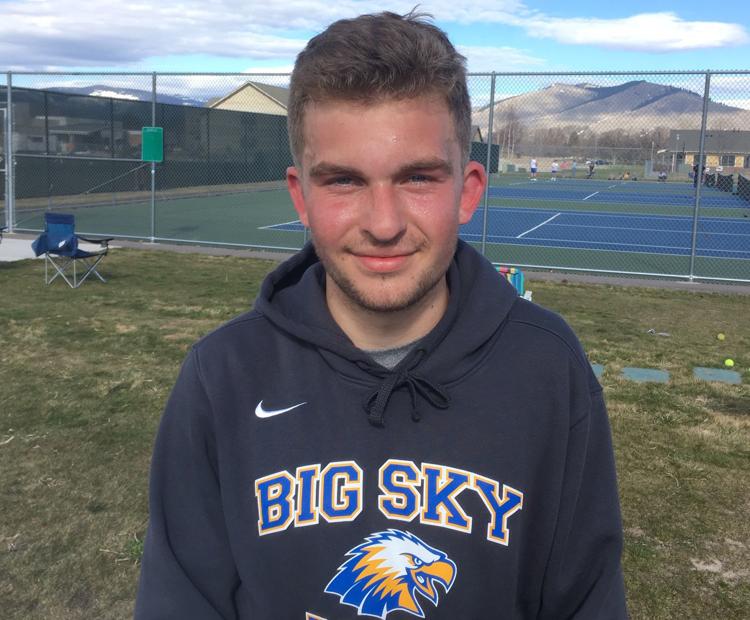 Suddenly, state tennis and track and softball titles don't seem as important. Not when a virus has altered so many aspects of life as we know it, even posing a life-and-death threat.
Older folks love to talk about the Greatest Generation. About all the sacrifices made by those who fought and helped the cause during World War II.
But don't be misled. America is still turning out some mighty admirable young people. Teenagers with perspective that transcends their age.
Take, for example, Missoula Big Sky's Johnson. Rather than mulling over the senior tennis season he lost, or perhaps practicing in hopes some sort of state tourney will be salvaged, he's working 4:30 p.m.-to-2 a.m. shifts making landing gear components for military aircraft at CM Manufacturing.
"With the whole thing that's going on right now and the way everyone is reacting, I don't  think there will be a tennis season, sadly," Johnson said. "I was kind of bummed I didn't get to win a state championship because that's what my goal was my whole time playing as a kid.
"That's the biggest hit. The state championship, not being able to win it."
Johnson reached the State AA tennis semifinal round last year and the year before he reached the state championship. But he hasn't been doing much with his racket lately, instead focusing on duties operating a Computer Numerical Control (CNC) machine, which is a fusion of the physical and the digital.
CM Manufacturing is a business that was started by Liam's grandfather. It will continue to maintain operations as a provider of essential services.
That means Johnson will be putting in long hours until the time when school starts up again. No one knows for certain when that will take place.
"It's wishing you'd be out there playing right now and not stuck in quarantine inside your house," Johnson said. "Not being able to hit the gym. It kind of sucks because it feels good to get exercise and go out and play your favorite sport.
"I'm sure everybody on our team is pretty bummed, not being able to be with each other."
As a blue-collar working man, Johnson has developed a unique perspective on his future. So many of his peers are convinced that attending college is the key to success. He's given that some consideration, but he's also thinking about enrolling in the Air Force.
Whatever path he chooses, you get the feeling Johnson has a big advantage in the form of fortitude he has developed. State championship or not, he's destined to win in the challenging game of life.