GREAT FALLS – Forced inside at the Meadow Lark Country Club by rain, all three courts featured Bozeman athletes when the championship games began Friday afternoon at the AA state tennis tournament.
Ultimately a pair of sophomores stood atop the singles podiums while two former runner-ups broke through to win with new partners in the doubles after not dropping a set through the whole tournament.
Behind the Hawks' efforts where every player who qualified for the state tournament played into the second day, the Bozeman girls won their eighth straight AA tennis title with 30 points. The Missoula Hellgate girls were second with 20 points and Billings Senior was third with 17.
Out of the boys' teams, Missoula Sentinel took top honors with 27 points. Missoula Hellgate placed second with 16 and Bozeman was third with 15.
Boys Doubles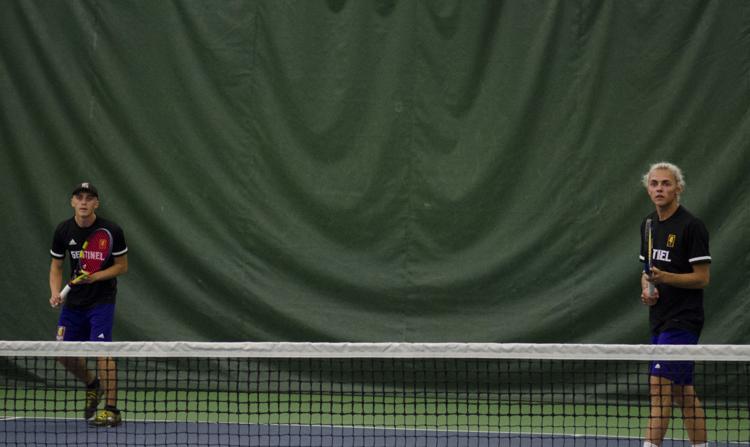 Spartan seniors Cody Curtis and Connor D'Angelo made the most of their final trip to state and walked away with the top trophy.
They defeated Billings West's Jayden Ostler and Timmy Johnson 6-3, 6-2.
"In this tournament they were playing very well," Curtis said. "I'll admit I was a little bit worried coming into this match."
And so they said they decided to take a different approach from their usual style. They chose to play more reserved and stoic because they had noticed that Ostler and Johnson fed off of a lot of energy between their opponents in previous matches.
"We ended up being completely serious so they weren't able to joke around as much and that did definitely make things a little bit harder for them," Curtis said.
And they made sure they made their presence known both on the court with their blistering serves and off it as most of the Spartans sported bleached or blonde dyed hair due to a deal they made with each other for making it to state.
It was a bit of redemption for Curtis after finishing runner-up last season with his former partner Ethan Violette.
The seniors paired up for the first time this season and ultimately were able to find the success they were looking for.
Girls Doubles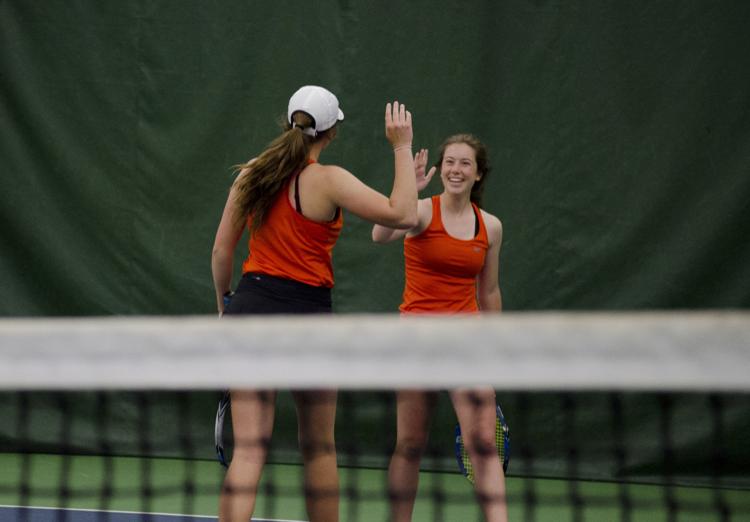 Billings Senior's Gigi Montague may have felt the nerves before, but when she and her partner Annie Woods walked onto the court in front of the crowd they both tried to remain calm in front of a crowd unlike any they had been used to playing in front of.
"Don't barf in front of all these people," Montague said. "That's what was going through my head."
"We were shaking so bad the entire time," Woods said.
After they got to the break in the first set, both started to relax and the duo was able to get their fourth win of the season over their opponents and second in subsequent weeks in a rematch of the Eastern AA divisional final.
They defeated Bozeman's Laurel Ward and Sasha Hathaway 6-1, 6-0.
"They're a tough team," Woods said. "They always bring it."
When asked after how it felt, words like surreal and bittersweet came to mind.
"It seems weird that it's already here. I still feel like there's another tournament next weekend you know?" Montague said.
Mention that it was Woods' final match and the emotions start to come to the surface a bit. But those were easily pushed down at the mention of their celebratory Dairy Queen Blizzards still to come.
"Barfing before, winning now, tears later," Montague said.
"You heard it here first," Woods said with a laugh.
Boys Singles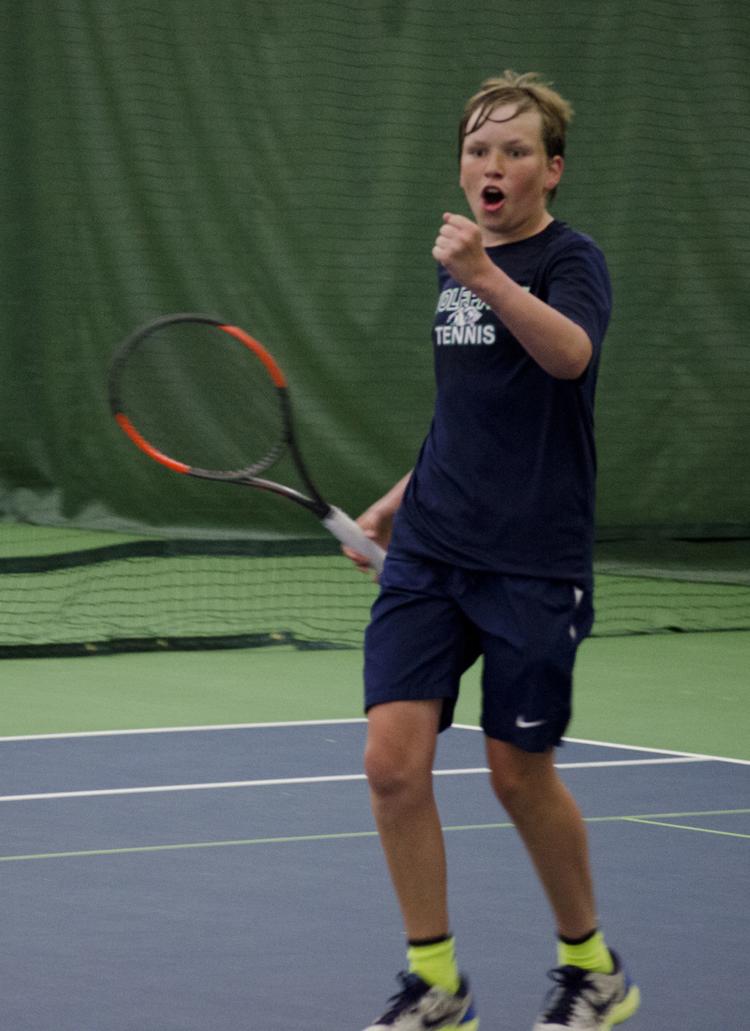 It's a busy few weeks for Kalispell Glacier's Rory Smith. The sophomore won his first state tennis title with a 7-6 (7-4), 6-1 win over Bozeman freshman Conner Joly.
"That was a very intense match," Smith said. "The first set really showed that. We figured each other out, you could see a bunch of nerves on both of us so we were just figuring out where we were. Then the second set once I kind of found my spot, I could just step in and take my shots early and set up points."
Rather than the continual comebacks he was forced to mount in his semifinal match to get to the championship, Smith had to play from ahead instead this time around.
"It was fun," Smith said.
Next week instead of attending another USTA tournament, he'll trade in his racket and sneakers for his clarinet and marching band uniform as he and the Wolfpack travel to Washington D.C. to march in the Memorial Day parade.
"What an end to the year," Smith said.
Girls Singles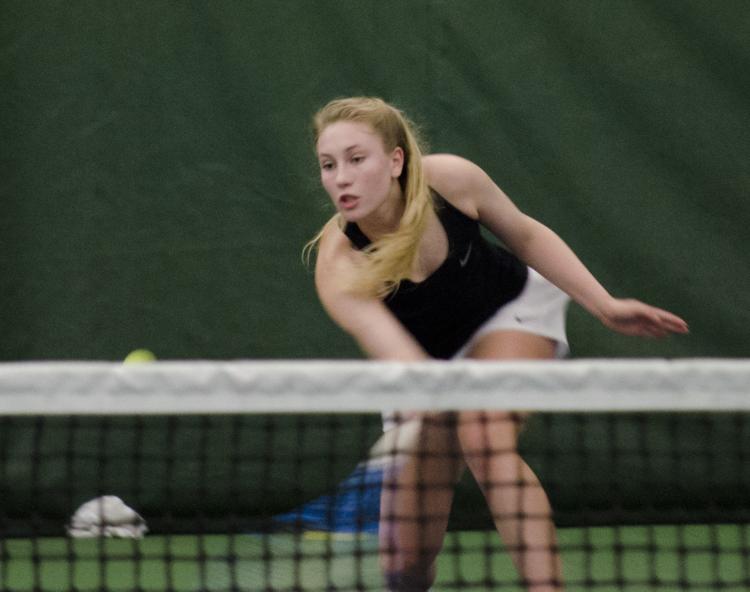 Bozeman sophomore Maicy McCarty won her first AA state championship with a 6-0, 6-3 win over Missoula Hellgate's Hannah Worden.
It was her first year playing high school tennis.
"I wanted to experience being on a team," McCarty said. "Just the whole team aspect since tennis is such an individual sport and I always just play tournaments by myself."
On the other side of the court, she faced a familiar opponent in Worden as the two have not only played each other before, but also teamed up to play doubles at times.
"I was a little nervous, but just super excited," McCarty said. "It was kind of hard because I just had to sit around all day and try to play, but it's ok."
That time also allowed her to focus on what she needed to do.
"I needed to stay super consistent, make a lot of balls and move my feet.
After winning the first set quickly, McCarty knew she had the right approach.
"It feels good. I'm excited and happy," she said.