BOZEMAN — She was flawless against Class B-C foes prior to state, so the secret was already out about Evelyn Dechans being a rare freshman talent.
On Saturday, she showed there's more to her game than smooth ground strokes.
The Loyola Sacred Heart upstart survived a tough first set against Bigfork senior Payton Crawford en route to a 6-4, 6-0 victory in the girls singles championship at Bobcat Tennis Center. Her title, coupled with third-place finishes by Grace Daniel in singles and the Lauren Bodlovic/Melanie Benson team in doubles, gave the Breakers their first team title in the 19-year history of the event.
"I'm overwhelmed and humbled right now," Loyola coach Patti Danforth said. "All the kids played so hard and it was rewarded. The team was really a family and that made it special."
Dechans spotted Crawford, a transfer from Billings Senior, a 3-1 lead in the first set. At that point you started to wonder if nerves might get the best of the freshman.
"She came out really strong and I came out with a lot of nerves and I let my nerves get to me,"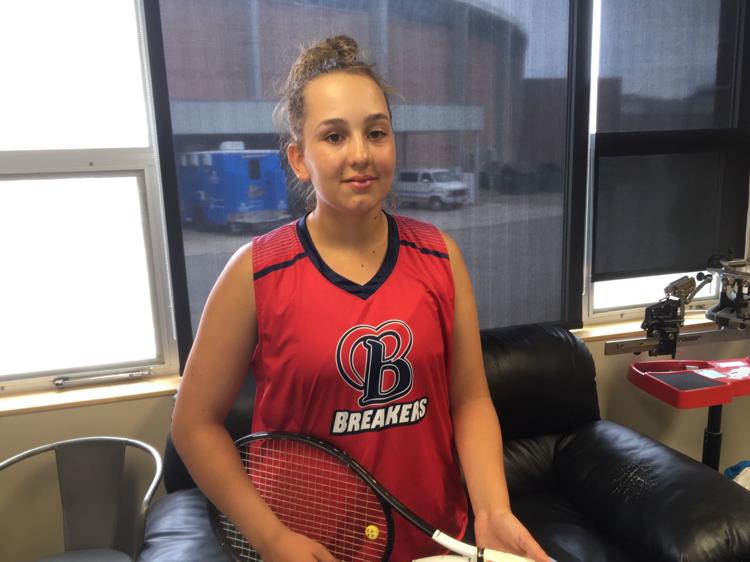 Dechans said. "But in the end I knew that if I was going to win I had to persevere and keep going and fight.
"I'm just proud I got to be in this position."
Danforth gave Dechans a few words of wisdom that seemed to work after the second changeover.
"I just looked at her, eyeball to eyeball and said, 'What do you need to do to calm yourself down?'" the coach said. "She just took some deep breaths and that was the turning point. And once she won that first set, the other girl kind of gave up.
"I told her she played better tennis today than I've seen her play all weekend. If you're going to peak, what better time to peak than the championship?" 
While the Loyola girls had the team breakthrough of the day, Bigfork's Trey Christiaens had the individual breakthrough that thrilled a large crowd of well-wishers. After finishing second twice and third once in state singles, he saved his best match for last, beating Roger Mai in an epic boys final, 7-5, 3-6, 7-6 (5).
"It feels really good to finally get one," Christiaens said. "I'm kind of in a state of shock right now. I don't think it's hit me yet.
"Roger is a great guy and I'm buddies with him. He beat me that last two times so it feels good to beat him."
The match came down to a third-set tiebreaker that was deadlocked at 4-4. Mai went up 5-4 when Christiaens double-faulted, then the Viking senior reeled off three straight points to earn the championship, matching his brother Kalen's 2015 feat.
"I told myself out loud, I did it, he did it, I can do it again," said Christiaens, alluding to the fact he jumped to a 4-0 lead in the tiebreak, then gave up five points to Mai.
Despite Mai's loss, the boys team title went to Great Falls Central. The team earned a doubles title at Loyola's expense, with Nick Scott and Wyatt Walters outlasting David Ramsey and Jacob Hollenback of the Rams, 6-2, 2-6, 6-1.
"The key was playing loose today," said Walters, who together with Scott suffered a loss to Ramsey and Hollenback just two weeks ago. "We had a coach drive down from Great Falls today (Dirk Baker) and he helped keep our heads level."
Scott felt he and Walters may have had more gas in the tank down the stretch.
"They went all-out in the second set but they used a lot of their energy," Scott said. "We were still fresh. We were ready for the third set."
In the girls doubles final, Choteau's Michaela Gunderson and Christine Funk outlasted defending state champions Katie Giles and Megan Clark of Fort Benton, 6-3, 6-7 (4), 6-3.
According to Funk, she and her partner switched from singles to doubles before divisionals. Now they're mighty glad they did.
"We know where each other is going to be on the court and a lot of that is because we've played so many sports together," said Funk, who also played volleyball with Gunderson. "Our communication and having trust in each other really helps."