BUTTE — With a wholly miserable cold and steady rain soaking the Charlie Merrifield Track at Bulldog Memorial Stadium, the Western A Divisional meet got started on Friday afternoon.
Frenchtown leads the boys race with 49 points, with Dillon (43) and Columbia Falls (28) rounding out the top three. The Wildcats lead the girls race with 43 points, with second-place Whitefish trailing by six and the Beavers in third with 34 points.
The rain caused several issues throughout the day and pushed the pole vault competition — originally scheduled for Friday — to Saturday. Athletes fell during heats of the boys 400 meter dash and the girls 100 hurdles, though there did not seem to be any serious rain-related injuries.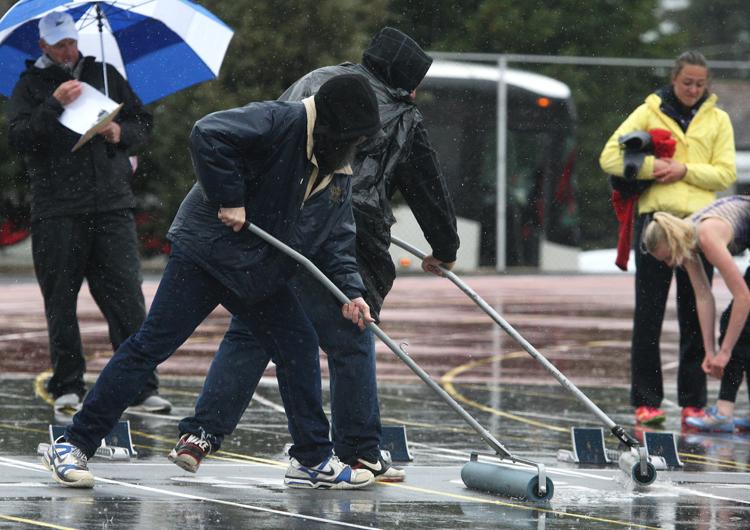 "We as a coaching staff really prepared our kids," Dillon head boys and girls coach Tammi Myers said. "We have a quote that's, 'There's no such thing as bad weather, just soft people.' That's kinda our team motto."
Several teams, including Dillon, mentioned that they had prepared all week for the wet weather. Coaches reminded their athletes to be careful on the corners of the track and some even used different spikes. Strategies — especially for the distance races — were oft discussed in the days leading up to the meet.
Crews worked hard throughout the day to keep the long jump run ramps and shot put pit usable, but there was only so much that could be done. While some personal bests were hit, marks were generally down across the meet.
"This is when track and field becomes mental and physical," Whitefish boys and girls head coach Derek Schultz said. "It's always both of those things, but then you add the elements of the weather. It's basically something we talk about not talking about.
"We've just got to handle it."
Magical day for McDonald
While the weather was certainly an issue for some, Frenchtown's Tyler McDonald hardly noticed the rain during his heat of the 110 hurdles.
Having never finished better than ninth at divisonals or state track in any event, McDonald ran a personal best 15.78 to grab only his fourth-ever high school win. He is also entered in Saturday's 300 hurdles.
"At first I was kinda not really thinking about anything and when I realized I was kinda up I was kinda shocked," McDonald said. "I was really excited and after I got past that last hurdle and past the finish line … I just felt really good about that race."
Those 10 points could end up being critical in what looks like will be a tight team race. Dillon has several events they will likely win on the final days, though Frenchtown does as well.
The Broncs also got a critical win in the 1600 as Tyler Schmautz took the race in 4:36.11. Jace Klucewich was once again tremendous in the sprints and hit an 11.17 in the 100 meter dash as some of the heaviest rain of the day poured. The Class A leader in the event, he is also the favorite in the 200.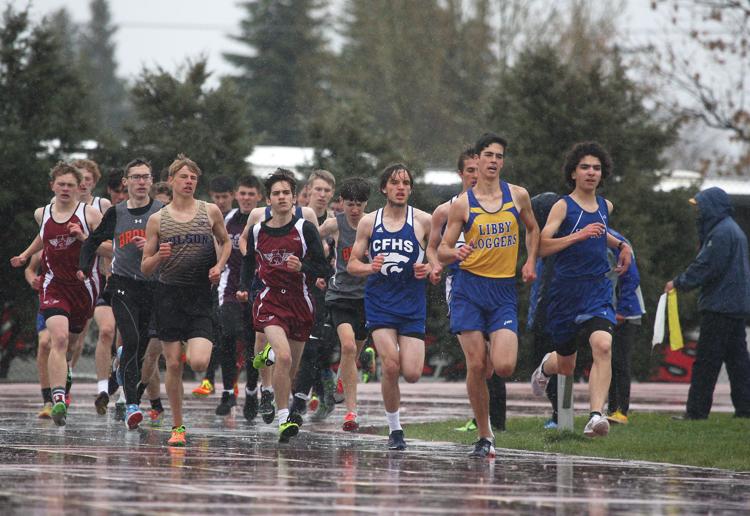 Super Cervelli
In a blazing 400 meter run, Dylan Cervelli hit a personal best as he crossed the finish line in 49.42 to win.
The Dillon senior's time is now the best in the state (all class) and tops in Class A by nearly a full second. It also is the first time in his career that he's broken 50 seconds in the event. A week of grueling workouts and constant reminders to be aware of his running technique in the wet weather certainly paid off.
"You hit that wall after the first 200 and you realize, alright, I've got another 200," Cervelli said of his race. "This time I was like maybe the wall shouldn't beat me this time and push through, so yeah, I was just pushing really hard and I got through it."
Cervelli was also part of the Beavers 400 meter relay that finished just footsteps behind Columbia Falls in second. Set to compete in the 1600 relay and 200 meters on Saturday, a busy weekend should end with him officially qualifying in all four events.
With an excellent senior class and plenty of motivation, the Beavers will be looking for a divisional title.
"We got a really strong team this year so everyone's buckled down and really, really focused," Cervelli said. "We're trying to take first place at state and divisionals, so we're definitely cracking down."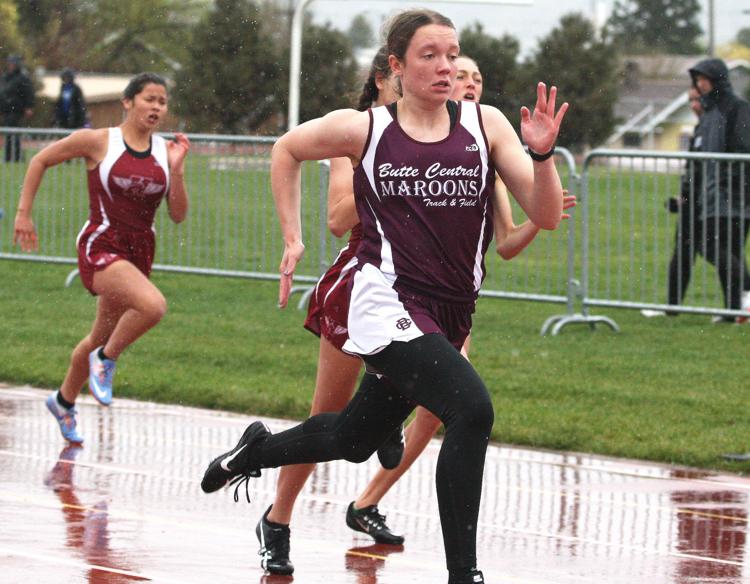 The lone scorer
While Polson doesn't have particularly deep squads on its boys and girls sides, the Pirates do have Bea Frissell.
The senior scored the only points for the girls squad when she took the 1600 meter race in 5:16.04. She won the event by over four seconds and while it was well off her best time of the year, there wasn't a whole lot of disappointment.
It was a race that Frissell and her coaches had meticulously planned throughout the week and she was happy with the result.
"I was letting the girls take it out and lead it for the first two laps and then I went for it, I guess, that last lap," Frissell said. "I felt really strong that last lap and just kind of built it up all the way through and made it in."
She added: "We walk things through every week before what we think's going to happen and potentially what I can do and try out different strategies just to see what I think will work for state."
Already having hit marks in the 1600 and 3200 prior to the Western A meet, she's know state was in her future for a while. But winning Friday's race just made it all the more real.
"I'm pretty excited about it and thinking about how it's going to be my last state meet is pretty crazy," Frissell said. "But I'm really excited to get out there and see what I can do and see what I can go for."
Other notes
The Columbia Falls girls squad got off to a tremendous start in its field events as Kiera Brown took the shot put (36 feet, 11.5 inches) and state-leader Angellica Street won the javelin with a toss of 124 feet, 6.5 inches.
Street also finished third in the shot put to help provide the Wildcats with some needed points.
Whitefish sophomore Mikenna Ells won the girls 400 in 59.12, which is a lifetime and Class A best. Dillon's Ainsley Shipman won the 100 hurdles and Ashton Lewis took the girls long jump with a mark of 17-2.5, edging out Butte Central's Lindsay McGree by a quarter inch.
Jacob Campbell won the boys shot put with a heave of 53-10.5 to round out the individual winners for the first day of competition.