BUTTE — Despite feeling a little under the weather, Quinn Sullivan couldn't help but to smile a bit following Butte's run in the 400 meter relay at the Butte Invite.
The Bulldogs — Josh Neil leading off, Zach Merrifield second, Tommy Mellott third and Sullivan as the anchor — ran to a 43.39 on Friday afternoon, the second best prep mark in Montana this season. It was also nearly a half-second faster than the time they ran at the John Tomich Invitational on April 27.
They put the success on a change they made this week.
"We mixed up spots," Sullivan said. "I went fourth and Josh (Neil) was first. He got us out to a really nice lead. Zach (Merrifield) kept it up and we kept gaining on the lead. Everyone seemed to get their handoffs good, which was really good for us to actually get a good time."
A dropped baton in the 400 relay at the Dahlberg Invitational galvanized the Butte 100 meter relay squad and made them hungry to fix their handoffs. It has been an emphasis for much of the past few weeks and it seems to have paid off.
Butte's handoffs in the 400 were extremely crisp and should only continue to get better as the season goes along. The group is close and they all feel there's still growing to do.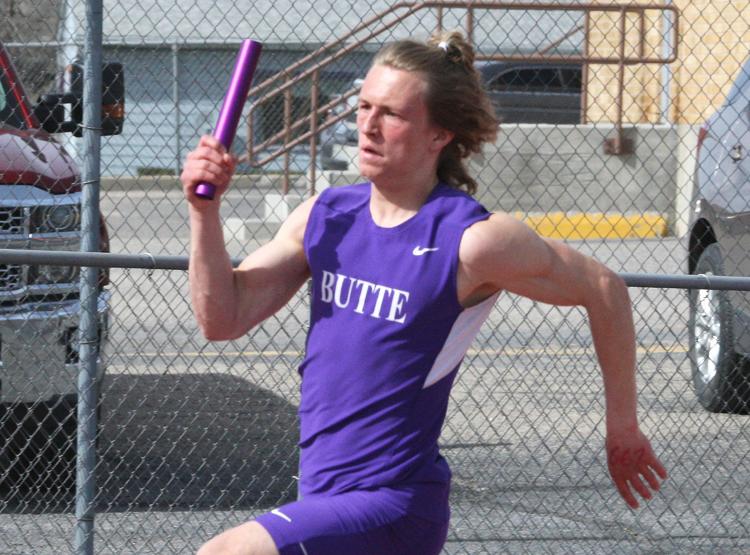 "All of us just have a really good connection," Sullivan said. "We've had the same guys for a few years. We were really young last year and we're still pretty young this year … it's really nice to build that good bond with everyone and to keep having a lot of success."
The win in the 400 relay came not long after Sullivan took the title in the 110 meter hurdles, a race he has had trouble with throughout the last two years. Sullivan fell during the hurdles at the state meet in Kalispell last season and that experience has only served to motivate him.
His times have started to improve as the season has moved forward but he's aware there's still plenty left to do. Sullivan's time of 15.91 on Friday was his best of the season and ranks just outside the top 10 in Class AA.
"I didn't start off very good at the beginning of the year," Sullivan said. But I'm starting to work on it a little bit more and hopefully I can get it to the place I want it to be which is to the top at the end, but I still really need to take some small steps to get there … I've been really hungry to get back to the top."
Normally this time of the year, Sullivan would be splitting time between baseball and track.
A torn labrum in his shoulder, however, ended his baseball career, as it would have required surgery in order to allow him to play again. Sullivan decided against having the surgery, as it would keep him out for around nine months.
"I just would rather stay and compete with my friends," Sullivan said. "I'm probably not going to get the surgery at all."
His legs, though, have been working fine up to this point and he has been a valuable part of Butte's track team. There is a good chance he breaks into the state track field in multiple events and with what seems like a fairly close Class AA boys field this season, a few points could be the difference between seventh and third.
That and making sure everyone has got their passing down, along with staying healthy.
"We've been practicing a lot lately, just our handoffs, to get everything in," Sullivan said. "This season is starting to finally come together and that's exciting."