HELENA — During his high school track career, Helena Capital's Alec Ladas had a lot of success at the Class AA state meet.
As a sophomore, he earned all-state honors by finishing sixth in the 110-meter hurdles. He was also part of a Capital 400-meter relay team that found its way onto the podium in sixth place.
While Ladas competed in numerous events for the Bruins, his best event was the hurdles, especially the short hurdle race. As a sophomore, he won one race in the 110 hurdles, but in his junior season he won four races and notched four other second-place finishes, including a 2nd at the prestigious Top 10 preview meet.
Then, Ladas scored the most impressive win of his Capital track career, as he won the 2019 Western AA Divisional title with a time of 15.38. 
"I'd never really ran a super clean race," Ladas said. "I'd always hit or mess something up. So I never really had that great race at divisionals and that day, I had a good race."
As a divisional champion and someone who already earned a state medal in the 110 hurdles previously, Ladas was expected to find the podium again and a top-3 finish was within reach. 
Yet, being a great hurdler isn't just about athleticism. It takes precision, too, and at the 2019 state track meet Ladas was just a little bit off.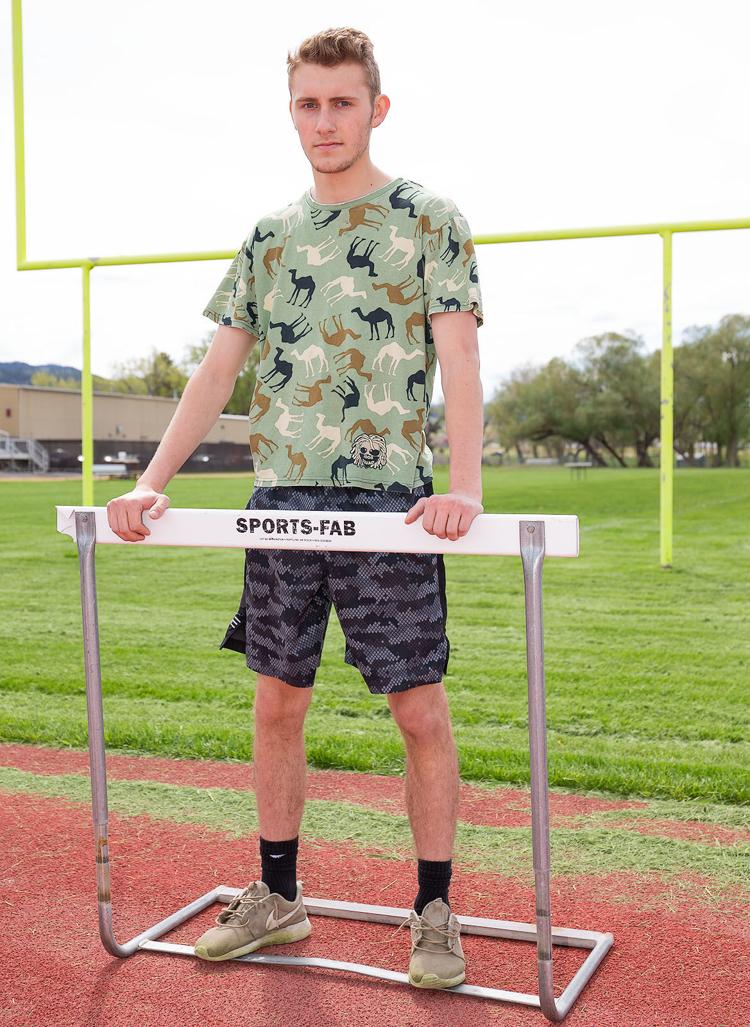 "I won the division, but I made a mistake at state and got disqualified," Ladas said. "So that was a strain, especially with everything happening this year. It's hard to have it end the way I did.
"You always have that bad race and it hit at the worst time," he added. "I put a lot of pressure on myself to get a really good time (in the preliminary) and I think that contributed to me having a poor race."
Ladas was hoping for a shot at redemption this spring and in fact, that chance would have come this weekend. Instead, the COVID-19 pandemic led to the cancellation of spring sports, meaning the Capital senior wouldn't get the chance to wipe the memory of that mistake.
"It was a big character-building exercise," Ladas said. "I was hoping to bring that into this year and have a good year, but..."
On a positive note, Ladas and the rest of the 400-meter relay team were able to put together a third-place finish, which was notable since all four runners — Ladas, along with Shane Haller, Clint Inman and Bret Morris — would have been eligible to return this season. 
"We broke the school record and took third (at state)," Ladas said of the 400-relay team. "That was another thing we were looking forward to this year. We could have done a lot with the relay teams. There are also plenty of other guys, like Bret Morris, he's a junior this year. He could have made a run in the 200 and our team could have made a run in the (4x100)."
"It's a shame and it's not just me," he added. "There are a bunch of guys who worked out with us in the offseason and a number of girls too. There are a lot that didn't get to write the rest of their history."
When the state basketball tournament was canceled, Ladas struggled to accept what that could mean. 
"It was surreal having to come to terms with that," Ladas said. "Our coach emailed and told us practice was going to go on as normal and I remember we got that email on Sunday night, and they let out that statement that they were canceling school and everything. It was really hard to come to terms with."
Ladas said he continued to work out with the hopes that season would come, but that when it was finally called off for good, he was prepared. 
Even though his high school career is over, collegiate track might still be in the cards. Ladas said he was considering a couple of schools, but that COVID-19 was affecting that decision too.
"I have always had an interest in collegiate track," Ladas said. "There are some programs I'm interested in. But I'm still not entirely sure with everything right now."
But even the chance to keep competing won't rectify the feeling of missed opportunity.
"It's not even just track, my whole senior year got flipped upside down in the last two months," Ladas said. "Nothing could make up for that, but it could be the start of something else."