BILLINGS — Jacob Jessen was struck by how fast everything happened last month.
The Grass Range senior and his family flew to Hawaii on March 9. Two days later, the World Health Organization declared Coronavirus Disease 2019 a pandemic. On March 13, Jessen learned of Montana's first presumptive COVID-19 cases, the cancellation of the high school state basketball tournaments and a national emergency. The Jessens landed back in Montana on March 15, when Gov. Steve Bullock ordered K-12 schools to close. The Montana High School Association suspended springs sports the next day.
"I left and everything was perfectly fine," Jessen told 406mtsports.com Friday. "Came back, and we were in a pandemic."
Extend the endpoints from one week to two, and Jessen's life changed even more — in much happier ways. He visited Dickinson State University about a week before his Hawaii vacation. On March 20, he signed with the NAIA school in North Dakota to continue his track and field career. 
Jessen, who is still processing the cancellation of his final high school track season, hopes life will feel a little more normal this time next year.
"I'm excited to go, and I'm ready for this new experience," Jessen said of Dickinson. "But I'm still, in the back of my head (thinking), 'It's not here yet.'"
Jessen's senior year was eventful well before it became defined by the novel coronavirus. Low numbers forced Grass Range-Winnett to cancel its football season on Aug. 24 and provide almost a week of uncertainty for Jessen, who plays wide receiver, running back and defensive back and earned a Class C all-state selection as a junior. The MHSA approved a cooperative between Grass Range and Lewistown five days later, and Jessen played the final eight games of the Golden Eagles' season.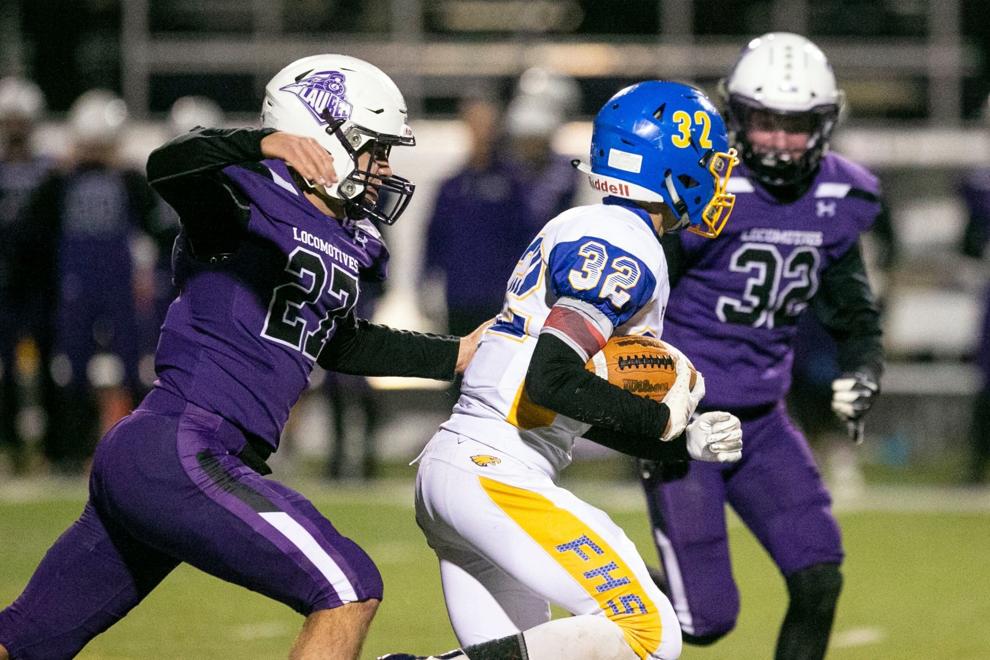 The Winnett-Grass Range basketball season ended on Feb. 22, so Jessen avoided the abrupt career ending that many seniors experienced March 13. But the cancellation still affected him. He knew his final high school track season was in jeopardy.
Jessen's pessimism increased as the spring sports suspension continued through April, so he wasn't surprised when the MHSA called off the season Wednesday. But he still felt disappointed when he knew his senior season was officially erased.
"Previous years, I was always able to say, 'Oh, well, there's always next year.' Now, it's my senior year and it gets taken away, and you're like, 'Wow, something that I thought never was going to get taken away got taken away,'" Jessen said. "After this, I don't think I'm going to take anything for granted."
Athletes across the country will not get chances to post marks, compile batting averages, sign scorecards or win sets this spring. That will hinder, and possibly eliminate, their chances to catch the attention of college coaches. DSU was the only school to offer Jessen a scholarship, so he felt especially relieved about his letter of intent when it became clear he wouldn't get another track season to impress scouts.
Jessen won last year's Class C boys 300 meter hurdles state title with a personal-best time of 39.48 seconds, more than two seconds faster than his first mark of the season. He was confident he could do that again this year and break the 300 hurdles state record of 37.66, set by Butte's Jake Larson in 2000, per MHSA archives.
Winnett-Grass Range junior Jacob Jessen sets a PR, breaks 40 seconds for the first time in his career (39.48) and wins the State C boys 300-meter hurdles. #MTscores pic.twitter.com/2NEjLYJwg0

— Victor Flores (@VictorFlores_BG) May 25, 2019
"I was like, 'Next year, that's mine,'" Jessen said. "Figuring out I didn't even get a chance to do it was kind of heartbreaking."
Jessen doesn't know how many events he'll compete in at DSU, but he'll definitely remain a hurdler (he also plans to walk on to the football team). Blue Hawks head track coach Shayne Wittkopp, a Circle native, sees untapped potential with many small-school athletes, as Jessen demonstrated with his junior season progression.
"I don't think Jacob knows what he's going to be good at, and I don't either, but he's a fantastic athlete," Wittkopp said Friday. "Kids kind of blossom into different roles when you put them in different situations."
"He's got a gas tank," Wittkopp added, "and he really loves track."
Incoming freshmen will be eager to step on to the DSU track in the fall, Wittkopp expects, considering their canceled senior seasons (North Dakota is one of five states that has not nixed spring high school sports as of Saturday, but all five seasons are suspended). Of course, nobody knows when any sport will be allowed to resume, so athletes like Jessen will be consumed by uncertainty until they have good reasons to feel otherwise.
This year has given Jessen a valuable lesson in perspective. You can be talented and avoid injury, and a season can still be taken away by forces outside of your control.
"Senior year, you have a lot of things to deal with, so anything extra is pretty overwhelming," Jessen said. "I'm just going to play it day-by-day and see how it goes. See where life takes me, I guess."