MISSOULA — Even with a career shortened by circumstances far outside her control, Lauren Heggen had a remarkable run for Missoula Sentinel by nearly any metric.
It seemed as if every competition she found herself in — especially the three Class AA state track meets she participated in — produced an unforgettable moment. From battles for triple jump state records with former teammate and current University of Nebraska freshman Ashley McElmurry to a hurdle race at the 2018 state track meet that will never be forgotten, Heggen made a mark on the sport in Montana.
"It's been pretty legendary honestly, they've been crazy," said Heggen, who will continue her track career at the University of Washington. "I still think, to this day, that my sophomore 2018 state track meet was the craziest, best meet of my life. There was some immense highs and immense lows during that that meet.
"Those are the type of meets that taught me the most."
While she says the 2017 state meet her freshman year perhaps taught her some of the biggest lessons, it was the state meet her sophomore year where her star started to shine.
She took first in one of the best triple-jump competitions in recent memory, setting an all-class mark while outlasting McElmurry.
In addition to the win in the triple jump, she also took first in the 100-meter hurdles, which were rerun after a controversy-filled first race. While coronavirus cut her senior year out, Heggen still finished with three total individual state titles, as she also won the triple jump at the 2019 meet. The Sentinel girls also won the state track meet twice while Heggen was a Spartan.
At a meet in Butte on May 3, 2019, she also recorded the longest official girls triple jump mark in state history with a leap of 40 feet, 7.5 inches.
"Everything from my past competitions have built on each other to build my character, they've just been so pivotal," Heggen said. "I've learned something from every competition, but especially those state meets, those were really influential in my career."
Competition runs deep in the Heggen family. Her father, Jed, was a wrestler at Yale, and her mom, Jen, was a cheerleader for Montana. Lauren's brother Slade played for the Oregon baseball team before transferring to Gonzaga.
So, perhaps big things were expected from the start for Heggen. In any case, she was already a talent in middle school, and Sentinel track coaches had heard of Heggen well before she entered the high school.
Immediately upon entering, she made a splash. McElmurry — who ended up become a close friend with Heggen — naturally made for a fierce rival within the program.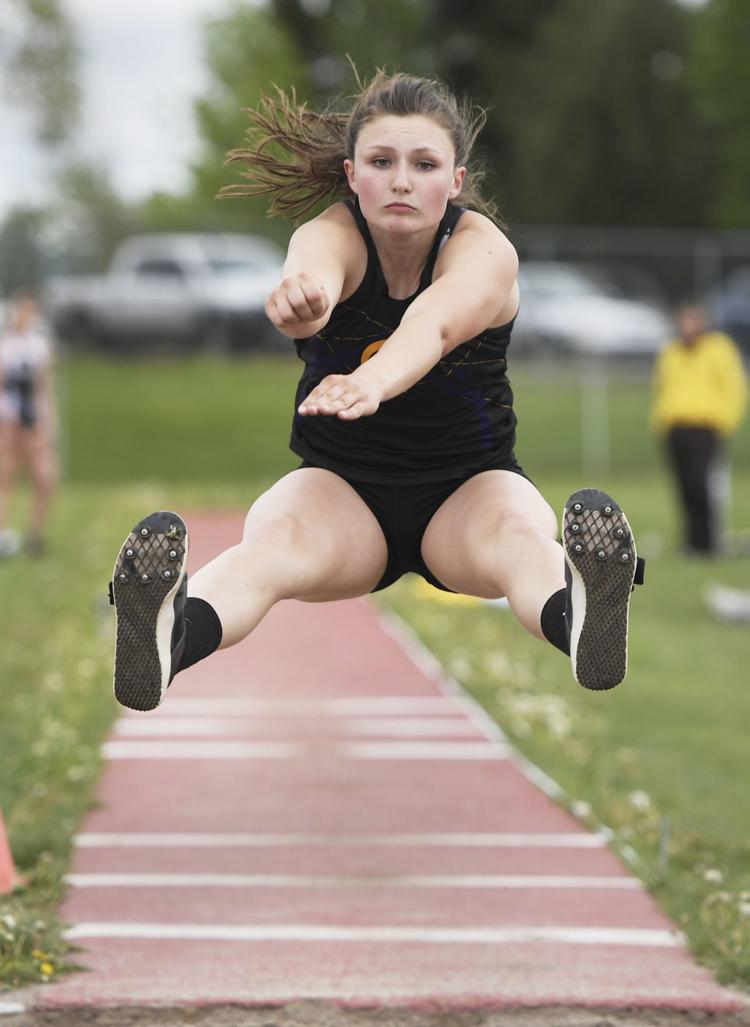 Former Spartan track coach Khalin Anderson, who is now on the Montana Tech football coach staff, fanned the flames of competition for both. Head coach Craig Mettler calls Anderson the best jumps coach in the state and said the results speak for themselves as Sentinel has had an impressive array of jumpers for the last several years.
Mettler knew Heggen was going to be special, too, and was happy to play a role in her athletic development.
"To be able to coach one of our state's all-time great female prep athletes has been a real pleasure," Mettler said. "Over the past three, four years, we've had the chance to have some of the best female athletes that our state has seen overall.
"She helped change the trajectory of our track and field program."
Now Heggen will try and do the same at Washington.
The Huskies have never really been a Pac-12 power in women's track and field, but that could change. Washington brought in longtime Oregon assistants Andy and Maurica Powell, with the husband-wife team splitting duties. Maurica is the director of track and field for the program, while Andy is the head coach.
Heggen was happy about the arrangement and especially so with how duties are split. Having a strong female presence as a coach was important to her, and the program quickly made a strong impression on her.
She also took visits to Stanford and Notre Dame, and academics were of the utmost importance, too. Heggen says she has never received a B grade or lower in a class, and for a young woman who wants to pursue a medical degree and be a surgeon, Washington provided a good fit, too.
Along with the manageable distance between Seattle and Missoula, the opportunity to compete as a Husky was too good to pass up.
"My visit was amazing. I pretty much fell in love with the campus and the team, it was just so welcoming and I felt at home," Heggen said. "Being a Pacific Northwest girl, I fit in there really well. And I love Seattle, too. I've spent a lot of time there, and it's pretty familiar to me."
Heggen expects to compete in multi-events for Washington, which will fully use her skill set.
While her state track meet exploits are now in the history books, the ceiling is very high for one of Missoula's best-ever prep track athletes. There truly is no telling just how far she can go in any facet of her life.
"She has the ability to shine when the stage is the biggest … it's something that's rare in people and not just young student-athletes," Mettler said. "It's just rare in people. She's one of those people that has success on the biggest stages."