MISSOULA — Madison Edwards will face quite the conundrum halfway through this summer. 
After graduation from Big Sky High School in just a few short weeks, Edwards will begin her next chapter quickly. She received an appointment into the United States Air Force Academy and will enlist in basic training not long after finishing up high school. 
Mid-way through basic, she'll be allowed one phone call. Her father, Robert Edwards, wants her to call him, but she has other plans. Instead, she'll call her twin sister, Makenna. 
"My dad was like, 'Who're you going to call first?' and I was like, 'Well, I'll call 'Kenna,'" she said laughing. "He's like, 'Why?' and I said 'Well if she's with whichever parent then I can just talk to her and whoever she's with.'"
And it makes sense why she'd want to call her sister. After all, twins have a strong bond and the two will be separated for the first time when Madison heads for the Air Force Academy and Makenna will head just three hours west of Missoula to Gonzaga in Spokane, Washington. Both will run cross country and track & field for their respective schools. 
"It'll be weird. I don't think I'll realize what is happening until I'm gone and I'll be like, 'Dang I miss her,'" Madison said. "We've kind of joked around saying that we aren't going to tell our friends at our new school that we're twins and then we'll meet up at a meet and they'll be tripped out."
"It's going to be weird having the whole summer without her," Makenna added. "I've never spent more than a week apart from her so it's definitely going to be an adjustment."
Appointments to the Air Force Academy are rare and the application process is long and rigorous. But Madison completed all of that and was nominated by Sens. Jon Tester and Steve Daines and Rep. Greg Gianforte. She said the Air Force Academy coach contacted her back in February of her junior year and she fell in love with the program and school from there. Gianforte gave her the news this February that she received her appointment. 
"I've always wanted to serve my country," Madison said. "I've always looked up to veterans."
Makenna reached out to Gonzaga in August and has been in contact with the program ever since. She'll study pre-med there. 
Both have been key components for Big Sky as distance runners as the state meet draws near which will be their final high school meet. Both run a leg on Big Sky's 1,600-relay team and also compete in the 800 and 1,600. Last Thursday's city meet marked the final time the two will compete on Big Sky's track. So for now it's all about enjoying the final weeks of high school they have before they begin their separate journeys apart. 
"Just making sure I enjoy it," Makenna said. "It's going to be kind of nice to move on but I'm definitely going to miss it. I've really enjoyed it."
Heggen returns from injury
Expectations were high for Lauren Heggen coming into the season and for good reason. 
After setting the all-class triple jump record at 39 feet, 7 inches at last year's state meet and winning the 100 hurdles as a sophomore, Heggen, a junior at Sentinel, seemed to keep that rolling when she won the triple jump at the Texas A&M High School Classic back in January. Then, she went on to earn victory at the Simplot Games in Pocatello, Idaho in February. She was also among the Montanans who competed at the Arcadia Invitational in California in April. 
But all of those miles added up and Heggen missed almost a month of competitions due to what she described as a "nagging foot injury."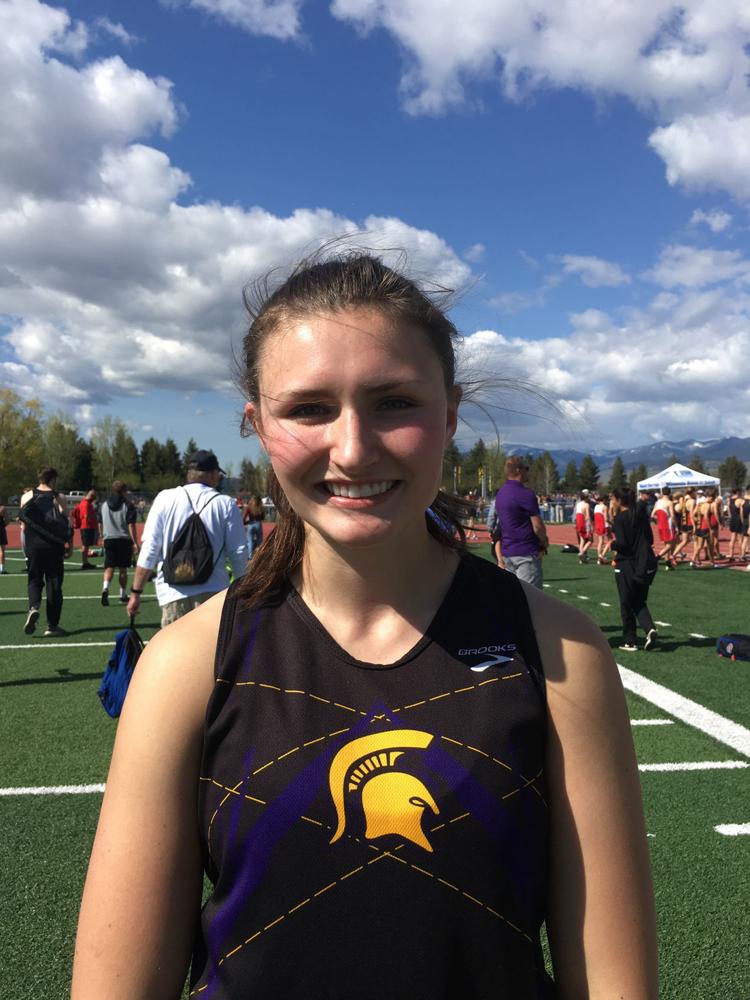 But taking a break paid dividends for Heggen in a historical way. On May 3 in Butte, Heggen and fellow Sentinel Spartan Ashley McElmurry both became only the second and third girls to ever complete jumps of 40 feet in the triple jump. Heggen completed a jump of 40-07.50 which, according to the MHSA, is the longest jump ever officially recorded. McElmurry's jump went 40-02.75.
The two joined Whitehall's Kellee Glaus as the only three to ever break that 40-foot mark, according to the MHSA. 
"It was pretty special. It's an honor to be among those high-class jumpers and I think it's really awesome that Ashley and I can compete and put a name for Montana athletics and track," Heggen said. "I think a lot of people underestimate Montana track & field but we're a state to be paid attention to so I think it's pretty special to be able to do that."
Heggen and McElmurry, a senior and future University of Nebraska track & field athlete, have been the state's best 1-2 punch in the jumps dating back to last year, and this season has been no different. Their marks are Nos. 1 and 2 in the triple while McElmurry ranks second in the state in the long jump and Heggen is third. McElmurry also owns the fastest times in the 100 hurdles and 300 hurdles. 
"Having Ashley is amazing because we push each other," Heggen said. "I firmly believe that neither of us would have gone 40 if we weren't pushing each other. I respect her immensely and it's just awesome to have her."
The injury was a tough pill to swallow for the ultra-competitive Heggen, who was coming off such a successful run in the indoor track season. But she knew if she wanted to get back to a high level she needed to take some time and rest. 
And achieving personal bests in the long and triple jumps on May 3, just her second meet of the season, eased some of Heggen's worries and and showed her that her patience was paying off. 
"I hadn't really had anything to take me out of season like this before so it definitely took some coping skills," Heggen said. "I had to realize that my time will come and that if I wait and am patient I'm better off if I wait and my foot is healed to be able to compete rather than rushing it and being injured and not being able to get the right marks."
Provo headed to Appalachian State
Missoula Hellgate senior Madi Provo wanted to leave Missoula for college, but she desired a place that reminded her of home. 
In that search, she found Appalachian State University, located in Boone, North Carolina. Drawn to the state of North Carolina in general, Boone carried a similar feel to the Garden City, and the Mountaineers had a roster spot for her on the cross country and track teams.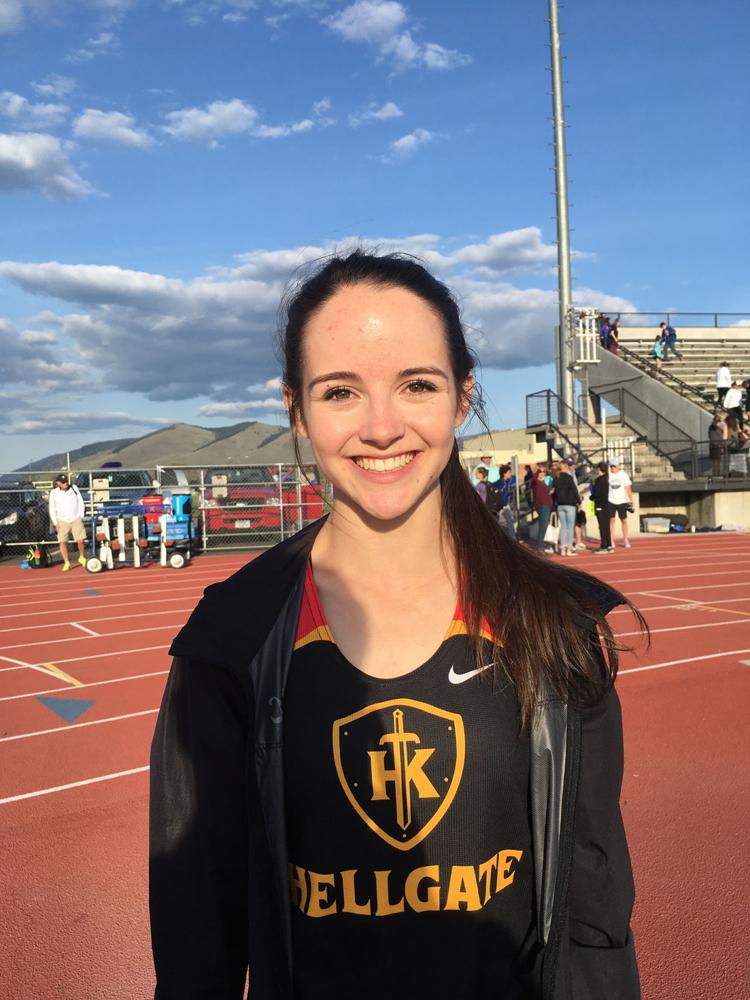 The decision and opportunity brought the work Provo has done full circle. As a younger athlete, Provo injured her back while she competed in gymnastics. She was forced to give that sport up but has monitored her body and training so well in track that she hasn't had more issues pop up since. 
Some of that included pool running which helps take pressure off of her back. Stretching and other little things are what she credits as to keeping her injury-free.
"That was really a rewarding experience for me to see all of my years of hard work come together and pay off," Provo said. "I think it's great to have the opportunity to continue reaching for higher standards."
At Appalachian State, Provo will study international business and minor in Arabic, the latter of which she received a nice scholarship for to study in college. Provo has been studying the language for three years and the unique combination of the two subjects was another nice draw for her. 
"That was definitely something that I knew I wanted to purse," she said. 
Provo did have to give up jumping events because of her back but has found plenty of success in the mid-distance races. She ranks fifth overall in the state in the 800 and eighth in the 400. She was also a captain on the Knight's Class AA state championship cross country team in the fall. 
"I think focusing on my goals has what's gotten me through," Provo said. "I had such high standards and goals for myself that a back injury is not in my plans. For me, that means doing everything in my power to prevent that.
"Times and places didn't necessarily drive me, it's more of my internal desire to accomplish what I know my body can do."