There's a famous quote from General George S. Patton, "Pressure makes diamonds," and it applies perfectly to Helena Capital's Tom Carter.
Pressure can mean different things to different people. It can be a hinderance for some. Others thrive on on it.
It's what they live for — it brings out their best and Carter's ability to deliver under pressure will be what defines his high school career.
"Tom lives for that moment," Lee Carter, Tom's father, said. "When the chips are down and when the game is on the line, he wants the ball. He wants to be that guy."
Tom was certainly the guy for the Capital Bruins offense as they went 12-0 in 2022 on their way to a Class AA state football championship.
Tom was far from the only weapon for the Bruins, who have 14 players headed to college football programs, but whether it was his go-ahead touchdown in the playoff game against Butte or the 87-yard scamper in the state championship game — when the lights shine brightest, Tom does too.
Yet, at the 2022 Class AA state track meet, he showed he can respond to adversity too.
Hoping to win the 100-meter dash and after posting one of the best times in the state during the regular season, Carter didn't run his best race and finished fourth.
"I could see he was devastated," Lee said. "I couldn't even talk to him. He wouldn't even look at me until after about 10 minutes. I just said you need to move on and win the 200 for you."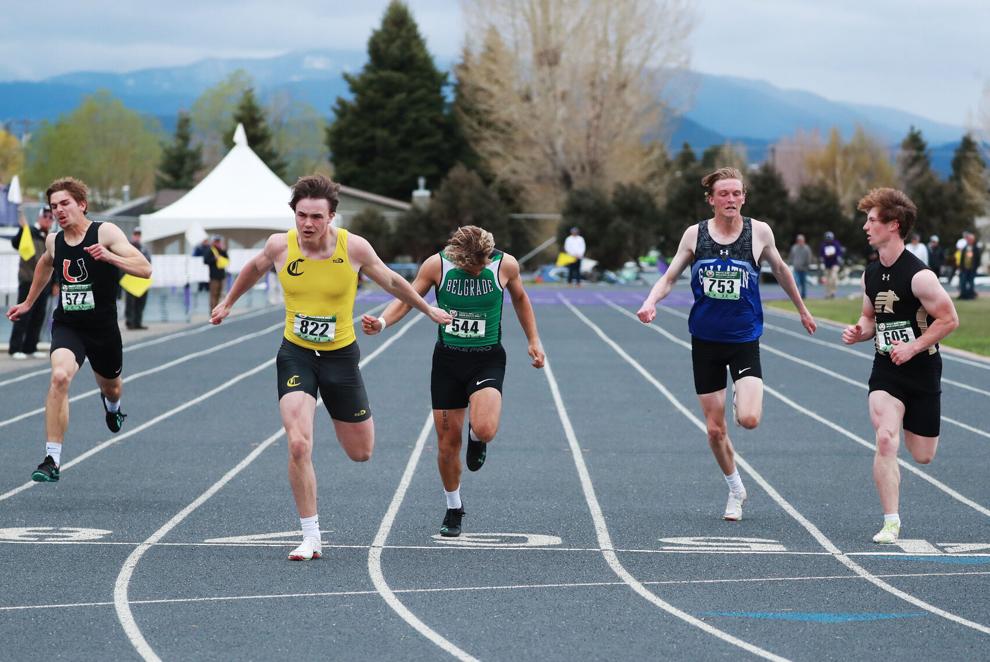 Which is exactly what he did. 
"That's just Tom to me," older sister Elena Carter said. "I was still super impressed. He's just so good at compartmentalizing things and keeping himself out of a down headspace. He's great at moving onto the next thing."
Elena Carter knows a thing or two about being great. She's a former long jump state champion at CHS and last spring, won three Big Sky women's championships (100H, long jump, 400 relay) in addition to taking second in the 100-meter dash, as well as two Big Sky indoor titles in 2023. She didn't get to see Tom's state title run live, since she was competing in the NCAA regionals, but she was awed by his perseverance. 
"I've been devastated by not winning a race," she said. "I don't even know how to explain it. It feels like you do all this training to not do what you're supposed to do. Especially with track athletes, it's really hard. If you're running the 100, as an example, if you mess up, you can't go back and fix it. There's not a next play."
With one shot left at a state title in his junior season, Tom delivered the best 200-meter dash of his career, running the race in 21.88 seconds to win his first state championship. 
Afterward, when asked about the pressure of the moment, and living up to the hefty legacy the Carter's have already left at Capital, Tom smiled, shrugged and quoted Patton. 
"Pressure makes diamonds."
Lee was a Bruin great and is a member of the Hall of Fame. He also played Division-1 college football for Wyoming and Montana State. His dad, Lon Carter, is the Capital boys track coach and a hall-of-famer in his own right as a coach.
"(My kids) grew up in a coaching house," Lee said. "Every one of them has been on the sidelines with me. They have gone through the DOT program or done weight training. They understand competition and that there aren't any participation trophies out there. They want to be remembered as being one of the best."
With success, comes expectation and the pressure that can come with it.
"I definitely felt the pressure," said Leigha Carter, another sister of Tom's and a Montana State track and field athlete. "I kind of had that, 'I need to the best of the best.' Coming into college, it was something that I kind of saw as more of like a curse than a blessing. Then I realized, I wouldn't have gotten as far as I have without that expectation and that extra motivation."
It's weighed on Tom at times too, such as when he came up short in the 100.
"Looking up in the stands and seeing everyone disappointed," he said. "I thought, 'I have to make them proud somehow.'"
Then, he won a race some might not have expected him to win. Driven in part by disappointment that was his perception more than reality 
"That's hard for me to hear," Lee said. "Taking that in kind of breaks my heart because I've never been disappointed. I'm so incredibly proud of him. Of course, I want them to win. What parent doesn't? But more importantly, I don't want him to have that feeling of 'I wish I would have.' 
"That's something I was raised with and maybe that's why I'm so competitive, but my dad (Lon, Capital track coach) always told me to never put yourself in a position where you say, 'I wish I would have. I wish I would have studied harder or lifted harder.' That's what I tried to instill."
It stuck with all the Carter kids and certainly with Tom, who had a habit of disappearing late at night — to the weight room.
"It'd be 11 o'clock at night on a Wednesday and he'd be gone," Lee said. "I see my (weight room) keys are gone. I call him up and he's getting in a lift, saying he needs to get more work in. That's just who he is. He wants to do whatever it takes."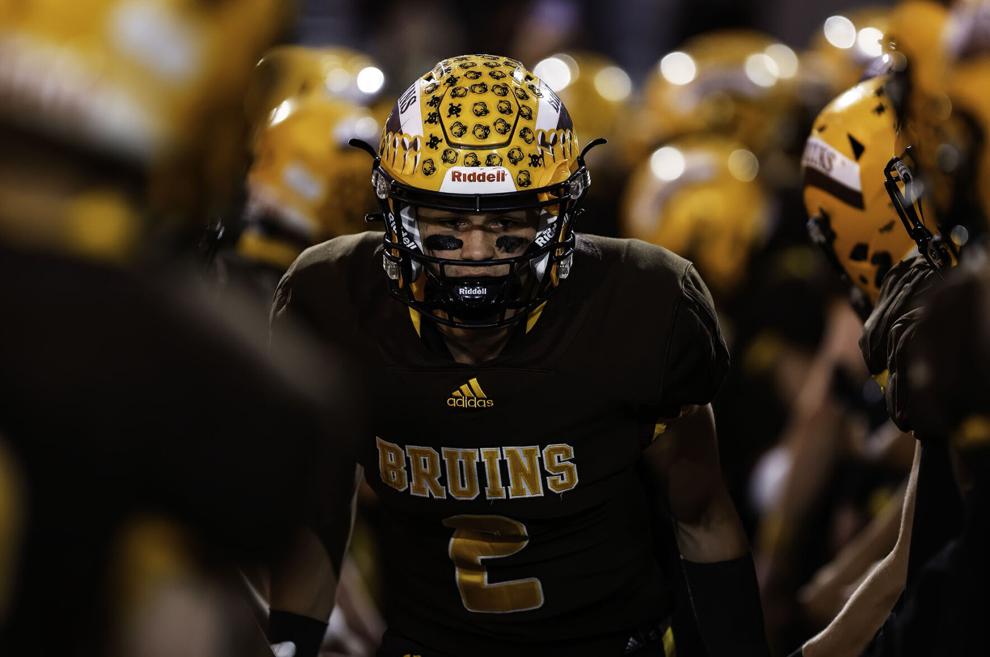 Even if it means playing through pain. 
Tom has had plenty of injuries throughout his life, although some probably could have been avoided.
"Tom had never done a backflip before," Elena said. "Then he decided to climb on a shed and try one and he broke his arm. He's always been fearless."
Also, highly competitive, which is another family trait.
"Our favorite family movie, is Talladega Nights," Lee said. "So we joke about that a lot, 'If you're not first you're last.'" 
That mindset led to frequent family competitions and whether it was football in the street, basketball, wrestling, racing, whatever — the Carters are out to win, even against each other.
"We'd play basketball in the driveway and I'd never let him win," Lee said. "I'd block his shots and do the same to the girls. We all just hate losing."
Tom, well, he got his revenge on the family eventually.
"He was one of the kids that did everything," Elena said. "We were all like that and competed against each other constantly, until Tom got too big and kept beating us all the time."
There were the daredevil moments too, like his backflip off of former Capital head coach Pat Murphy's shed, or a fall that led to a broken femur. 
Other heath issues couldn't be avoided, such as the asthma he deals with or the cyst between his heart and lungs that led to him having major surgery at a young age.
Asthma isn't an ideal condition for someone who depends so much on running. When it's smoky, such as at the Western AA Divisional track meet, it can make it even harder to manage.
"In the first game (of the 2022 season) at Bozeman, it was smoky and his face looked like he couldn't breathe," Said Lee, who is also a Capital football and track assistant coach. "He kept puffing on his inhaler. He'd wave me off when I asked if he was ok. I don't know how he did it."
With Dylan Graham, an all-state running back in 2022, still coming back from injury, Tom had to carry the load, which he did tallying 20 carries for 79 yards. He also caught an 80-yard touchdown, had a 35-yard kickoff return, an interception, and a pass defensed. 
All in a day's work, at least for someone as productive as Tom was during his senior season when he earned all-state honors on both sides of the ball.
The production was, in a word, staggering. 
In five games, Tom went over 200 all-purpose yards. He also led Class AA in rushing yards (1,262) while averaging just 10.7 attempts per game, thanks to a rushing average of 9.94. The next best was 6.72. 
As a receiver, the Montana State signee caught 20 passes and scored seven touchdowns in addition to totaling 427 yards. That equates to 11.4 yards every time he touched the ball and a touchdown once every 6.3 offensive touches. 
As a defender, Tom earned two all-state honors (2021 and 2022) and set a Capital record with 19 pass breakups as a cornerback in 2022. He also intercepted four passes and is second in Capital history in career pass breakups (24).
"We got a lot of production out of Tom," Capital head football coach Kyle Mihelish said. "Whether that's offense, defense or special teams. As a junior, he had a special year as a kick returner and as far as playing some safety in his younger days and corner, plus receiver and running back, he's one of the most productive players in Capital High history."
He was also one of the most electrifying.
"As a coach, you were just kind of waiting for it to happen," Mihelish said. "You knew (a big play) was going to happen. You just didn't know when. He might run power one play and get a yard. Then, the next play he will run power and get 50, 60, 80 or whatever it may be."
That explosiveness has carried over from track and this weekend in Butte, at the Class AA state track and field meet, Tom will take another shot at winning the 100, as well as trying to defend his title in the 200.
Yet, another goal is winning a team title, which is certainly possible for the Bruins with others such as Merek Mihelish (110 hurdles), Matthew Moreni (300 hurdles) who each won divisional titles last weekend, along with Barrett Hageman, who finished second at divisionals in the the shot put and discus. 
Tom won the 200 and helped the Bruins win their first team title at divsionals since 2010.
"That would be huge," he said of a state team title. "That would have to make our classes one of the best ever in the history of Helena, not just Capital."
Another individual state title or two from Tom wouldn't hurt the cause. But as far as his own legacy, at least among the family is concerned, Tom's clear as day: "I'm the best Carter."
Lee chuckled and said, "I think they're all the best. I think they all have their own strengths and special talents. But more than anything, they're good people and I know they're going to be successful in life."
Lee also admitted that his son doesn't lack for confidence. 
"He knows if you're gonna talk the talk, you have to walk the walk. And he usually does. If not, he'll be the first the congratulate you."
Tom did exactly that to Hudson Lembke of Missoula Sentinel who bested him for the 100-meter state championship last season and has the No. 4 time in Class AA going into the weekend (Tom is fifth, Reed Harris is first).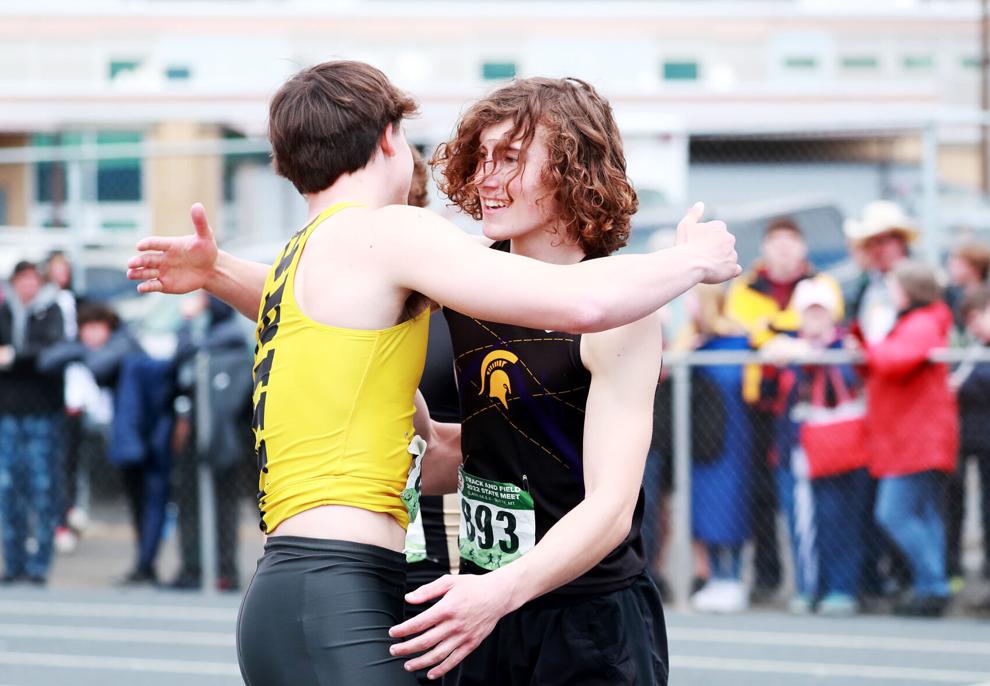 Even though Tom doesn't have the top time in the 100 or the 200 going in, he's more than capable of exceeding expectations. 
He also thrives on doubt, just like he does under pressure.
"He's always had a chip on his shoulder," Lee said. "He's always been motivated by people thinking he's not big enough or not good enough. That drives him."
That drive, determination, talent, ambition, and of course, pressure, all combined to make Tom what he is and one day, he'll shine in the Capital Hall of Fame, alongside his namesake. 
"It was just a little pressure," Tom joked. "There's pros and cons. But it definitely pushed me to be more successful and work as hard as I could to get where I'm at."
"I think it worked out pretty well."