BILLINGS — Stormy Siemion spent Friday night curled up with her year-old German Shepherd and a good book.
When you hear the title of that book, you might give a little chuckle considering Siemion was a four-time Class B state volleyball champion at Huntley Project, is the Montana high school record-holder for single-season and career kills and had a nice four-year run at Montana State Billings, where she was honorable mention all-conference her senior season.
Yes, she knows a thing or two about volleyball. So, when Siemion says she consumed some prime weekend time reading "Coaching Volleyball: A Survival Guide to Your First Season," it might seem a bit funny.
It was to her, too.
"I was looking all over Amazon, wondering if they had anything like that, and it just sort of popped up," said Siemion, who will be the next volleyball coach at Billings Skyview. "It's just a quick little read to give you some pointers and stuff.
"It's funny, because it's stuff I already know but it's sometimes things you kind of forget about. So it's nice to have it in the back of your mind."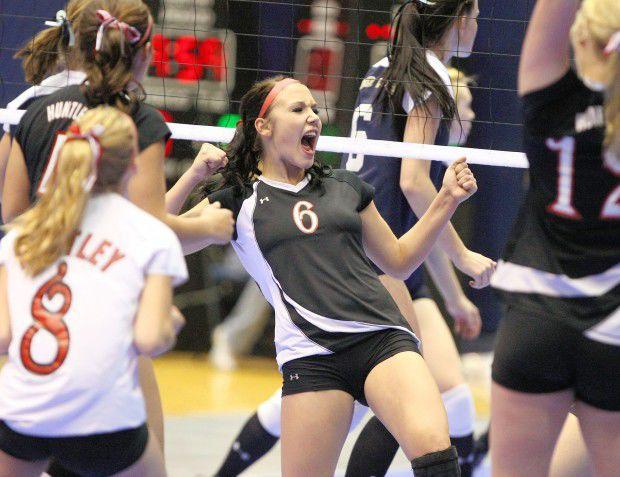 In taking over at Skyview, Siemion, a 2013 Huntley Project graduate, follows the longtime career of Vicki Carle. After 28 seasons, 477 career wins, 10 20-win seasons and one Class AA state title (1996), Carle's retirement was announced just before Christmas of last year.
Those are impressive numbers to follow, even for a coach who comes from a program with even more impressive numbers. Huntley Project won its 12th Class B state title in November, tying coach Iona Stookey with former Billings Senior coach Jeff Carroll for the most championships in state history.
Siemion called the move to Skyview somewhat daunting. After all, despite all her years playing volleyball, she's had little experience coaching. Upon graduating MSUB, Siemion spent a year at Hardin as a PE/health teacher and volunteer assistant coach and this past season at Lockwood, where she was an assistant to RanDee Ochinero, who is trying to build the Lions' program from the ground up in their first year.
In fact, Siemion didn't even interview for the Skyview job until Wednesday. A few hours later she was offered.
"It's a little intimidating coming into such an established program, but I also find that very exciting," said Siemion, who will also teach at Skyview. "Because it is established, they have a great mentality, the mentality of just wanting to work hard, having a good attitude toward things. That's just something I really wanted to step into."
Siemion said she's learned something from all her experiences, from playing under Stookey, to playing in college, to coaching under former Hardin coach Tiffany Moullet (another Project product) and working with a wide range of talent levels with Ochinero at Lockwood.
And, from Friday night's reading session.
"Man, I just want to be prepared and ready," Siemion said. "I'm excited to meet the girls, start doing open gyms, all that kind of stuff. I'm pretty thrilled about it all."