MISSOULA — After a one-year absence from the state volleyball tournament, Missoula Sentinel is back in the field.
On Thursday night, at home, the Spartans downed crosstown rival Missoula Big Sky in four sets, winning 25-15, 24-26, 25-16, 25-9. Sentinel will be the third seed out of the Western AA in the state tournament, which runs from Nov. 14-16 at Brick Breeden Fieldhouse in Bozeman.
"I really wanted to take this team to state, super proud of them, it's a great bunch of kids," Sentinel head coach Erin Keffeler said. "They love the game, they love each other. Every team has its ups and downs throughout the year, but just working through those to make us stronger, as strong as we can be, that's where we want to be."
The Spartans certainly had their ups and downs in the playoff match against a tough Big Sky team as well. Sentinel had a strong first set and after the Eagles closed it to 13-10, the Spartans never let Big Sky get closer.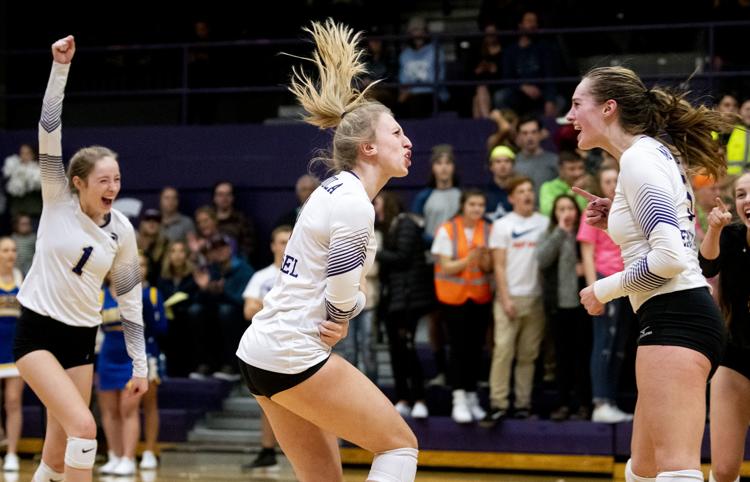 Clutch serving down the stretch by Olivia Cady and Faith Jensen helped the Spartans keep their crosstown rivals at arm's length, while a front anchored by Sierra Dennison, Emily Brinkman and Alexis Umland piled up blocks. Umland finished with four of the team's six blocks.
Dennison finished the set with a monster kill — she had 13 on the night — and it seemed as if Sentinel might have a chance to roll through toward a sweep.
The Eagles, however, had other ideas. Capitalizing on strong serves and a few Sentinel mistakes, Big Sky roared out to a 7-2 lead in the set. Sentinel recovered, tying the set 9-9, 10-10, 11-11, 17-17 and 24-24, but never was able to take a lead.
The 24-all tie might have been the most impressive, as the Spartans survived five straight game points.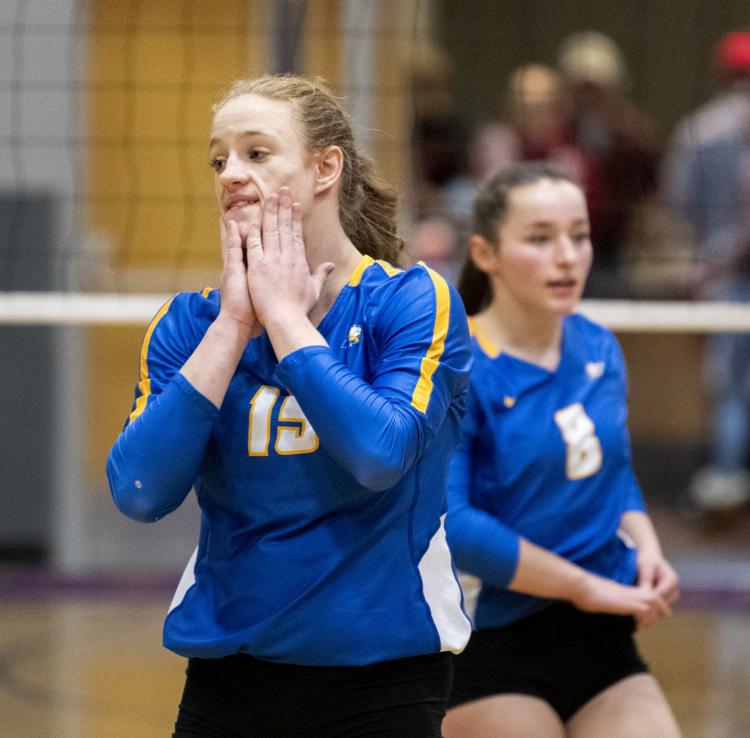 "We came in with confidence. When the first set started we kinda got in a lull, but in the second set we were able to get out of it and came back and fought through," Big Sky head coach Matthew Pimentel said. "They played well, they never gave up, they fought every single point … I'm proud of them and the season we had."
Strong throughout the entire match, Sentinel's Sheridan Schweyen took her play up another notch in the final two sets. She finished with 17 kills on the evening and also added three aces in service.
Schweyen simply seemed unstoppable for stretches and had a strong kill in the fourth set to make it 8-3 Sentinel and force a Big Sky timeout.
The Eagles did not seem to be able to recover after that and won just six more points through the rest of the match.
"Sheridan started with a game face, we all make mistakes and she was really good at working through the mistakes," Keffler said. "She knew what she wanted to do with her teammates and I'm proud of her for rising up and finishing strong."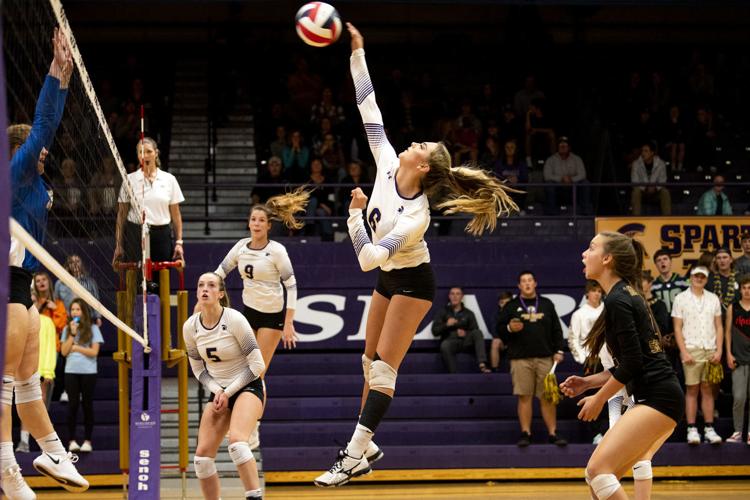 Big Sky had a chance to build some momentum in the third set, but an 8-1 stretch gave the Spartans a 14-7 lead and the Eagles never got much closer. There was a spurt toward the end of the third for the Eagles, but it just was not quite enough.
Now, Sentinel will prepare for a matchup with the second seed out of the east and a state tournament, a place where their head coach is very familiar.
"We just know we have to go and compete at the highest level we've played all year," Keffeler said. "So our goal is definitely to peak the last weekend, at the state tournament … we just have to raise our level of intensity and compete the whole time."