HELENA — Have you ever been in an environment where you couldn't hear yourself think? That was the atmosphere at Helena High during the season's first crosstown volleyball match on Thursday night, a contest the Bengals stormed back to win 3-2 (25-18, 20-25, 17-25, 25-20, 15-8).
"I'm so proud of the girls for responding," Bengals head coach Lindsey Day said. "Capital had us on our heels. We really struggled in serve receive at times and then just had a hard time executing our offense. I was worried there in the fourth set when we were down by like five. I knew it was almost too late, but the girls really showed some fight and grit and were feisty little competitors and refused to lose."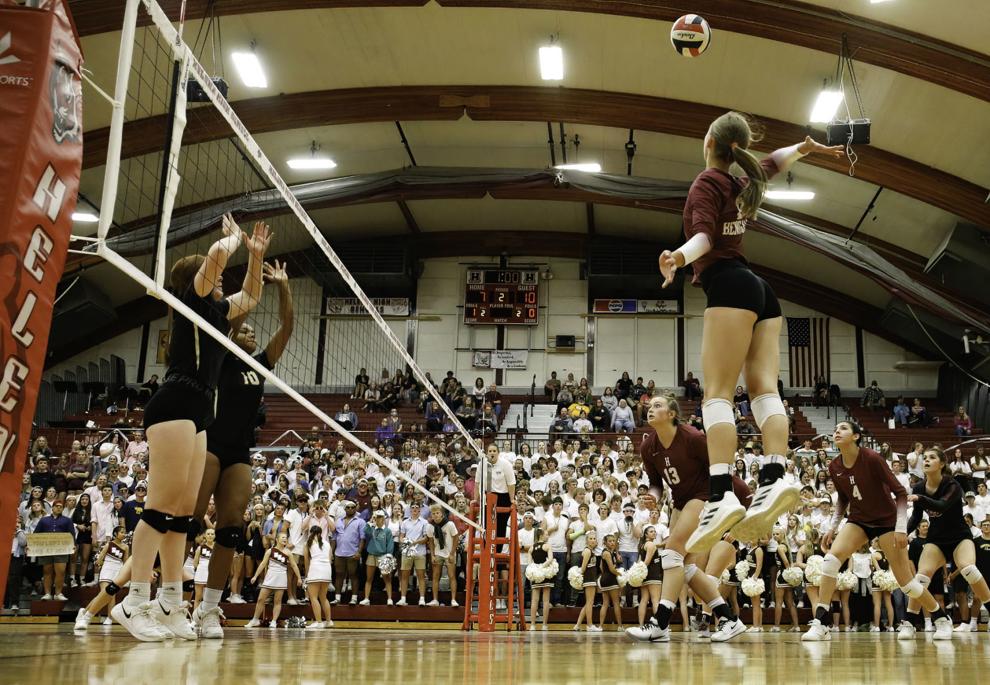 Trailing 19-14 in a decisive fourth set with Capital leading two sets to one, Helena scored 11 of the set's final 12 points, winning the set and forcing a winner-take-all fifth. Helena went up 9-3 on a Lauren Heuiser ace in the fifth set, winning it 15-8 to beat the Bruins for the first time since 2018.
"I think it says a lot about us as a team," Heuiser said. "We refuse to give up and I think that's something we're gonna have to carry with us throughout the rest of the season. I'm really proud of us for being able to come back like we did."
Heuiser, like she is every match, was all over the court for Helena. She led the team in kills (15) and blocks (4), and both her and Morin Blaise added two of the Bengals' 10 aces. Thursday's win represents the first time Heuiser -- and many of her teammates -- have been on a team that has beaten Capital.
"It's exciting just to get a win," Heuiser said. "It was a huge win for us. It's a good confidence booster for us. Heading into the weekend with the tournament we've got going on, I think it's good to keep us rolling."
Having not been able to fill the stands last year due to the COVID-19 pandemic, both student sections came out in full-force on Thursday. Pre-match and during the match, the crowd was into it, and the Bengals fans in attendance made sure to let their voices be heard when Helena earned the match point.
"Toward the end of the fourth set and into the fifth set, our hitters definitely stepped up and played to win instead of playing to not lose," Day said. "Big difference that they're trying to figure out right now is just playing loose and not playing tight. I got to thinking about it and none of these girls have played in a crosstown atmosphere before because of COVID. I think it was really fun for them."
Kim Feller was at the center of Helena's comeback. The Bengals notched 46 kills to Capital's 36 and Feller paced Helena with 11 assists. She was also credited with 11 digs, and said the momentum generated off her team celebrating all the little things is what helped the Bengals get back into the match.
"I think we all have confidence in each other," Feller said of her teammates. "We all know what our strengths and weaknesses are. We spend so much time together and that's such a hard thing to find between a team is how well we get along with each other."
Capital's Kayla Almquist opened the second set with an ace, helping the Bruins tie the match early. Rachel Hoffman recorded multiple aces that pulled Capital back even with Helena after falling in an 8-3 hole to begin the fourth set. Hoffman finished the night with seven or her team's 17 aces and Almquist logged 29 of Capital's 34 assists.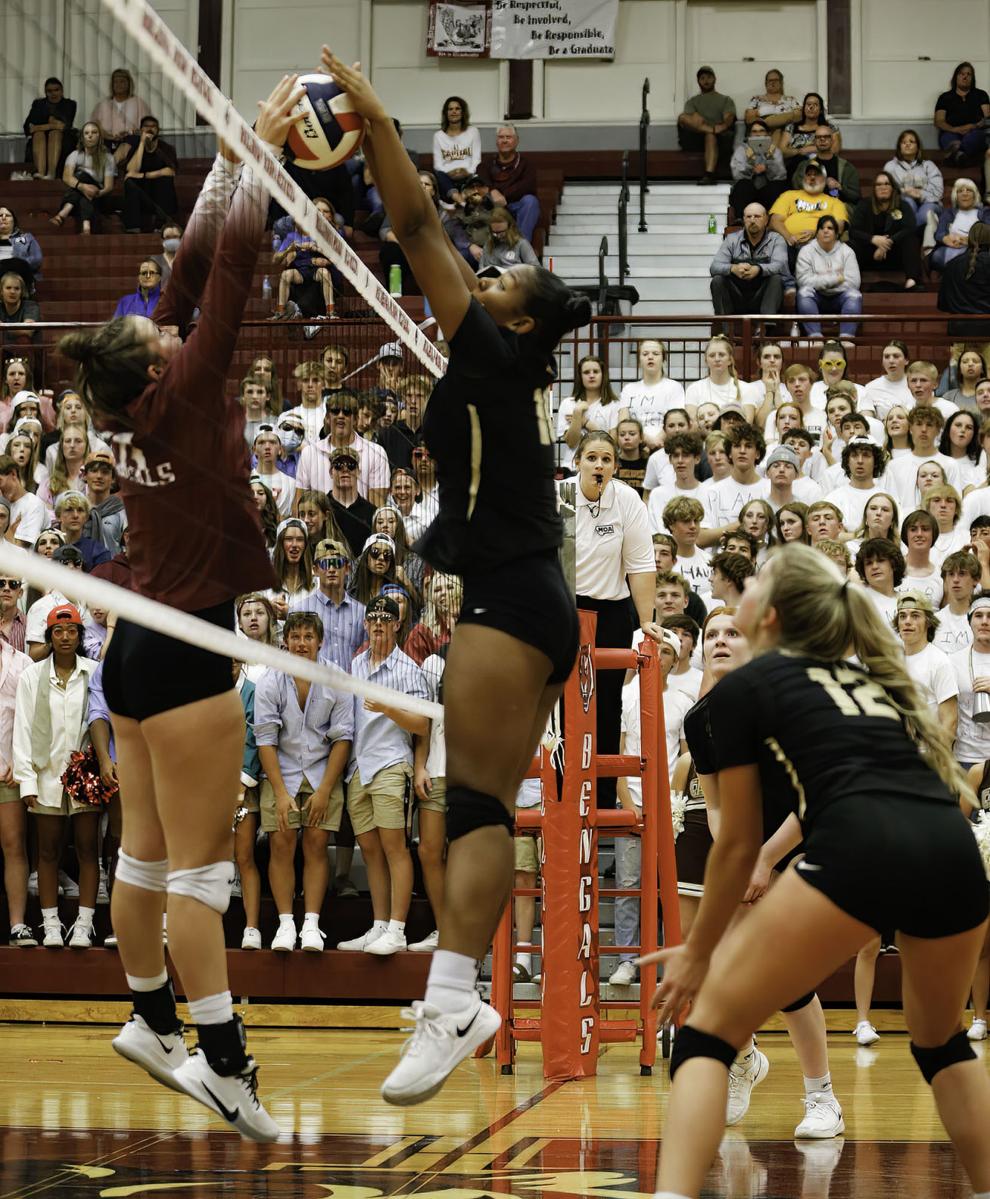 Nyeala Herndon was a force at the net, racking up four blocks. Tey'ana Lintner was equally disruptive, recording three blocks for Capital.
"Had a good match. In the fourth set, we missed too many serves and I think that was the difference-maker," Bruins head coach Rebecca Cleveland said. "Had them on the ropes, let them back in with some mis-serves at an inopportune time."
A match filled with some extended runs, Helena players and coaches felt like the team did not play its best match. With their collective backs against the wall, however, the Bengals found a way to claw back to even, and to eventually win the first crosstown volleyball match of the 2021 season.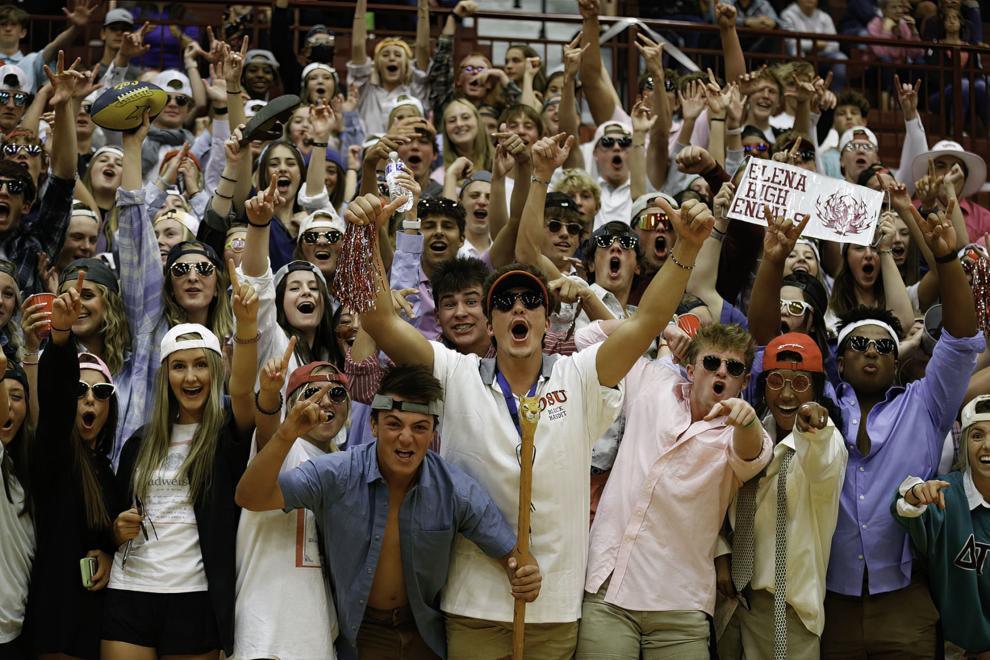 "When you get a crosstown win it's always a huge win," Day said. "You just never know what can happen on a crosstown night. Capital played great and they have some good players that really did a great job. We really struggled, they put us on our heels at times. I was proud of the girls for finding a way to win."