BOZEMAN — The CMR volleyball team is on a mission and after the first day of the Class AA state tournament, their plan is right on track.
CMR dominated both of its opening-round opponents Thursday at the Brick Breeden Fieldhouse and didn't drop a set as the 2020 runner-up beat Butte High and Bozeman in straight sets to reach the undefeated semifinal, and in the process, clinched at least a third straight top-3 finish.
"(Winning state) has been the goal all season and all of last season," CMR head coach Patrick Hiller said. "We have been trying to take that next step and it will be interesting to play Billings West again after seeing them 4-5 times. They know us and we know them, and we just have to see if we can get out of that undefeated game. Two years ago, we lost that game and lost out right away the next morning, so that should give these girls plenty of motivation."
The Rustlers have yet to lose a match this season and Bozeman certainly didn't threaten CMR much as the Rustlers won 25-13, 27-25 and 25-17 and advanced to face Billings West Friday night at 6.
Lauren Lindseth led the way for CMR and notched 15 kills and 13 digs. Tennisen Hiller managed 29 assists and Ella Cochran also added 10 kills and two blocks.
Bozeman did battle and held a lead late in the second set against CMR, but couldn't finish it off and was knocked out of the winner's bracket despite getting 13 kills from Carissa Stratman, as well as nine digs. Jeny Lynch pitched in with nine kills and two blocks.
The Hawks will play again at 2 p.m. Friday.
Billings West 3, Billings Senior 0 
The Billings West Golden Bears didn't play poorly in their first match at the Class AA state volleyball tournament Thursday.
But they also didn't play the kind of volleyball that will be required to knock off undefeated Great Falls High CMR and bring home a state championship.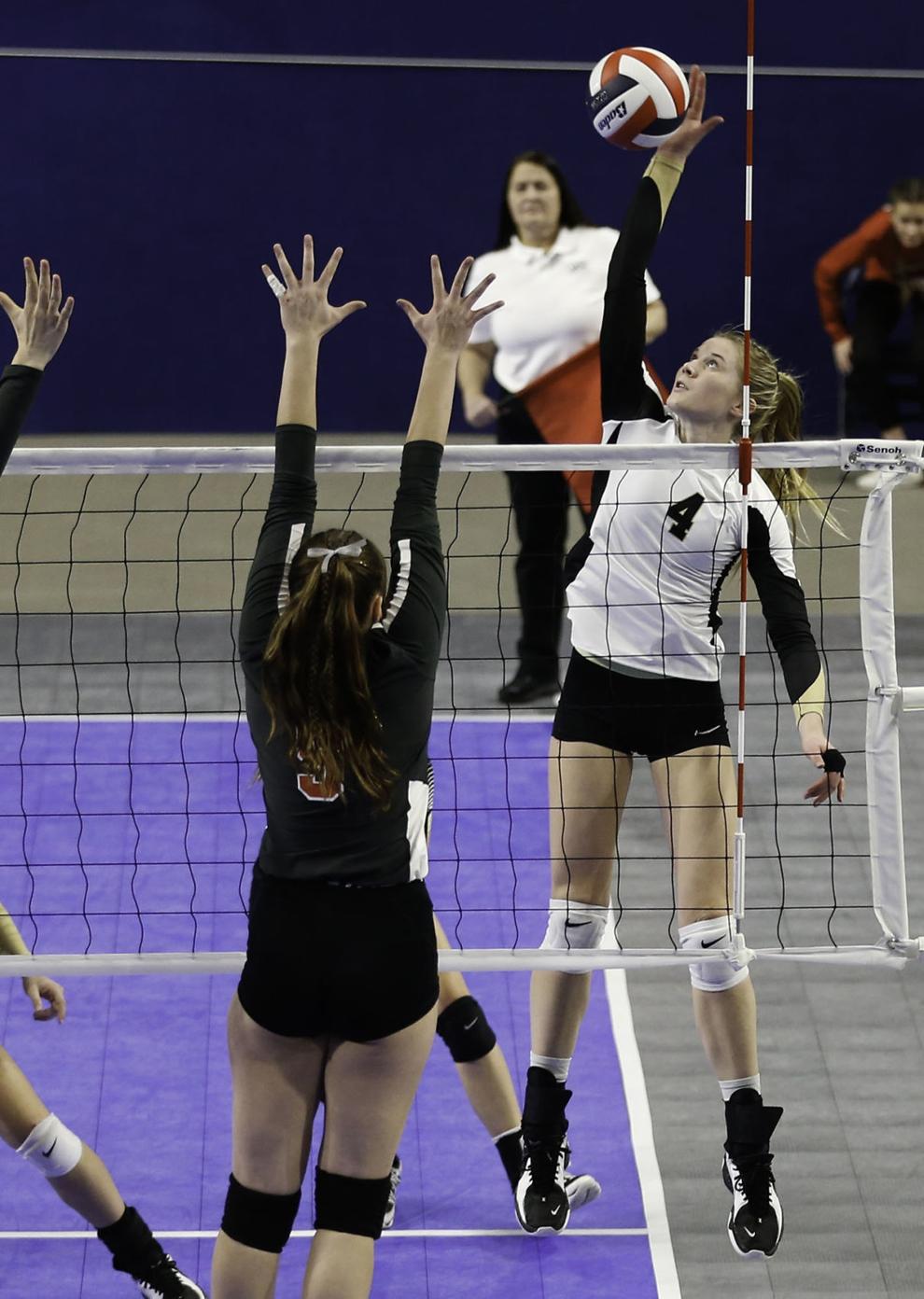 Yet, in the second round against Billings Senior, West played much closer to that level and swept their crosstown rivals by the scores of 25-17, 25-11 and 26-24.
Sydney Pierce was a force to be reckoned with for West and finished with 20 kills, 10 digs and three blocks. Addie Allen pitched in with 37 assists and Madi Ramsey also managed two aces in the win for West, which guarantees the Bears at least a top-3 finish.
"I think we responded very well, especially after this morning," West head coach Monica Smith said. "This is the team that I wanted to see and they brought it."
Izzy Ping paced Senior with nine kills and four blocks. The Broncs will be back in action on Friday and will face the winner of Butte-Flathead at 4 p.m. in loser-out action.
West, on the other hand, will await the winner of CMR-Bozeman in the undefeated semifinal at 6 p.m.
"I think you'll see the West team ready to take this tournament," Smith said. "We have been working on a lot the past couple of weeks and I'm excited to see them put that into play and see all that hard work pay off."
Bozeman 3, Flathead 1 
It was all Eastern AA on the first day of the Class AA state volleyball tournament as Bozeman defeated Kalispell Flathead in the final opening-round match, completing a 4-0 sweep.
Billings West, Senior and Great Falls CMR all won earlier Thursday and the Hawks finished off the Eastern AA's run of dominance with a four-set win by the scores of 25-21, 25-15, 15-25 and 25-20 over Flathead.
Jen Lynch put together an impactful match for the Hawks as she was credited with 11 kills, five aces, four blocks, 11 digs and three assists. Clara Fox was also strong for Bozeman with 12 digs and 28 assists.
"I think the environment in here got to us a little bit," Bozeman head coach Jeni Anderson said. "We just have to get some things tightened up going forward. It's high stakes and this is a big deal. I expected some nerves and stuff but it's nice to get that first one."
After falling down 2-0, Flathead was able to make the match competitive thanks in part to a nine-kill, three-ace effort from Alliyah Stevens. Kennedy Moore also added 22 assists and 13 digs in the loss.
CMR 3, Butte 0 
It's been a steady progression for the CMR volleyball team over the past few seasons. In 2019, the Rustlers took third, and a year ago, they finished as the Class AA runner-up.
But now, they have their eyes on the big prize and are now just three wins away from an undefeated season following a 3-0 (25-13, 25-17 and 25-21) win over Butte in the opening round of the AA state tournament. 
Lauren Lindseth, who just signed with Montana State volleyball on Wednesday, was credited with 15 kills and 13 digs in the win for CMR; Tennisen Hiller was also productive for CMR with 26 assists.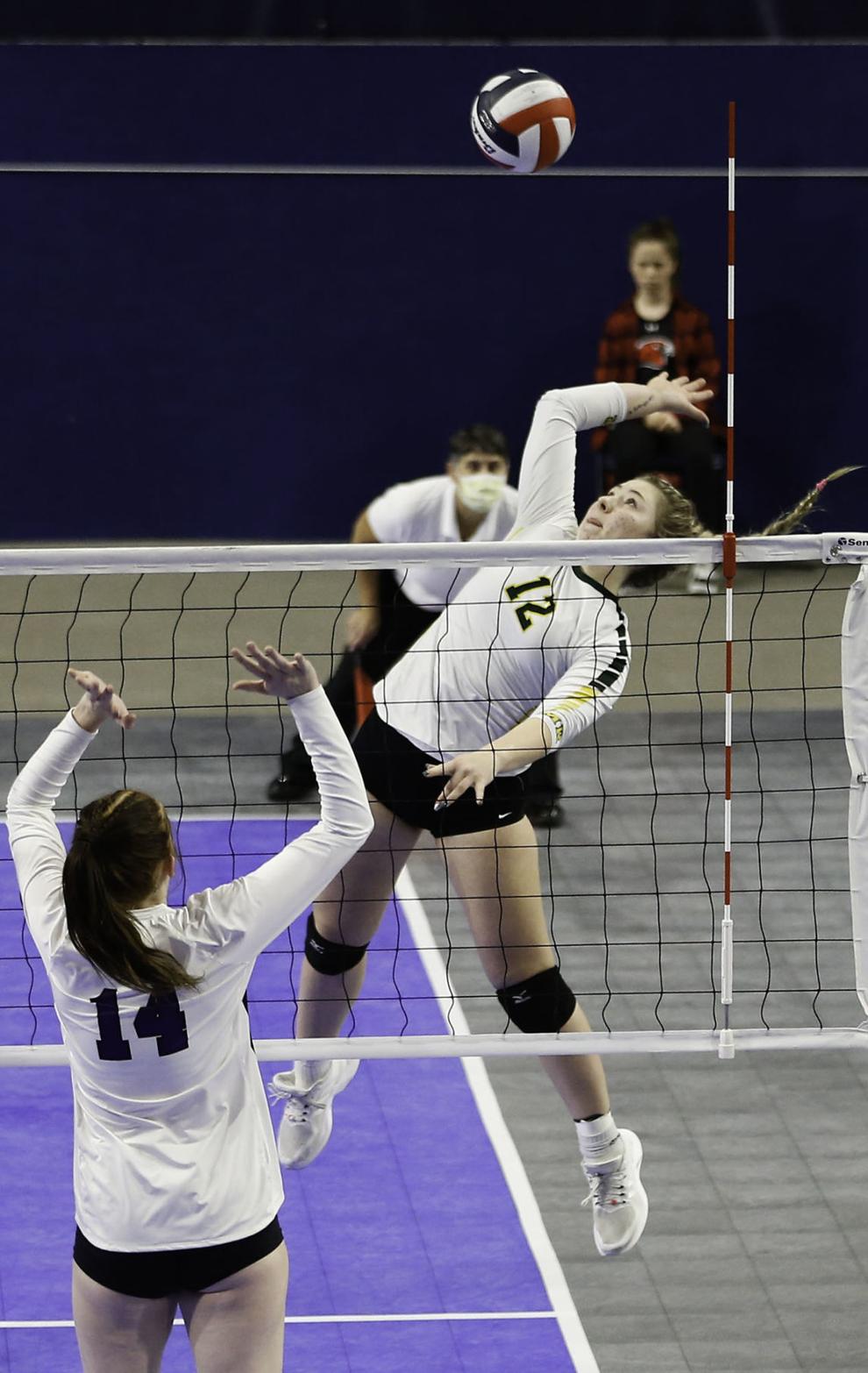 Yet, head coach Patrick Hiller was hoping to see more from his team.
"I'm not into the first win thing I guess," Hiller said. "I'm just disappointed in my girls' energy in that match. You can play bad, that happens and your opponent can take you out of what you're doing, but that's not how we have been playing volleyball all year long."
However, he expects that to change when CMR reaches the second round. 
"I imagine the energy will be a lot better tonight," Hiller said. "That's just natural as the matches get bigger as you progress. I doubt energy will be an issue and yes, we won 3-0, so there are worse things, but you hope that doesn't carry over to tonight."
Butte got seven kills from Brooke McGrath and also Teagen Kennis. Katie Keller also pitched in with 16 assists; Mollee Conlan also managed three blocks. 
Billings Senior 3, Missoula Sentinel 2 
Billings Senior started strong against Missoula Sentinel in the opening round of the Class AA state volleyball tournament, but it finished even stronger.
And it was necessary to take down a scrappy Sentinel squad which rallied from being down 1-0 and 2-1 to force a fifth set. The Spartans eventually took a 14-9 lead in the fifth and were a point away from avoiding defeat.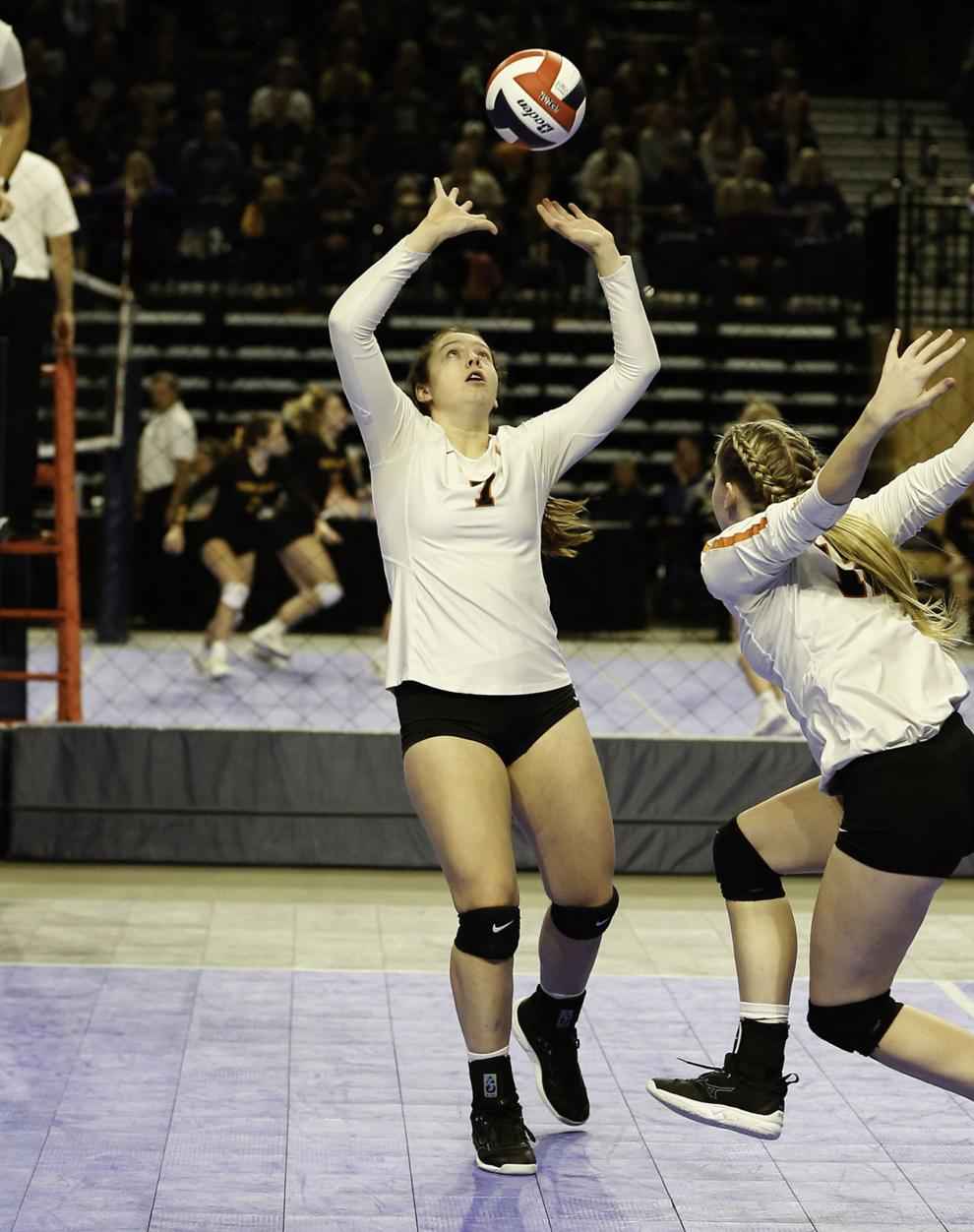 Yet, the Spartans couldn't get that final point. Nine times in the final set, Billings Senior faced the prospect of match point and all nine times, the Broncs found a way to extend the match. 
With the score tied at 20-20 in the fifth, after Sentinel faced match point a couple of times too, Senior's Rylee Kogolshak scored on a quick kill to put the Broncs back in front, and following a hitting error, Senior wrapped up the win by the scores of 25-19, 20-25, 25-15, 21-25 and 22-20. 
"I think our Skyview match prepared us for this," Senior head coach Karen Switzer said. "We were down twice to them and came back to win that set. And our kids just made some great defensive plays. I'm just glad they were where they needed to be." 
Senior was paced by Izzy Ping who notched a team-high 14 kills for the Broncs. Leela Ormsby also had a strong showing with 13 kills and seven blocks. Kogolshak also pitched in with 45 assists. Sentinel got 18 kills from Quiney Frohlich, as well as 38 assists from Paige Sawyer.
"These kids just battle," Switzer said. "Sentinel is a nice team and they did a nice job of blocking our offense. But over the course of the match, we adjusted fairly well and then it was about just finding the six players that we need on the court and the kids we put out there did what they needed to do." 
Billings West 3, Kalispell Glacier 1
Billings Senior opened the day with a thrilling win and in order to set up a crosstown matchup in the second round, Billings West had to take care of its business which it did with a 3-1 win over Kalispell Glacier. 
There was a bit of hiccup in the second set, but in the other three, it was all Golden Bears who won the match 25-14, 21-25, 25-7 and 25-18.
Sydney Pierce was a driving force behind the win for West as she totaled 19 kills, as well as two aces. Kaitlin Grossman also had a big opening match for the Golden Bears and was credited with 24 digs and four blocks. Sidney Gulick led the way for Glacier with 13 kills as well as three blocks. 
West, which was knocked out in the semifinals a year ago by Helena Capital, is now one win from the undefeated semifinal, which will require beating a familiar foe in Senior.
"We did a good job of responding after that second set," West head coach Monica Smith said. "I think we let the environment get to us a little bit but this is a first for most of our girls, so it was good to get that experience."