BOZEMAN — If there is one defining characteristic of the CMR Rustlers it's this: they love volleyball and they have at least one more match to play.
That match is the Class AA state championship match and CMR, which is still undefeated, got there Friday at the Brick Breeden Fieldhouse thanks to a sweep of Billings West by the scores of 25-16, 25-17 and 25-9.
CMR could see West again in the title match, but the Rustlers aren't worried about the opponent. They are simply ready for more volleyball. 
"We don't care who the team is," Hiller said. "We have said all along we don't care if the team is orange, if it's purple, if it's white. Just put a group of girls in front of us and let us play, because these girls just seem to love playing volleyball."
Lauren Lindseth, a Montana State signee, played a huge role in the CMR victory with 20 kills, 10 digs and three aces. Tennisen Hiller added 29 assists; Ella Cochran contributed with seven kills and Norah Allen also pitched in with 13 digs, while Natalie Bosley was credited with four blocks.
"It feels so good," Lindseth said. "Our team has been working towards this all year and it just feels awesome."
Winning the state championship is a goal that's been years in the making for CMR.
Two years ago, the Rustlers took third and last season, they finished as the runner-up to Helena Capital. It's taken a lot of time and effort for CMR to get back to this point, but it's a labor of love.
"These girls just really like to play volleyball," Hiller said. "Our practices, we'll get done and I'll go into the room at 5:30 or 5:45 and do a couple of things, then, I'll come back out and seven or eight of them are out there doing things. And I'll have to be like, 'Ladies, go home!' So they don't even care if it's their own team on the other side of the net, they just really like to play this game."
And it's something that Hiller, in his 28 years of coaching, hasn't quite experienced.
"You almost have to lock the door," he said. "Tell them you aren't coming in and it's refreshing. After 28 years of coaching volleyball in the state of Montana, and I've had great groups at Sentinel that loved to play the game, but this group, it's just different and it's fun to see these girls work and go along for the ride."
The ride will continue at 12 p.m. on Saturday for CMR in the state championship. Since the Rustlers made it through the winner's bracket undefeated, whichever team they face on Saturday will need to beat them twice to win the title.
West will certainly be in the mix. Kaitlin Grossman had 12 kills and a block in a losing effort. Madi Ramsey also added two aces and Addie Allen wound up with 21 assists.
The Golden Bears will Senior play at 10 a.m. in the second-third place match. The loser gets third and the winner will face CMR.
Billings Senior 3, Missoula Sentinel 0 (4th place)
Billings Senior went into the Eastern AA divisional tournament as the fifth-seeded team, yet after a second-straight sweep on Friday, the second day of the Class AA state volleyball tournament, the Broncs have guaranteed themselves at least a top-three finish.
And they did it with their second win of the tournament over Missoula Sentinel by the scores of 25-19, 25-16 and 25-16. The Broncs who got all three of their wins against the Western AA will now face a familiar foe in Billings West for the right to go to the state title match Saturday at 10 a.m.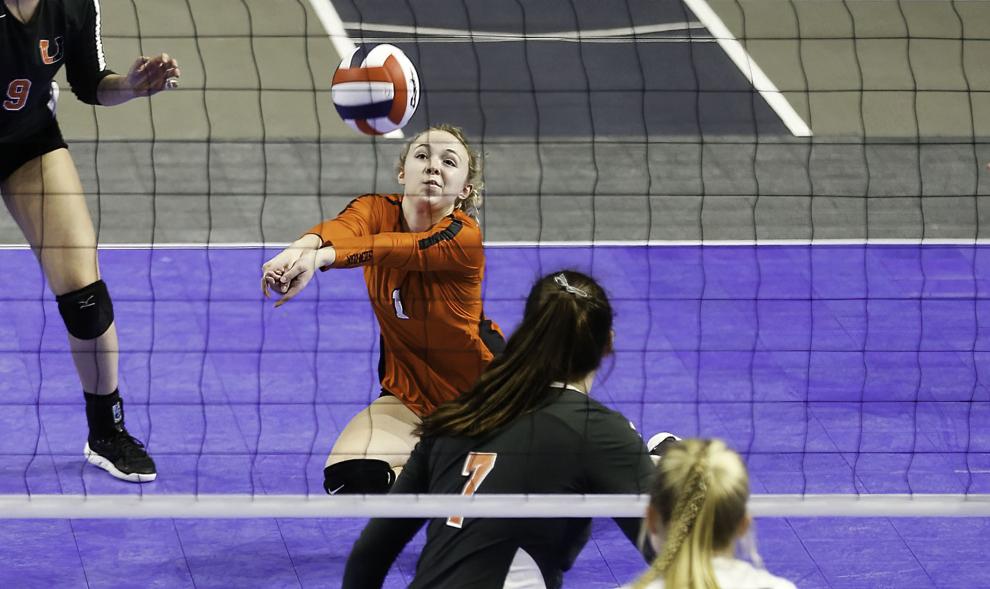 "We are grateful for all the competition we had this year," Senior head coach Karen Switzer said. "It made us better every time we played and I feel like we're just doing the right things at the right time. I'm really excited for the girls and so proud of them."
Senior Kara Pospisil was a driving force behind the win for the Broncs with 14 kills. Rylee Kogolshak added 32 assists, two aces and 10 digs.
Sentinel got 10 kills from Olivia Huntsinger as well as 23 assists from Paige Sawyer. Kodi Fraser also pitched in with 11 digs and two blocks. The Spartans settled for fourth.
Billings Senior 3, Kalispell Flathead 0 
After not playing their best volleyball on Thursday night against crosstown rival Billings West, Billings Senior was in search of a bounce-back performance and got one in a 3-0 sweep of Kalispell Flathead in loser-out action Friday at Brick Breeden Fieldhouse.
The Broncs who split their matches on Thursday at the Class AA state tournament, are still in the trophy hunt and can keep their state title hopes alive with a win over Missoula Sentinel, the same team Senior beat in the opening round match.
And if Senior plays how it did against Flathead, dispatching the Bravettes by the scores of 25-17, 25-21 and 25-20, the Broncs will have a good chance of finding the podium according to head coach Karen Switzer.
"I am so excited for these girls," she said. "Especially with such a young team. We were able to run offense and I thought if we could do that, we would get the win and they were able to come out and do that. Our ball control was better than it was last night, our chemistry was better than it was last night, and I'm super proud, we just found a rhythm that worked for us."
Kara Pospisil led the way for Senior in the win with nine kills. Leela Ormsby also had a solid outing with four blocks and two aces, and Izzy King also pitched in with eight kills and eight digs. Kennedy Moore was the top performer for Flathead with eight kills and two blocks.
Missoula Sentinel 3, Bozeman 2
On the first day of the Class AA state volleyball tournament, the Eastern AA notched a perfect record against the Western AA.
And on Friday at the Brick Breeden Fieldhouse, it looked like that mark would improve to 5-0. However, Missoula Sentinel, the top seed from the Western AA, had different ideas and rallied from a 2-1 deficit to knock out Bozeman by the scores of 25-18, 22-25, 15-25, 25-21 and 15-12.
"I am so proud," Sentinel head coach Kasey Arceniega said. "Facing pressure like that has been one of our biggest challenges this year and honestly, it has been difficult for us at times and for them to work through that challenge and come out on top, it's just awesome to see that."
The Spartans were also happy they could carry the banner for the Western AA and get at least one win on the board against the Eastern part of the state.
"We knew that the Eastern AA was the more competitive league," Arceniega said. "It was no secret. But it was a great feeling and we are doing it for the West side for sure."
Quincy Frolich continued a dominant tournament and finished with 22 kills and five blocks to lead the way for the Spartans, who also got 42 assists from Paige Sawyer. Jen Lynch paced Bozeman with 15 kills, two aces, three assists, six blocks and 13 digs.
Sentinel 3, Kalispell Glacier 1 
Teams that lost on the first day of the Class AA state volleyball tournament have to win three matches in order to get onto the podium and Missoula Sentinel took the first step in that process with a four-set win over Kalispell Glacier Friday at the Brick Breeden Fieldhouse.
The Spartans got 21 kills and four blocks from Quincy Frolich as well as 41 assists from Paige Sawyer to advance to the 2 p.m. match which will be against Bozeman.
Glacier got off to a strong start and grabbed a 1-0 lead in the match after a 28-26 win in the first set, before Sentinel swept the remaining sets by the scores of 25-22, 25-21 and 25-21. 
Sidney Gulick had a strong outing for the Wolfpack in defeat with 24 kills and one block. Maddie Frazier also pitched in with 21 digs. 
While Sentinel will advance, Glacier, which made its first appearance in the all-class state tournament since 2017 will head home.
"It felt really good to get back here," Glacier head coach Christy Harkins said. "We made state last year but it didn't feel the same as being here and this is just a great experience for our girls. I'm so proud of all of them and with just three seniors, this will be great for our young girls to know what it takes to get here and also the level you have to play at to win here." 
Kalispell Flathead 3, Butte High 0 
While one team from Kalispell was eliminated in the morning session Friday at the Class AA state volleyball tournament, another stayed alive as Flathead managed a 3-0 win over Butte by the scores of 25-15, 25-14 and 25-17.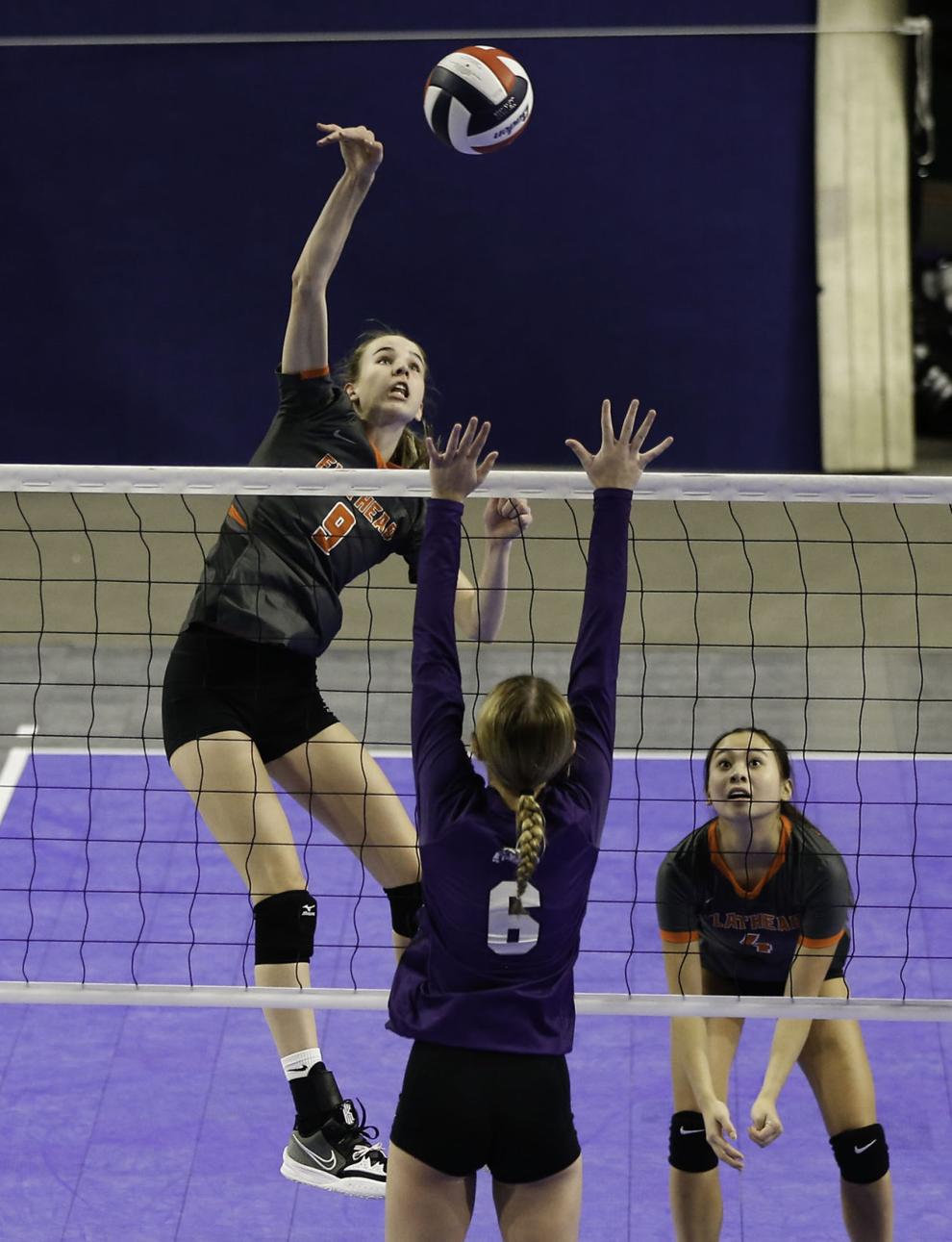 Savanna Sterck led the way for the Braves with 11 kills and two aces; Kennedy Moore pitched in with eight kills and eight digs. There were no stats provided by Butte.