BOZEMAN — Manhattan Christian has needed three wins on the final day of the Class C state tournament before to capture a state championship and achieved the feat as recently as 2019.
And Saturday inside the Brick Breeden Fieldhouse, history repeated itself, as Manhattan Christian came the long way back again, beating White Sulphur Springs to reach the title match, then defeating Plentywood twice, 3-1, to win a second state title in the past three years.
"It was a lot to prepare for," Kiersten Van Kirk said of having to win three matches in a row. "But this is our third time coming up through the challenge game, so we knew what we had to do."
The Eagles took the first match over Plentywood by the scores of 30-28, 22-25, 25-19, and 25-15, then closed out the state championship with another 3-1 win by the scores of 18-25, 25-15, 25-13 and 27-25.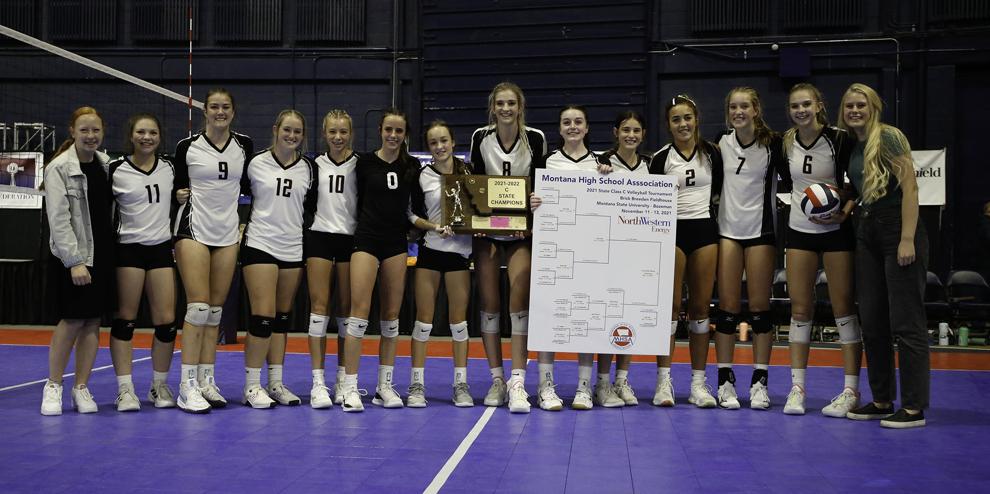 Plentywood grabbed the lead in the winner-take-all title match in the fourth set, and trailing 2-1, they were in front 25-24 when Katelyn Van Kirk came through with a kill to tie things up. Then, after a service error by the Wildcats, her sister, Kiersten clinched the championship on what will be the final kill of her high school career, as well as her 24th in the match. 
And winning a title with her sister, a sophomore, made for a perfect exit from the state tournament stage. 
"She's my best friend in the whole world," Kiersten said of Katelyn. "We have played together since we were young and with this being our last time on the court together, it's exactly what I would have wanted."
Katelyn offered similar sentiments.
"It was so fun," she said. "We have always been best friends and we have been wanting this forever. It's like a dream come true."
The Van Kirk sisters combined for 37 kills in the first match of the championship series and the Eagles also got 2.5 blocks from Kiersten as well as four aces and 2.5 blocks from Alexis Devries.
"It was a tough battle," Manhattan Christian head coach Hanna Van Dyk said. "Liv (Wangerin) was swinging very hard and I thought our defense was key. We knew that she was going to score some. We just had to bounce back and be resilient and these girls really showed that today."
Wangerin was incredible for Plentywood is a losing effort. She was credited with 30 kills and six aces in the first loss and is one of seven seniors on a team that still made history, as the Wildcats reached the state title match for the first time in program history.
"I have seven seniors and they have given me four of the best years I could ever ask for," Plentywood head coach Becky Hoffman said with tears in her eyes. "They have worked their asses off and I have asked them to do some crazy stuff just to get them ready for this year and they have done everything. It was a heck of a ride."
Manhattan Christian 3, White Sulphur Springs 1 
Manhattan Christian wasn't exactly itself on Friday night in a semifinal loss to Plentywood in the Class C state volleyball tournament.
That meant the Eagles, the 2020 state runner-up and 2019 state champion, would have to return to the Brick Breeden Fieldhouse early on Saturday for the third-place (to the loser) match and they responded as you'd expect a championship team to, winning 25-17, 25-20, 26-28 and 25-16.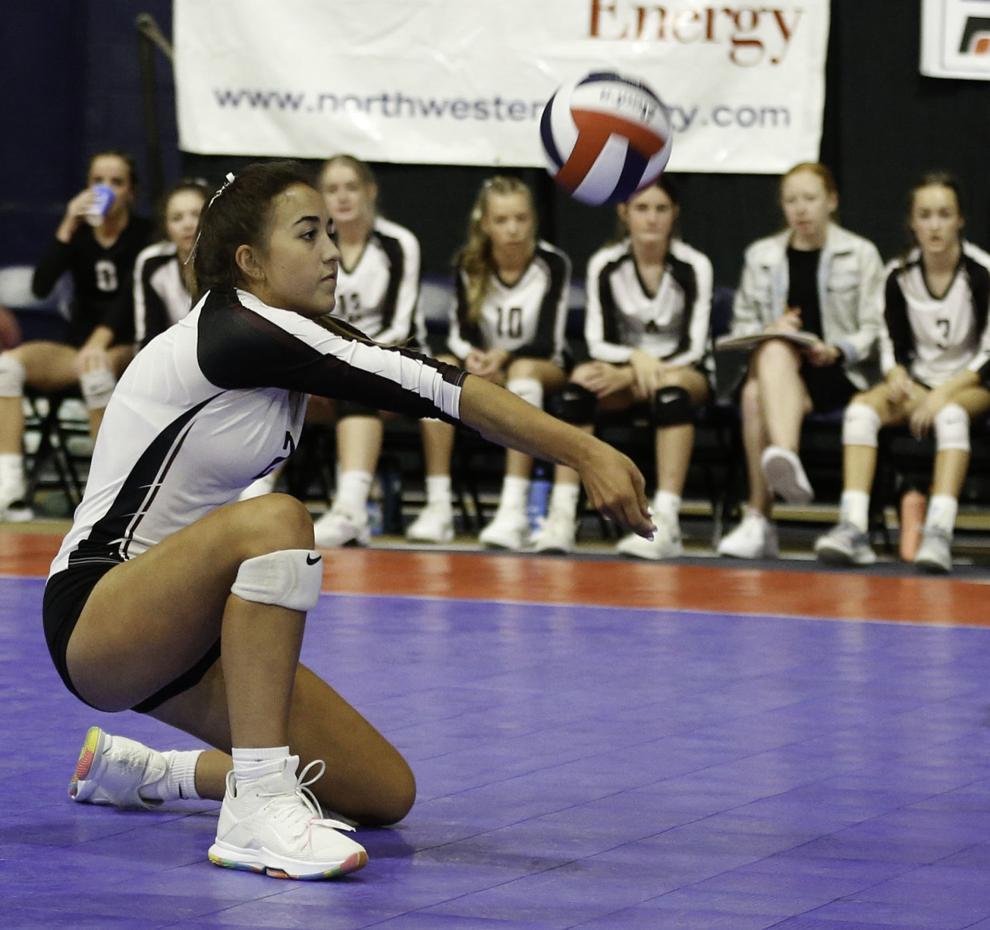 Katelyn Van Virk and Kiersten Van Kirk controlled the game at the net and combined for 24 kills. Kiersten also added 18 assists, 16 digs and five aces.
"I felt like we found ourselves and I was happy with how we came out," Manhattan Christian head coach Hanna Van Dyk said. "We made some mistakes but we responded really well."
And now the Eagles will need to win twice to claim their second championship in three years.
"We are very excited," Van Dyk said. "It's the championship game. We are excited to be here."
The Eagles will face Plentywood at 12 p.m. for the start of the title match. The Hornets who got 20 kills, four blocks and two aces from Cabry Taylor will have to settle for third.
"We can't hang our heads," White Sulphur Springs head coach Marteen Taylor said. "I'm just so dang proud of these girls. They didn't know they could do it at the beginning of the year, it took about halfway through before they realized they could make state and I'm just so proud of them for getting this far."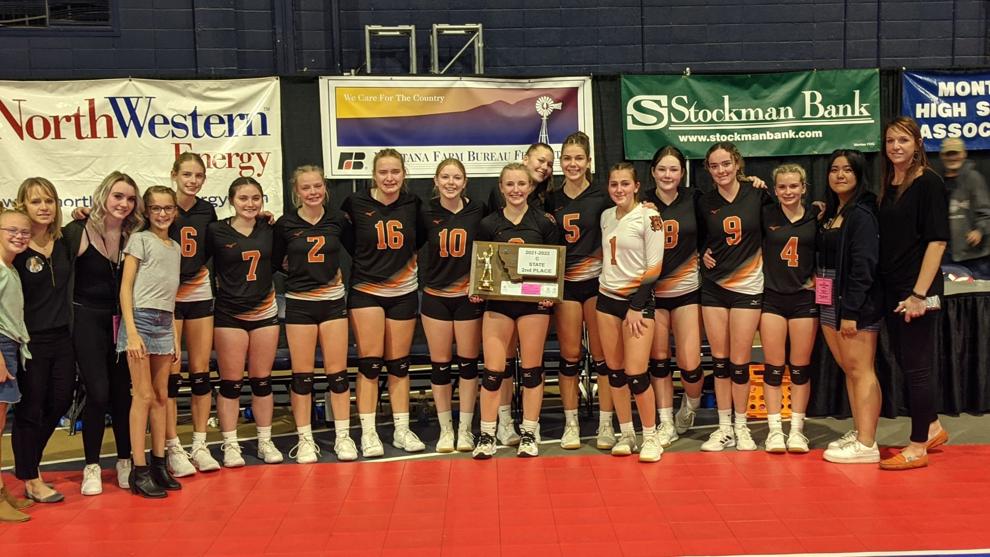 Championship
Plentywood made their first appearance in the championship needing to win a single game to earn their first title. Coming off their morning win, Manhattan Christian defeated Plentywood 30-28, 22-25, 25-19, 25-15 to force a second game, the winner of which will be the champion.