BOZEMAN — Plentywood has been to the Class C state tournament in each of the past four seasons. But Friday night at the Brick Breeden Fieldhouse, the Wildcats did something they never have before — clinch a berth in the state championship match.
Going into Friday, the Wildcats knew they would be taking home hardware for the second straight year at state. But following a 3-1 win over Manhattan Christian (25-22, 25-16,16-25 25-20), they made program history.
"It's the first time in our school history, so it means a lot," Plentywood's Liv Wangerin said. "We have put in a lot of hard work the last four years, so it feels really good."
It's been a progression for the Wildcats and each year at state, they have improved. Last year, it was Manhattan Christian that ended their season and Wangerin, well, she didn't forget it.
And she was a force to be reckoned with. The senior finished with 13 kills, nine digs, two blocks and six aces, including a run of three straight in the fourth to help hold off a hard-charging Manhattan Christian squad looking to force a fifth set.
Plentywood opened with wins in the first two sets, but the Eagles won the third 25-16 and grabbed a lead in the fourth.
That's when Wangerin turned the tide with some expert serving, although two quick kills from Kate Simonson pushed it to match point, before Wangerin finished it off with her 13th and final kill.
"She rises to the challenge," Plentywood head coach Becky Hoffman said. "She absolutely rises to a challenge and that girl has such grit and determination that she's not going to settle for less than what she knows we can do. And if that means she has to step in and do something great, she's going to make the play."
Ashtyn Curtiss had another steady performance with 26 assists and Simonson added two blocks in addition to her timely kills in the fourth set.
The Wildcats will play again on Saturday at 12 p.m. in the state championship match against either Manhattan Christian, Roy-Winifred or White Sulphur Springs.
Manhattan Christian knows a thing or two about coming back and winning a state title after losing in the undefeated semifinal, completing the same feat back in 2019. Kiersten Van Kirk, a Boise State signee, who had 18 kills in the loss, was on that team and the Eagles shouldn't be discounted.
"I feel like every time Manhattan Christian makes it, we always take the hard way," Eagles head coach Hanna Van Dyk said. "We didn't play our best today but I think we'll bounce back. They are competitors and they will be ready to go."
Wangerin said if there was a rematch, she was looking forward to it and so is the town of Plentywood, which seemed to transport most of its citizenry to the stands surrounding the Class C court.
"We have the best crowd ever," Wangerin said. "We literally live eight hours away and our section was full tonight. I hope we get to play Manhattan Christian again. That was really fun."
Wangerin and the Wildcats might just get their wish.
The Eagles will play at 10 a.m. against White Sulphur Springs in the loser-gets third match.
The winner of that faces Plentywood for the state championship but will need to beat the Wildcats twice to take the title.
White Sulphur Springs clinches at least third
White Sulphur Springs entered the state tournament looking for their first win at the event in 13 years. But after notching three wins in two days at the Brick Breeden Fieldhouse, the Hornets have assured themselves of at least a third-place trophy.
However, advancing to the final day of the tournament wasn't easy and Roy-Winifred wasn't going down without a fight. White Sulphur took the first two sets, then gave up the third and trailed in the fourth, before rallying for the win and taking the match by the scores of 25-22, 25-23, 20-25 and 25-23.
"We knew we could be top three and so far, so good," Hornets head coach Marteen Taylor said. "Third place is great. But first place is better and we are just going to keep striving for that."
Cabry Taylor had another dominant showing for the Hornets in the win and was credited with 21 kills, four blocks and 19 digs. Kendra Manger also stepped up with 11 kills and three aces.
White Sulphur will be back on the court at 10 a.m. against Manhattan Christian.
White Sulphur Springs 3, Bridger 1 
For White Sulphur Springs, just reaching the Class C state volleyball tournament was a huge achievement, since it had been 13 years.
The Hornets won their first match over Fort Benton Thursday and after a loss last night to Plentywood, they rebounded in a big way Friday at the Brick Breeden Fieldhouse, eliminating Bridger, the defending Class C state champions in four sets by the scores 25-22, 21-25 ,25-19 and 27-25.
"Oh my gosh, they are so excited right now," White Sulphur Springs head coach Marteen Taylor said. "To make it this far — to make it in the top four in the state — is a dream come true. At the beginning of the year, they never expected to get this far and they have just done a great job."
Roy-Winifred 3, Froid-Lake 1 
Froid-Lake became a bit of a Cinderella story following its win over defending champion Bridger on the opening day of the Class C state volleyball tournament. But on Friday at the Brick Breeden Fieldhouse, the Outlaws of Roy-Winifred made sure the clock struck midnight on the Redhawks tournament run.
Froid-Lake was making its first ever appearance in the all-class state tournament and got off to a strong start against Roy-Winifred taking the first set 25-20. However, the Outlaws, who already won once in the morning, bounced back to win the second 25-19, then didn't look back as they won 25-21 and 25-16 to close out the 3-1 victory in loser-out action.
Jayda Southworth was huge in the win for the Outlaws and among her 15 kills were the winning points in the third and fourth sets. Isabelle Heggem contributed with five blocks and Hannah Ewen also added five aces.
Dasani Nesbit paced the Redhawks with 12 kills and four blocks. Meg Ator was also active with 16 assists in a losing effort.
"I'm really proud of our team for making it this far," Froid-Lake head coach Kiah Smith said. "This is new to us and very fresh. We were coming off a big loss last night and it was hard to rally back from that, but now we have something to strive for in the future."
Bridger 3, Simms 2
The saying is that you should never underestimate the heart of a champion and the Bridger Scouts showed that again Friday, rallying from a 2-0 deficit to eliminate Simms in loser-out action at the Class C state volleyball tournament.
Bridger, the defending Class C state champion, dropped the first two sets after losing on Thursday and it looked like their title run was about to come to a close.
However, the Scouts roared back with a 25-10 win in the third, as well as a 25-21 victory in the fourth, before taking the fifth set 15-10 to advance to a 4 p.m. match against White Sulphur Springs.
"It was like, 'How do you want to go out,'" Bridger head coach Lena Kallevig said when asked what she said to her team down 2-0. "We always say that we want to go down swinging and we just gave up too many balls early. It's not as much fun when they are hitting at us as when we are hitting at them."
Dylann Pospilsil scored two key points in the fifth set to help Bridger grab a 7-4 advantage, then Mya Goltz added back-to-back kills to push the lead to 10-5 before the defending state champions closed it out.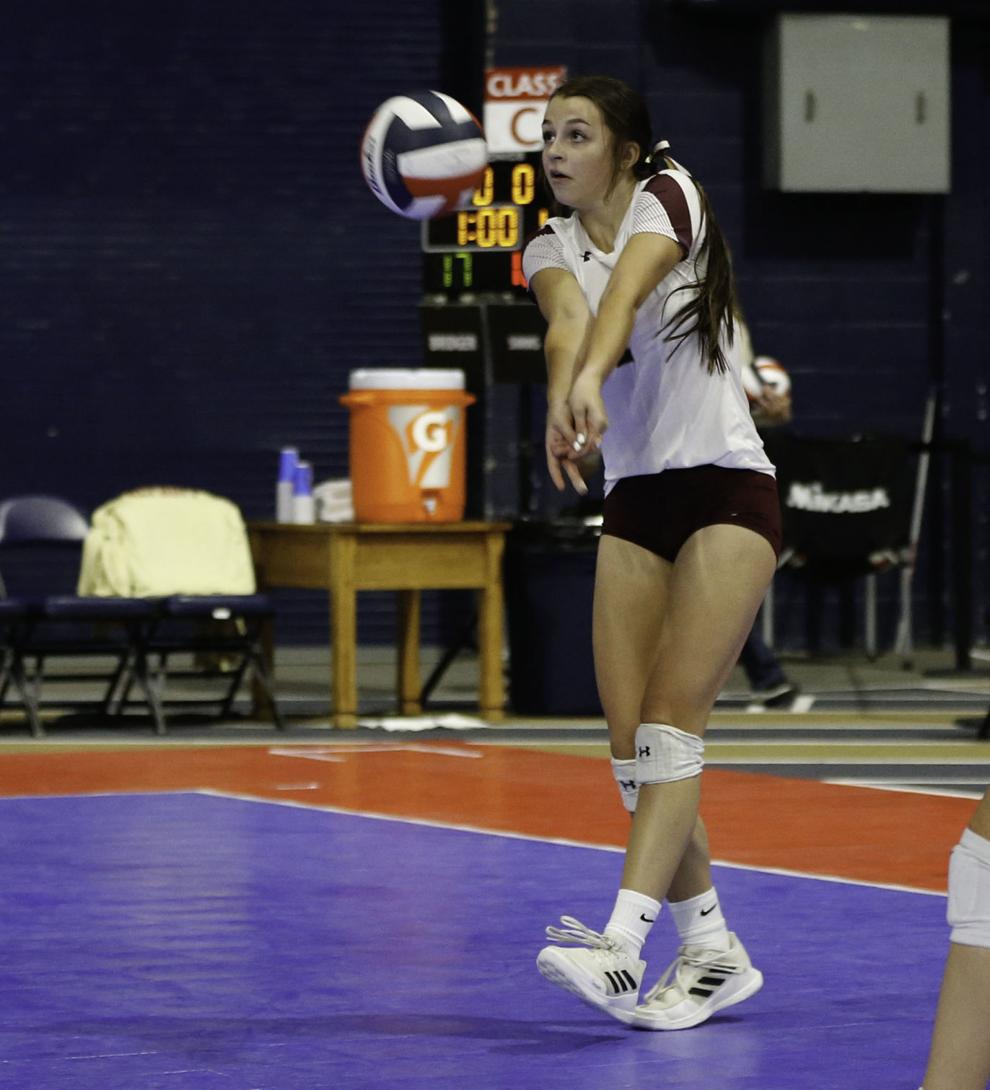 Goltz was a beast in the win for Bridger, finishing with 27 kills and 16 digs. Pospisil was also clutch and registered 17 kills, two blocks and 15 digs of her own, as well as an ace.
Kenzie Allen led the way for Simms with 11 kills; Taylor Sawyer followed with 10. They each added 19 and 17 assists too, respectively. 
Roy-Winifred 3, Fort Benton 1 
The Class C state volleyball tournament resumed at the Brick Breeden Fieldhouse and the Roy-Winifred Outlaws kept their trophy hopes alive thanks to a four-set win over Fort Benton.
The Outlaws used stellar performance from Madeline Heggem who had 14 kills. Megan Bergum also added 33 assists as Roy-Winifred rallied after dropping the first set to knock out Fort Benton 18-25, 25-18, 25-16 and 25-16. 
"Thursday we had a really tough loss," Roy-Winifred head coach Shelby Smith said. "But they came and battled back. We can play a lot of volleyball. I know that's our goal."
Roy-Winifred came into the tournament as the No. 2 seed out of the South, while the Longhorns were the top seed from the North. Fort Benton got another strong outing from Emerson Giese who had 10 kills and a block. Ashlee Wang added 11 assists and an ace for the Longhorns, who were eliminated in what was their third straight trip to the state tournament.
"We played well," Fort Benton head coach Shana Diekhans said. "We had some girls miss some games and we really didn't have our whole team until just before districts and we just struggled a little bit and didn't play our best volleyball. But obviously, our program is in a good place. This is our third year in a row and that's nothing to hang our heads about."