HELENA — When someone is honored as Gatorade Player of the Year, it's hard to say they're overlooked. But on the juggernaut that is Helena Capital volleyball, it'd be easy to look past senior setter Audrey Hofer.
But calling Hofer anything but essential to the Bruins state championship efforts would be understating her importance.
The Montana State commit isn't just a cog in Capital's machine either, she sets the table (pun intended) for everything the Bruins do on the court. 
"Selfless leadership," Capital head coach Rebecca Cleveland said about what makes Hofer special. "She puts in so much extra time to better herself as a setter. She's always thinking about her team and what she can do differently. She'll say it's her error, even if it isn't. She's constantly pushing herself to improve."
For Hofer, the draw to volleyball was a natural one, as she followed in the footsteps of her mother, Tiffany (Hopfauf) Hofer, a Frontier Champion at Carroll College and later, a coach.
"She coached at Carroll and at Helena High," Hofer said of her mom. "When my brother and I were little, she would bring us to practice and push us around in ball carts. I've always been around the sport…that's why I love it."
Settling into her position would take some time, though.
"I never thought I was going to be a setter," Hofer said. "I played everything but setter. Well, and middle because I was never super tall."
Eventually, she found a fit, even if it was out of necessity.
"I played with a lot of older teams," Hofer said. "And I was usually shorter, so I would pass and set a lot."
At Capital, Hofer grew into a starter, then, she blossomed into a superstar.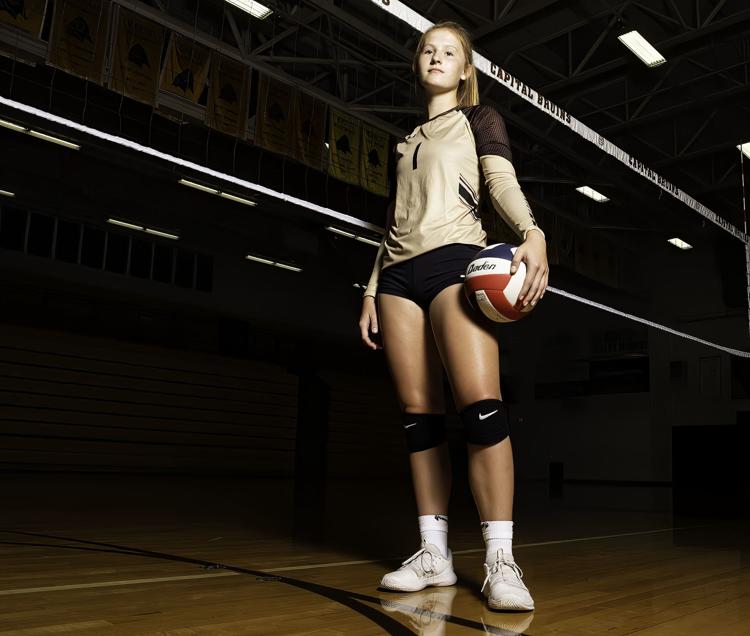 As a sophomore, she put together one of the best seasons in Bruins history and won Montana's 2018 Gatorade Player of the Year after notching 828 assists (2nd-best in school history at the time), 54 aces (4th-best in school history), 42 blocks, 162 digs and 110 kills.
The Bruins also won their first of two Class AA state titles with a 27-2 record. Last season, CHS went undefeated and was never even pushed to a fifth set.
After committing to Montana State University prior to her junior season, Hofer surpassed her own mark (2nd in CHS history) for assists with 899 to go along with 203 digs and 35 aces.
While teammate Paige Bartsch won the Gatorade Player of the Year award in 2019, Hofer earned Class AA All-State honors again.
But Bartsch, a Boise State commit, who attracts spectators even during warm-ups with her highlight-reel kills, gives a lot of credit to Hofer.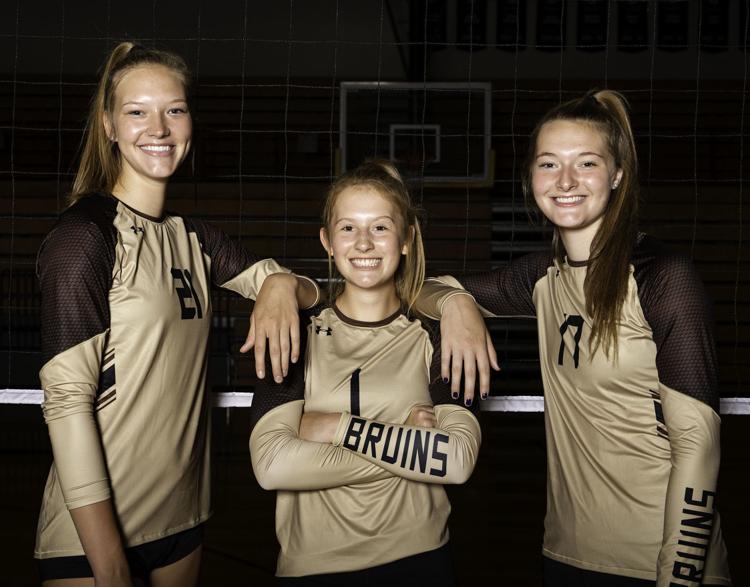 "She makes my job a lot easier," Bartsch said. "And just having that connection with her, you just know where she is going to set it, even on the off balls, which makes it easier to have a harder swing and place the ball better."
Paige's twin sister Dani, another all-state performer back for the Bruins, agreed.
"You can have a team of great hitters," she said. "But if you don't have a good setter, it can really impact things."
The sisters also praised Hofer as a teammate.
"She's the best teammate, I've had, in my experience," Paige said. "She hustles to get to every, single, ball and that's a good trait to have as a setter."
Whether it's with her setting, serve-receive or serving, Hofer elevates the play of those around her. 
Yet, much like a quarterback and a wide receiver, it's about more than talent, and knowing the tendencies of her teammates is vital.
"All my hitters have different styles," Hofer said. "So I am super specific (with ball placement). And then if they are having an off day, I know how to fix it."
Of course, setting for the Bartsch twins has its advantages.
"That's really fun," Hofer said. "It's not too different with Dani and Paige, they just take over when they get the ball."
For the Bartsch twins, Hofer and the Bruins, the quest for a third straight Class AA state championship begins Tuesday with a trip to Missoula Hellgate. The two teams will open their respective seasons at approximately 7 p.m.
Spectators will be limited due to the COVID-19 pandemic, with just two tickets allowed per participant.
Hellgate will be just one of the challengers in the Western AA, but the toughest competition for Capital, at least within the division, may come from crosstown rival Helena High. The Bruins and Bengals played for last season's state title and will meet first Oct. 1 (at CHS) and then again on Oct. 15 (HHS).
Yet, no team in the state has firepower like Capital, with Paige Bartsch in the middle, as well as Dani Bartsch playing outside.
Senior Addy Meredith, as well as juniors Parklyn Heller and Rachael Stacy will also contribute as hitters, along with sophomore Nyeala Herndon.
Junior Kennedy Pocha will be back after playing a key role for the Bruins a year ago. She will see time as a defensive specialist and libero, as will senior Katie LaFave. Another senior, Noel Teders will also contribute as an outside hitter/defensive specialist.
The Bruins will play their first three matches of the 2020 season on the road, before playing in the Bears Den for the first time Sept. 19 against Missoula Big Sky. 
Hofer, one of six seniors, just plans to enjoying playing once again. 
"I just really want to go out, despite everything that's going on, and play with my friends," she said. "I'm just excited to have a senior season, to actually have one and just to do the best we can."