MISSOULA — When Quincy Frohlich transferred from Hellgate to Sentinel earlier this summer, it represented a significant power shift in Missoula Class AA volleyball.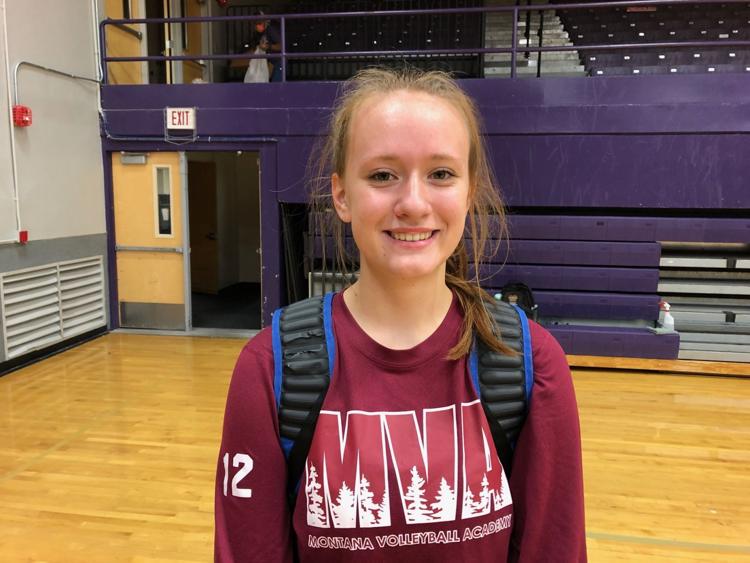 That was painfully obvious for Kalispell Flathead in the Spartans' first home match Thursday. Frohlich floored a team-high eight kills and made almost as much impact with her serving and serve receive in a Sentinel sweep, 25-23, 25-22, 25-18.
"It's nice to have a player that can play all the way around and pretty consistently like that for sure," said Spartans first-year head coach Kasey Arceniega, who has guided her team to a 2-0 start.
"Quincy helps the energy of the team, too. She's always pretty positive and competitive. She's an all-around consistent player."
Considering the Spartans already had a nice core of veterans heading into season with players like Sierra Dennison, Paige Sawyer and Preslie Neil, it's easy to understand why the team has high expectations. Frohlich, whose sister, Kylie, plays for the Montana women's basketball team, is happy to be along for the ride.
"It's a great atmosphere," said the junior, who has aspirations to play in college. "Everyone has been so nice to me and it's just a productive place to be. My teammates and coaches are great.
"I knew about the volleyball atmosphere here and I just thought it would be a nice change of pace. There's obviously holes and gaps in the way we've played but I'm really optimistic for our season. I think we have some big dreams and I think we can achieve them."
Flathead (0-2) was in position to win the first set with a 20-18 lead. But the Spartans responded, using a solid Frohlich serve and a Dennison kill to set the stage for Neil's set-winning ace.
Flathead built a 7-4 lead in the second set before Sentinel (2-0) went on a 16-5 run to take a 20-12 lead. The Bravettes rallied within one before Frohlich turned the tide with a kill and Keena Kay's kill clinched the set.
Sentinel staked claim to a commanding 18-8 lead in the third set before Flathead rallied to within four, 19-15. Sentinel responded with a 6-3 run spearheaded by Frohlich with a pair of kills.
"The biggest thing after this match is it feels like we're improving," Arceniega said. "We've been practicing a lot, so it's hard to gauge if we're improving or not because we've really only played ourselves.
"The most exciting thing I saw tonight was that the things we needed to work on, we improved on those things."
Arceniega was encouraged by the way her veteran team responded late in the sets. She did observe her team getting a little shaky when Flathead picked up its defense, and that gives the Spartans something to work on for next time.
"We talked about timing with blocking and adjusting to the pace of different offenses," Arceniega said. "We're going to work on that. And we're definitely going to work on being disciplined on defense and reacting and reading a little better."
Sawyer collected a team-high 15 assists for Sentinel and shared team-high honors with Neil in aces, each collecting four. Dennison tallied a team-high three blocks and Jayden Johnston had 14 digs.
Savanna Sterck collected a match-high 11 kills for Flathead and Akila Kubi added seven. Mayson Moore dished out 25 assists for the Bravettes and Alayna Creekmore collected 11 digs.
Sentinel will be back in action on Tuesday when it plays host to powerhouse Helena Capital.