BILLINGS — With 310.5 team points, Sidney established a new Class A scoring standard at last year's state wrestling tournament. The Eagles set a program record with 14 separate point-scorers, including four state champions, en route to their 10th title and second in a row.
Sidney became the first Class A team to reach the 300-point plateau. It was a truly dominating effort.
Could this year's squad be even more potent? Perhaps even the best team Sidney has assembled?
"It's right up there, most definitely," said coach Guy Melby, whose wrestlers will invade First Interstate Arena at MetraPark this weekend trying to add to its vast trophy case.
"The best thing about this group is that they're willing to work and put in the time to be the best team possible. They've progressed and gotten better every practice. They seem to outdo themselves every week. They're laser focused."
Three of Sidney's four individual champions from last year are back to defend their titles. But what's more staggering is its top-to-bottom depth: 17 Eagles have qualified for the tournament, 16 of which are ranked in the top five of the most recent Class A coaches poll and eight of which are top seeds from the East.
It's a formula for some serious point-scoring, which could help Sidney separate itself from the field on Day 1 of the tournament. But Melby, whose team cruised to another divisional crown last week, knows there's work to be done.
"The jury's still out on this team. They've still got one more weekend to compete," Melby said. "But we have great depth. We have the most depth in the field. So we should have a really good first and second round."
Sidney's total of 10 state titles ranks second in Class A history behind Havre's 14.
• The 126-pound weight class should garner great interest, as two returning champions — Frenchtown's Jake Bibler and Lewistown's Cooper Birdwell — appear on a collision course.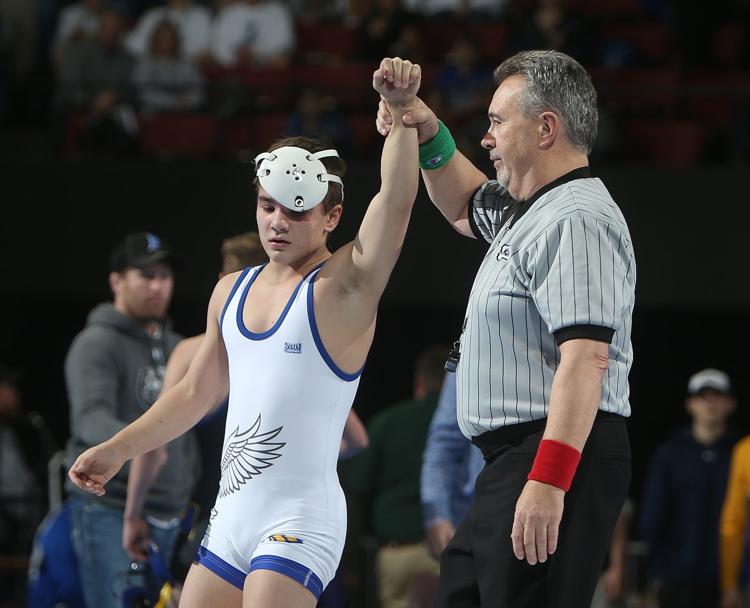 Bibler, a senior, is seeking to join the historic four-time champions club, which at present numbers 35. Birdwell, a junior, is a two-time titlist and is on track to be a four-timer in his own right.
"Whoever wins will be a four-time state champ," Frenchtown coach Jesse Long told 406mtsports.com of the potential matchup.
• Bibler missed roughly 20 matches due to a collarbone injury that led to his only loss this season. Birdwell, meanwhile, has not lost in his Lewistown career, though the two have met in the past.
Bibler defeated Birdwell on one specific occasion in a freestyle match that took place in the offseason.
"I've been looking forward to wrestling Cooper," Bibler told 406mtsports.com. "We've wrestled before, and all our matches have been pretty close."
• Frenchtown is in the running for hardware, bolstered by Bibler and fellow returning champion Walker Dyer (113). The Broncs qualified 13 for the tournament, seven of which are top seeds from the West.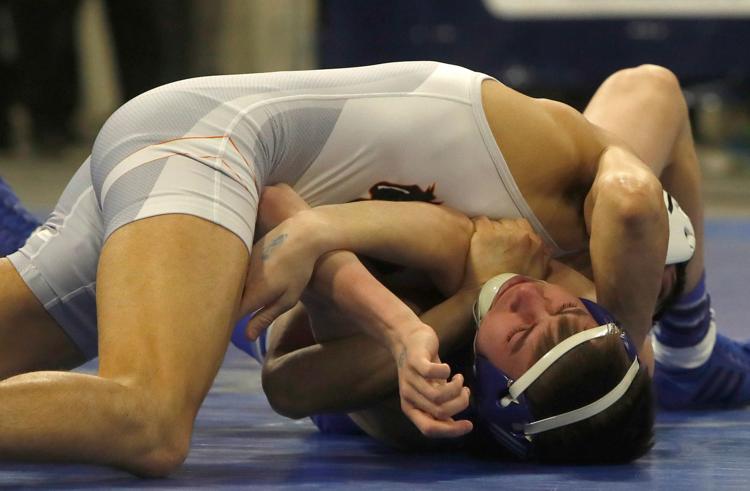 • Count Laurel among the teams seeking a trophy. The Locomotives qualified 16 for the tourney, including 138 pounder Keagan Campbell and 182 pounder Cameron Younger.
Younger could meet Riley Waters, one of Sidney's returning champs, in the finals. Waters won the three previous bouts between the two this season, though they were close matches.
"They're clearly the two best kids at that weight at this point," Laurel coach Ted Hill said. "They've seemed to pin their way through everybody else in Class A."
• Of his team's prospects, Hill said Laurel "did a good job at divisionals getting pins. If we can make that happen this week, too, then our chances are pretty good."
• The Eagles' other returning champs from last season are Aden Graves (145) and Jett Jones (205). 
• Sidney senior Kaiden Cline, at 120 pounds, hopes to stand on the champion's podium again after falling to Frenchtown's Dyer in the 113-pound finals last year. Cline won it all at 103 two years ago.
• Hamilton's Bridger Williams, a senior, has been beaten in the semifinals for three straight years. He comes into the tournament as the No. 1 seed from the West in the 160-pound weight class, trying to finish his career on a championship note.
Williams nearly lost his left leg — and his life — in a salmon fishing boat accident off the Alaska coast last summer.
• Miles City's Damian Leidholt, the top seed from the East at 138 pounds, is one of 16 wrestlers the Cowboys qualified for the tournament. Leidholt and Laurel's Campbell, the No. 2 seed from the East, should contend, though Frenchtown's John Warner also looms in that weight class.
• Havre, which won five straight Class A titles from 2013-17, qualified 11 for the tourney. Connor Harris comes in ranked No. 1 from the East at 152 pounds, as does Orion Thivierge at 160.
• 103-pound Kiera Davis of Corvallis is the only female qualifier in Class A. Davis will face Sidney's Owen Lonski in an opening-round match Friday.
Davis is one of seven girls to qualify this year across all classifications. Girls wrestling will be implemented as its own Montana High School Athletic Association sport beginning in the 2020-21 academic year.
• Lockwood, coached by Beau Malia, who won four titles at Billings Skyview from 2001-04, qualified three wrestlers for the Class A bracket in its first season of athletic competition as a new school. They are freshmen Jeff Kordonowy (120), Holter Reisinger (182) and Austin Therriault (285).
• East Helena is also in its first year as a new school and competing in its initial season of athletics. The Vigilantes qualified freshman Carlos Estrda at 170 pounds.